Watch the cold fire dance
Fulfill your dream and join us on a Northern Lights excursion
View all tours
Our Bestsellers
Special offer: Book our bestselling tours and get free entrance to Aurora Reykjavik – the Northern Lights Center.
Valid until Jan 31st, travel time until April 15th.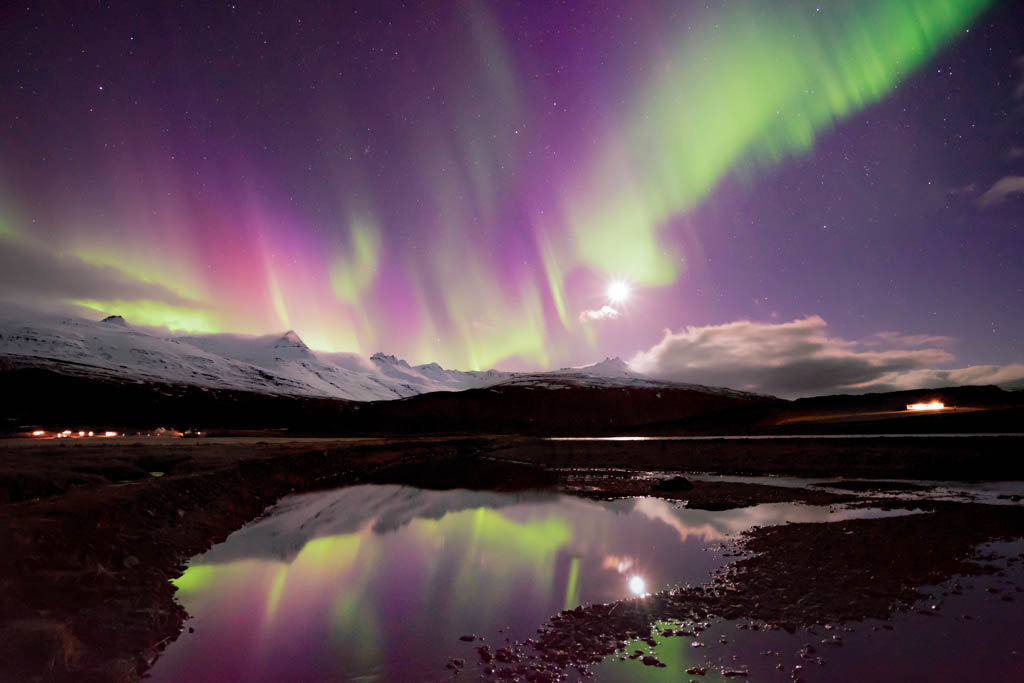 Northern Lights Minibus Adventure
HIGHLIGHTS:
  Fully guided tour – English speaking

  Transport by comfortable minibus

   Hot chocolate & treats during the tour

  Free pickup / dropoff in Reykjavik City
FREE ADMISSION TO AURORA REYJAVÍK  – SAVE 1800 ISK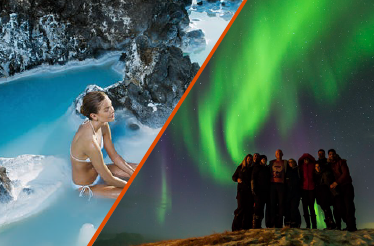 2in1: Northern Lights and the Blue Lagoon
HIGHLIGHTS:
 Take a bath in one of Icelands natural wonders – the blue lagoon
 Enjoy a free drink and a silica mud mask
 Join a guided Northern Lights tour
 Free photos of you and the aurora
 All transports included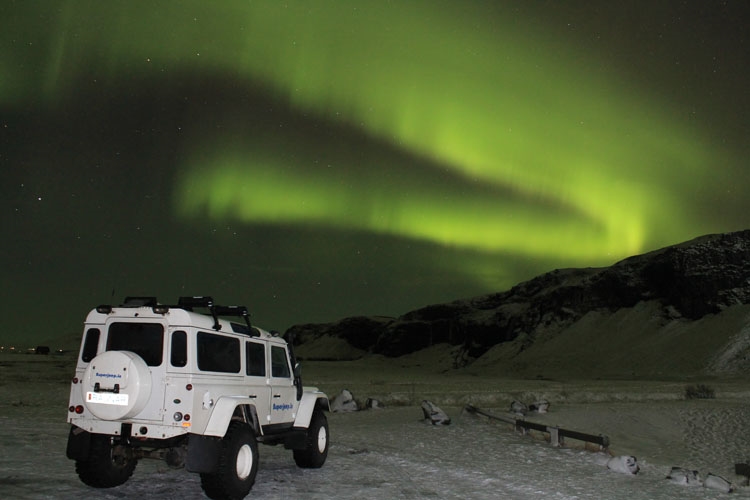 Northern Lights Superjeep tour
HIGHLIGHTS:
 Free pick-up  anywhere in  Reykjavik

 Free Quality Photos

 Free retry in case of non-sighting

 Home made hot chocolate

 Small group experience

 Warm vehicles on location

FREE ADMISSION TO AURORA REYJAVÍK  – SAVE 1800 ISK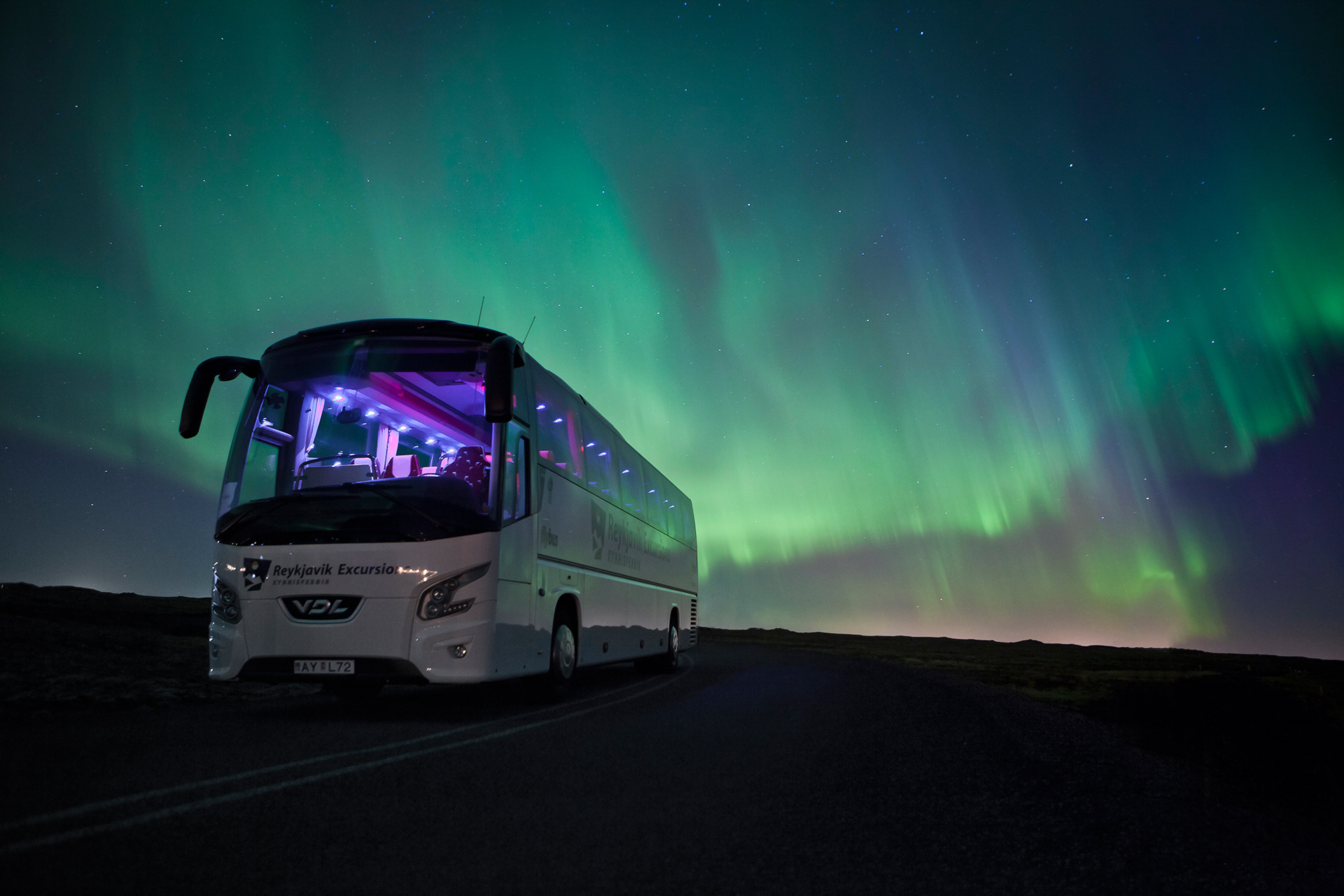 Northern Lights by Bus
The cheapest way to get away from the city lights. For all who travel on a budget and still don't want to miss the majesty of the northern lights.
Northern Lights guarantee: Free retry
Pick-up available
Northern Lights by Minibus
Travel in style with a small group and a professional guide. Enjoy a cup of hot chocolate and some Icelandic treats while witnessing the beauty of the Aurora Borealis in the Arctic wilderness.
Northern Lights guarantee: Free retry
Small group experience
Hot chocolate 
Free pick-up and drop-off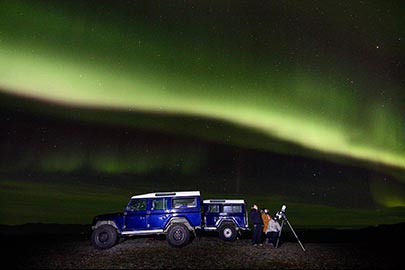 Northern Lights by Superjeep
The most exiting way to hunt for the beautiful Aurora Borealis. Get off-the-beaten-path in a private atmosphere. These tours really go the extra-mile with you – rewarded by the highest success rates.
Northern Lights guarantee: Free retry
Small group
Hot chocolate
Free pick-up and drop-off at your hotel
Northern Lights by Boat
Sail away from the city lights and witness the magic of the Aurora Borealis above the beautiful skyline of the world's northernmost capital.
Northern Lights guarantee: Free retry
Toilet facilities and bar on board
Free WIFI on board
Pick-up available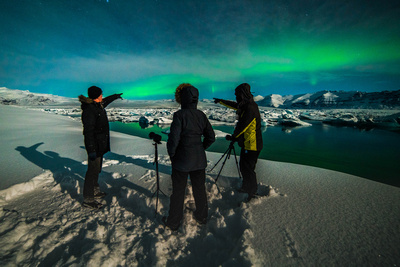 Northern Lights Photo Tour
Making memories, capturing the moment – our photo tour make your aurora adventure an unforgettable experience.
Personal experience with a small group 
Pickup and drop-off at your hotel
Personal guidance with your camera from a professional photographer
Hot chocolate 
Photos of you with the northern lights in the background taken by a professional photographer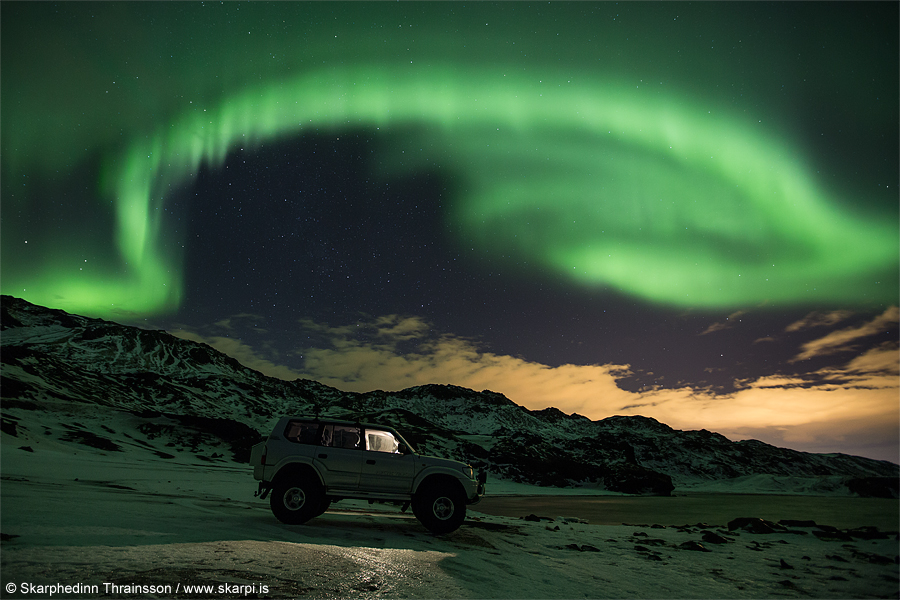 Northern Lights Private Tour
Escape the big tour buses and city lights on this off-the-beaten-track private northern lights super jeep excursion!
Pick-up & drop off from Reykjavík
Northern Lights Photos
Private guided Tour in a Super Jeep
Hot Chocolate & Snacks
English Speaking Tour Guide
Northern Lights Holiday Packages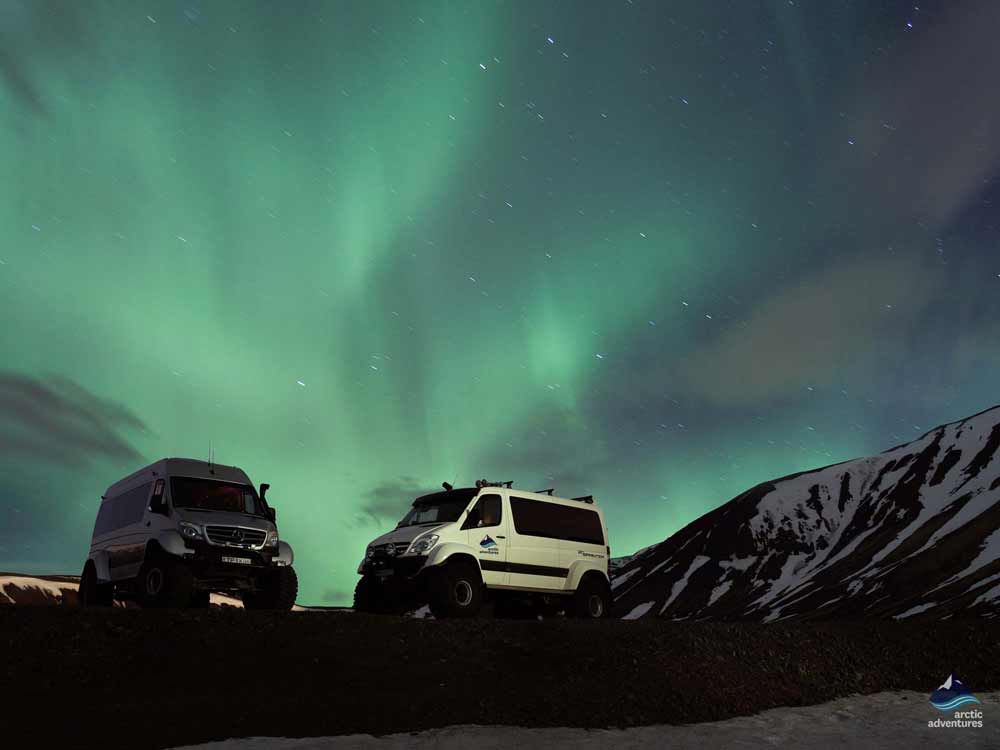 4 Day Northern Lights Winter Package
The name says it all! This package offers the best winter adventures in Iceland. Get your adrenaline pumping with a drive through the Golden Circle, an unforgettable snowmobile ride and glacier hike, and top it all off with a soak in the Blue Lagoon.
Northern Lights Super Jeep ride
The Golden Circle
Snowmobiling on a glacier
Glacier Hiking & Ice Climbing
Blue Lagoon
4 Day Winter Photo Tour | Vatnajökull, Northern Lights and Ice Cave
This 4-day winter photography workshop will see you chasing the Aurora across the snowy South Coast while capturing on film in the incredible beauty of ice caves, Skaftafell Nature Reserve, the Diamond Beach and Jökulsárlón glacier lagoon.
Professional Photo Guide
3 Nights Accommodation 
Breakfast 
Entrance to an Ice Cave
Transports in a comfortable vehicle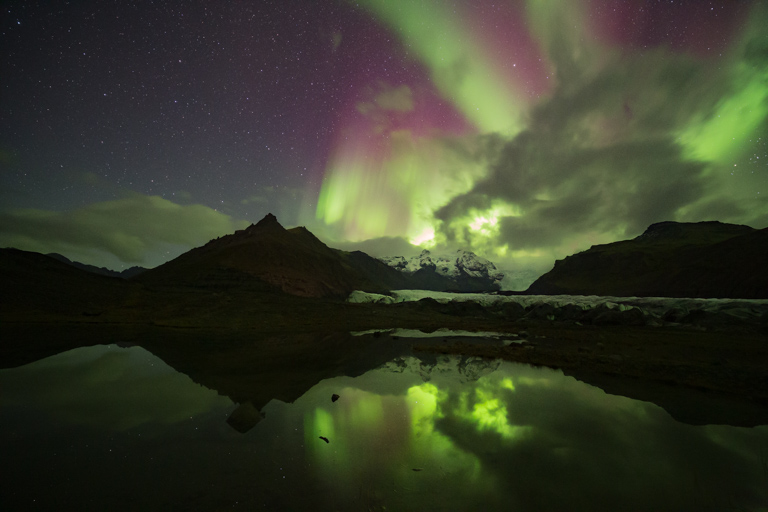 2 Day South Coast – Ice Cave, Skaftafell & Jökulsárlon Ice Lagoon
Join us for this great two-day tour along the south coast and enjoy all the best sites the south has to offer. This tour provides a great chance of catching the northern lights!
Pick-up & drop off from Reykjavík
Hotel Accommodation 
Breakfast at the Hotel
Guided Group Tour in a Minibus
Visit to all highlights of the South Coast
Guided Ice Cave Tour

 
Best selection of northern lights tours in Iceland
We fully recommend these collaborators since we've known them for years and are sure they are reliable and professional.
Free retry if lights are not seen
Seeing the aurora is the dream of many who come to Iceland, but alas, those unpredictable, frenetic lights tend to have a mind of their own and don't always show up on cue. That's why all of our tours offer you a free retry.
Best price guarantee
No hidden fees, best value for money.
Northern Lights Specials
and combo tours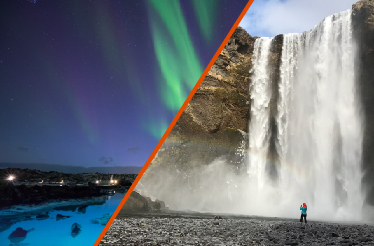 Northern Lights and South Shore
HIGHLIGHTS:
Seljalandsfoss waterfall
Skógafoss waterfall
Hekla volcano
Sólheimarjökull glacier
Black sand beach and town Vík
Northern Lights hunt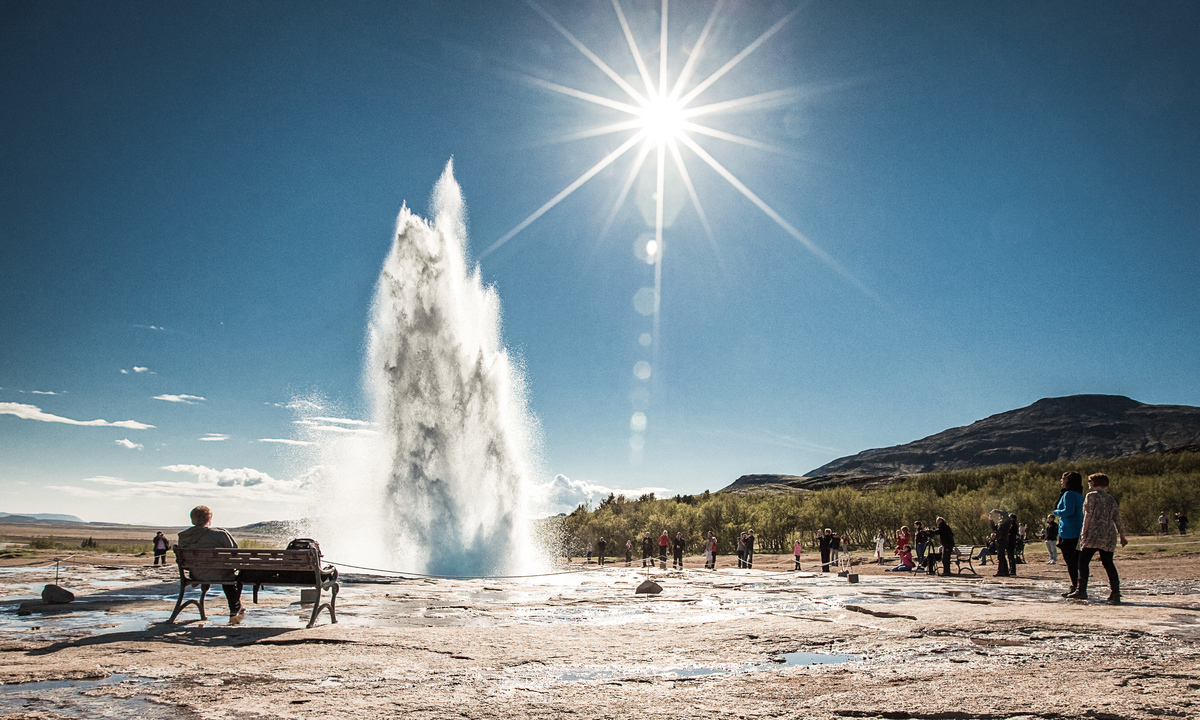 Northern Lights and Golden Circle
HIGHLIGHTS:
See the great Geysir
Explore the wonders of Þingvellir Nationalpark
Experience Gullfoss, the golden waterfall
Walk between the continents
Enjoy a magnificent Northern Lights hunt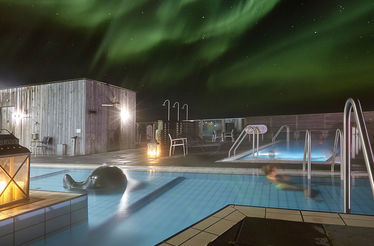 Warm Baths and Cool Lights
HIGHLIGHTS:
Local style buffet
Admission to the Laugarvatn Fontana Geothermal Pool
Northern Lights hunt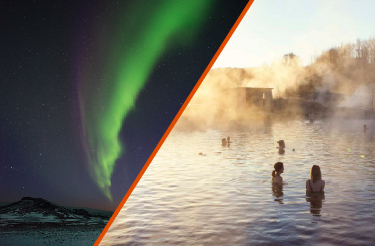 Northern Lights and  Secret Lagoon
HIGHLIGHTS:
Enjoy a bath in the secret lagoon
Sample delicious Icelandic food 
See the Northern Lights dancing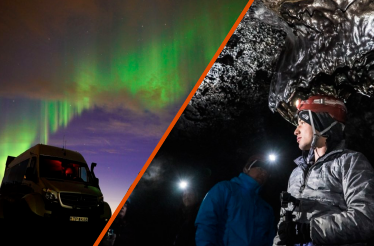 Caving and Northern Lights – Earth and Sky
This combo tour will take you into the stunning Leiðarendi Cave and raise your eyes to the sky on a magical northern lights hunt.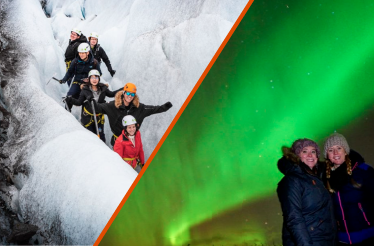 South Coast, Glacier Hike and Northern Lights
Iceland on it's best: Two great waterfalls, the best south coast sights, a fabulous glacier hike and the magic of the northern lights.
All Northern Lights Tours
Northern Lights Superjeep Tours
Travel off-the-beaten-path with Iceland's best northern lights guides – and make your northern lights adventure a true once-in-a-lifetime experience!
Enjoy your Northern Lights Adventure in a small group.
Escape the city lights  – for all who travel on a budget.
Guided northern lights tour
Pick-up and drop-off available
Northern Lights Private Tour
Proposals, honeymoon, anniversaries – our private tours make dreams come true!
Travel in undisturbed privacy with your personal guide
Get off-the-beaten-path and discover hidden gems