BLUE LAGOON AND NORTHERN LIGHTS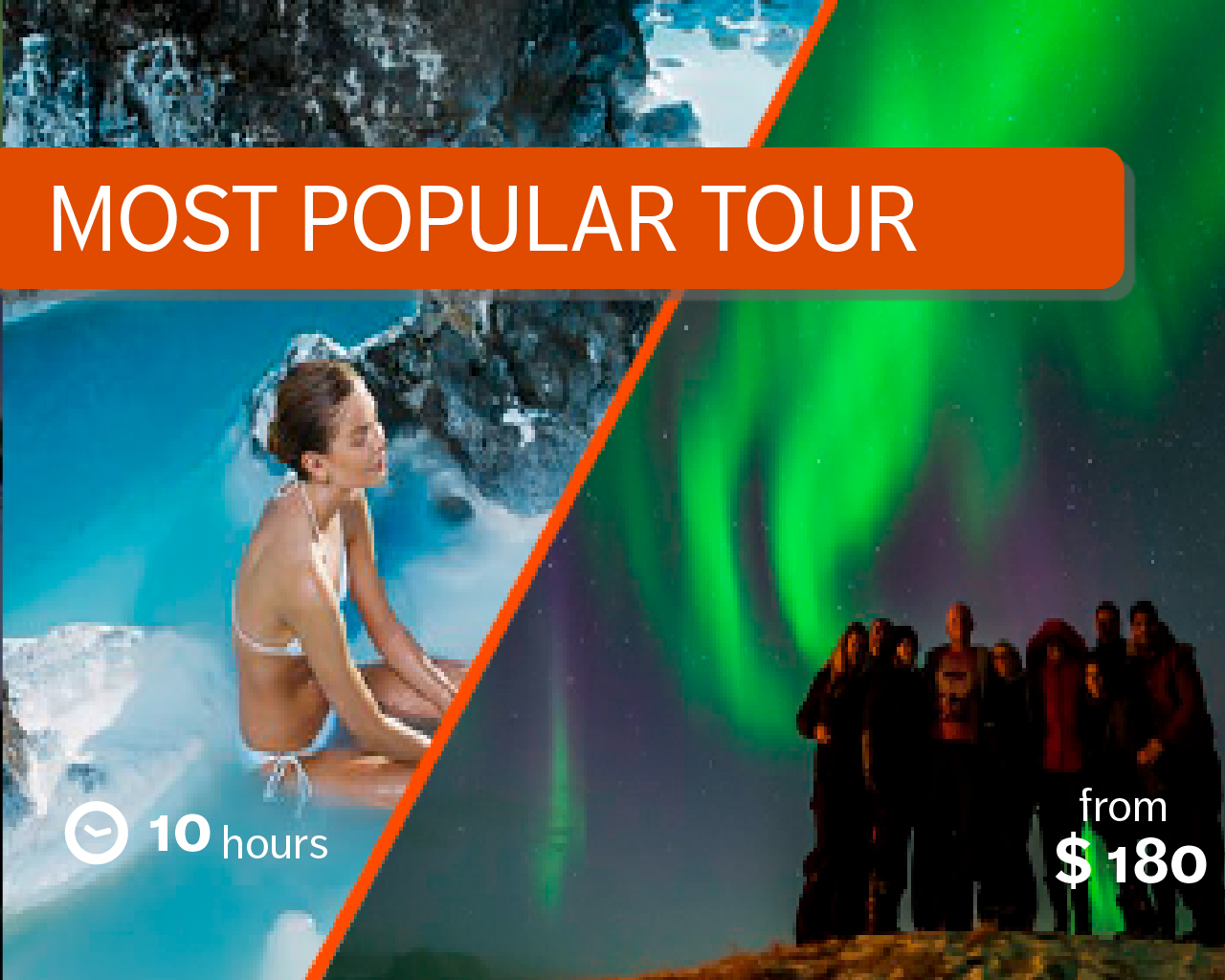 THE BLUE LAGOON & NORTHERN LIGHTS
Your perfect winter day in Iceland!
Rejuvenate your body and soul on this combination of our two most popular winter activities, a visit to the Blue Lagoon and by joining our northern lights tour!
An Afternoon at the Blue Lagoon 
Start your afternoon by visiting Iceland's most famous attraction, the Blue Lagoon. The Blue Lagoon is one of Iceland's most famous tourist attractions and considered by many to be a once-in-a-lifetime experience, as well as an unmissable part of one's visit to Iceland. 
The Blue Lagoon offers lava and moss filled scenery, state of the art facilities, a unique atmosphere and silica masks that make your skin extra firm, yet incredibly soft! 
Included in this combo is the Blue Lagoon Comfort Package where you receive entrance to the Blue Lagoon, silica mud mask, use of a towel, and a drink of your choice.
After an amazing warm soak in the geothermal waters of the Blue Lagoon, you head back to Reykjavik on one of our new and comfortable coaches, offering you free Wi-Fi.
Upon arrival back in Reykjavik, you have some free time to relax, have dinner and wait for your next adventure in the evening, a hunt for the extraordinary northern lights. Make sure to wear warm clothes!
An Evening of Northern Lights 
The Northern Lights Tour in Iceland takes you to see a spectacular natural phenomenon that happens during the winter months. The northern lights, also known as Aurora Borealis, are caused by the interaction of particles from the sun with the upper atmosphere near the North Pole.
The locations visited during the northern lights tour vary from day to day depending on weather conditions. Our northern lights team studies thoroughly the weather and aurora forecasts in order to find the best location each night to spot the lights.
Because this tour is weather dependent, sightings are not guaranteed. However, if you don't see any northern lights during this tour, you are welcome to join the tour again, free of charge. 
BEST PRICE GUARANTEE
NO BOOKING FEES
FAST & SECURE PAYMENT

Duration
Tour schedule
12:30 Hotel/bus stop pick up (optional)
13:00 Blue Lagoon transfer departure from BSÍ Bus Terminal
14:00 Blue Lagoon comfort admission
16:15 Bus transfer departure from Blue Lagoon to Reykjavík
17:00 Enjoy some free time, eat dinner and get ready for the northern lights tour
20:30 Hotel/bus stop pick up (optional)
21:00 Northern Lights Hunt tour departure from BSÍ Bus Terminal*
00:00 Approximate return to Reykjavík
*22:00 (25 August – 30 September & 15 March – 15 April)
Minimum age of passengers is: 6
Cancellation policy
We will charge a cancellation fee of 100% if booking is cancelled 2 days or less before event
Entry or admission fee
Landing & facility fees
Parking fees
WiFi
Bus fare
Comfort admission ticket to the Blue Lagoon
Silica mud mask, use of a towel, and a drink of your choice at the Blue Lagoon
Professional live local Guidance in English in the Northern Lights hunt tour
What do I need to bring?
Remember to dress according to weather:
 Warm clothes, waterproof jacket, and sturdy shoes are recommended
 We recommend bringing thermal layers, a winter hat, scarf, gloves, and wearing warm socks for colder days
Camera or a mobile phone with a camera
(Bring or buy snacks and drinks)
(Lunch is not included)