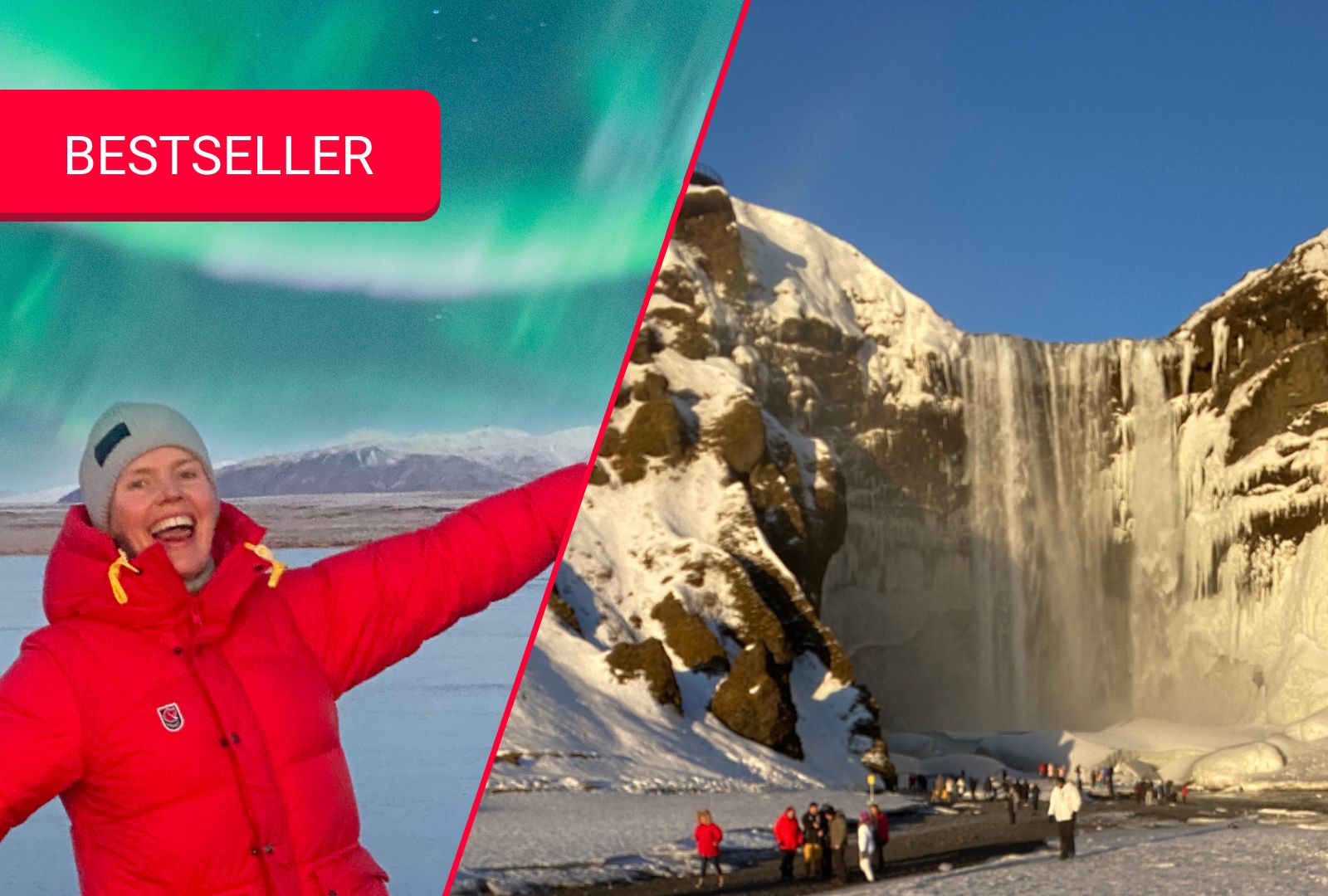 This was a once-in-a-lifetime experience for the whole famliy. A very exciting tour with a super friendly guide. We felt warm and safe all the time. Highly recommend!
NORTHERN LIGHTS AND SOUTH SHORE TOUR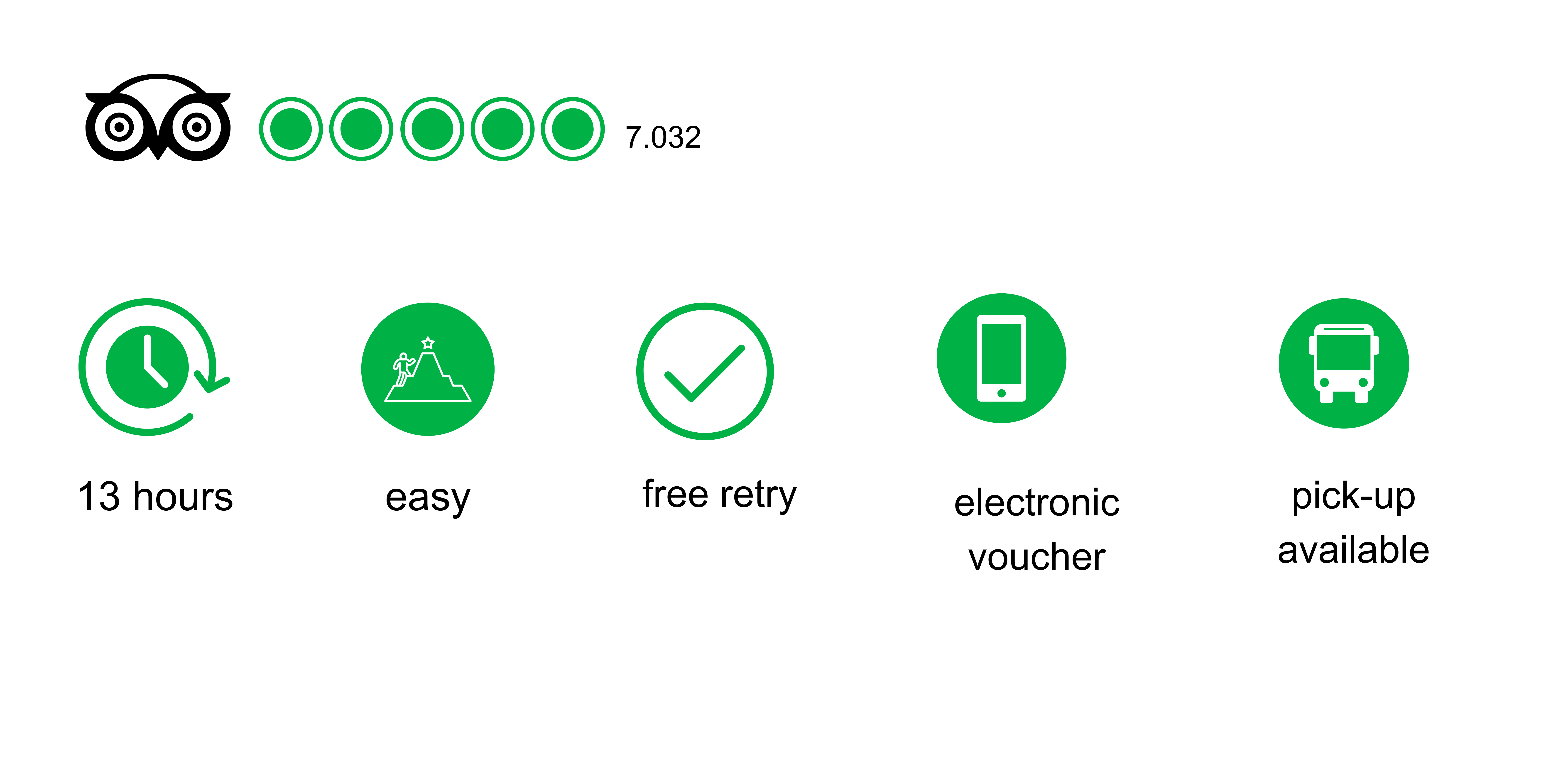 MAKE A DREAM COME TRUE
This 2-in1 combo tour combines Iceland's two most popular tours: South shore and Northern Lights.
Join us on an unforgettable day from Reykjavík along all the natural wonders at the south shore – and witness the Northern Lights dancing in the sky in the evening.
NORTHERN LIGHTS AND SOUTH SHORE: HIGHLIGHTS
⭐️ Sólheimajökull Glacier: a picturesque glacial tongue extending from the Myrdalsjökull glacier.
⭐️ Reynisfjara: the famous black sand beach with jagged lava rock columns, basalt columns and the massive cave below soaring sea birds.
⭐️ Vík: Iceland's southernmost town with beautiful houses under the church upon a hill.
⭐️ Skógafoss: The powerful glacial waterfall with stairs leading up to one of Iceland´s most scenic views of glaciers, volcanoes, black sand beaches and possible sheep.
⭐️ Seljalandsfoss: The 60-meter-high waterfall, famous for the hidden pathway which leads next to and around to the other side.
⭐️ Northern Lights Hunt: In the evening we will head out to hunt for the northern lights.



✅ Best price guarantee
✅ Free cancellation
✅ Electronic voucher

Why book with us? 
Our promise is to offer great products and superior customer service. If you need to cancel, make changes or help planning your vacation you can count on us to be there by your side.
NORTHERN LIGHTS AND SOUTH SHORE: YOUR PERFECT DAY IN ICELAND
Drive along southwestern stretch of the ring road leading from Reykjavik along volcanoes, waterfalls, and glaciers to the black sand beach and Icleand's southern most town, Vík. The tour starts with a drive through the Hellisheiði mountain pass bringing you through moss covered lava fields and past geothermal springs down to farmland along the coastline.
On clear days, Hekla, the infamous Eyjafjallajökull volcanoes along with the Westman-Islands can be seen rising in the distance as you approach the Solheimajökull Glacier, a photographers delight and the first stop on the tour. The next destination is the otherworldly black beach known as Reynisfjara where the waves of the Atlantic Ocean crash upon the black sands from which the seemingly man-made hexagonal basalt columns rise to cliffs filled with nesting sea birds. After taking in your fill of the amazing geological formations, the tour will continue onto the small village of Vík with a church upon a hill overlooking three volcanic stone columns, said to be trolls turned to stone along the shores of the Atlantic Ocean.
After Vík, the trip back towards Reykjavik will take you to the powerful Skógafoss waterfall where a short walk up a flight of stairs will reveal one of Iceland´s most scenic views. From here we will head to the final stop, the 60 meter high Seljalandsfoss Waterfall famous for the hidden pathway leading behind and around this stunning sight. With some luck and sunny weather conditions, rainbows may add to the spectacular experience at each waterfall.
The Aurora is both wonderfully mysterious and magical, and once seen never forgotten. Simply put, nothing says "Icelandic Winter" like the idea of hunting for the Northern Lights. The result of powerful solar storms, the Northern Lights need clear winter skies to be visible. Rest assured, our expert operational team has decades of experience analysing weather patterns. We carefully review on a daily basis the cloud forecast and the Northern Lights forecast. We never set off unless we think we have a good chance of spotting them, meaning we have a high success rate.
In bus audio guide with a choice of 10 languages (English, French, German, Dutch, Italian, Spanish, Chinese, Japanese, Korean and Finnish)
Knowledgeable local guide
Admission to the sights
Free Wi-Fi and usb charger in every seat
Photo memory of you and the northern lights (when aurora can be seen)
Instructions about how to set up your camera to capture northern lights and the night sky
Sólheimajökull Glacier
The Solheim Glacier is a magnificent and humbling site to behold. A ten-minute walk will lead you from the parking lot up the gravel path leading to the face of this glacial tongue extending from Myrdalsjökull, you will witness the glacial bed upon which the Solheimajökull sat not more than 50 years ago. Here you can also see beautiful icebergs revealing deep blue colors that have broken away from the glacier and floated down the lagoon.
Reynisfjara (The Black Sand Beach)
This is one of the most famous and most visited sites in all of Iceland. Marvel at the unique volcanic black sand beach of Reyisfjara with rising basalt columns, a large basalt stone cave that has been battered by heavy oceanic waves. This is both a beautiful and dangerous destination, where heavy 'sneaker' or rogue waves can catch visitors off guard by coming higher up the beach than expected. We always warn you to keep one eye on the ocean as you enjoy this sight.
Vík í Mýrdal
The quaint town of Vík is Iceland's southernmost town with a traditional Icelandic church overlooking the ocean and the three trolls of the black sand beach. At this stop, you will have a chance to grab some lunch & use the restroom, explore the town, spend time at the beach, or do some souvenir shopping at Icewear's outlet store. This is the farthest point along the south coast tour, from here we will head back in the direction of Reykjavik.
Skógafoss
Along the return trip to Reykjavik, we will stop at the powerful 65-meter-tall Skógafoss Waterfall where a short walk up a flight of steps will reveal one of Iceland´s most scenic views of glaciers, volcanoes and black sandy beaches. With viewpoints both above and directly next to the waterfall, photographers will have plenty of chances to capture that unique shot.
Seljalandsfoss
The Seljalandsfoss waterfall is for many guests the highlight of this trip, as you can walk along and behind this waterfall offering a completely unique perspective; just be sure to bring a rain jacket! During the short days of winter as you may be arriving in the evening, this waterfall is lit up to still give you a chance to capture the perfect regardless of the amount of sunlight. From here we will spend about 1.5hrs in the coach returning to Reykjavik.
Northern Lights Hunt
Starting off in Reykjavik from our Reykjavik terminal at Skógarhlíð 10 we will head outside the city to get as far from light pollution as possible. On a successful night of northern lights hunting, you will see the dancing display of the aurora borealis. The northern lights are a most elusive sight as they are such an unpredictable phenomenon and one that is truly magnificent when witnessed.
Age limit: No age limit
Duration: Approximately 13 hours in total including around 3 hours on the northern light part of the tour.
Please note:
We are working with Iceland´s most talented Northern lights hunters to find the best places every night.
It is never a guaranteed that we will see northern lights, however, we do our best to maximize our chances by picking the best locations.
Since it is never guaranteed to see aurora, we will make sure you get the chance to see them. In the event of a unsuccessful hunt, we offer you the chance to re-book as many times as needed until you partake in a successful northern lights hunt. You can continue to do this within a 2 year period of going on the first hunt.
If the Northern Lights portion of this tour is canceled due to weather and you don't have an opportunity to participate in a subsequent tour, the northern lights portion of the tour will be refunded.
IMPORTANT INFORMATION
Please show up at our Reykjavik Terminal (located at Skógarhlíð 10) 15 minutes prior to the departure time. Please be ready at your pick-up point with your voucher, either in digital or printed form. 
If you have booked a hotel pickup with Smartbus™, please be at your chosen pickup location 30 minutes before the departure of the tour. Look for the Green Smartbus™ which will be outside your accommodation within 30 minutes of pickup. 
You will be traveling in a coach that holds approximately 40-65 people, but is very spacious and comfortable. The bus offers free wifi and USB charging ports.
Lunch is not included, but in Hvolsvöllur, Reynisfjara, and Vík there are shops where you can buy food and drinks.
Prices: Teenagers 12-15 years: 50% & children 0-11 years old free.
There is no age limit for this tour
Bring with you: Dress according to weather. In Iceland it is always smart to dress in warm and waterproof clothes, weather changes are swift so prepare to expect the unexpected. Bring a waterproof jacket and pants, headwear and gloves. Good outdoor shoes are recommended.
Duration: Approximately 13 hours in total including around 3 hours for the northern lights part of the tour.
In-Bus-Audio-Guide: We recommend that you bring your own headphones, simply because they will fit you best. It is also great for the environment. If you don't have your headphones, with you or forgot to bring them, no worries we sell earphones on board.
The Northern light tour is available from the 1st of October to the 31st of March, every day at 21:00. From the approx. the 15th of August to 30th of September & 1st of April to the 25th of April at 22:00. Departures are highly dependant on weather.
What do I need to bring?
For the In-Bus-Audio-Guide: Bring your own headphones. Otherwise headphones are available for purchase in every bus from our hosts. 
For your comfort: Dress according to weather. In Iceland it is always wise to dress in warm waterproof clothes. Weather changes can be sudden so be prepared for all weather conditions. Waterproof jacket and pants, headwear and gloves, and warm socks/waterproof shoes are recommended, especially since we will be outside at night during the hunt for the northern lights.
FRIENDLY CANCELLATION & REFUND POLICY
Full refund if cancelled due to weather. Cancellation fee can be witheld if cancelled with short notice.
1 day notice: 100% charge
Pick-up and Drop-off at hotel can be booked as an extra service with our SmartBus™ service. Otherwise you are advised to be at our Reykjavik Terminal 15 minutes before the tour departure time.
Reykjavik Terminal
Tours depart from the Reykjavik Terminal located at Skógarhlíð 10. Please be sure to arrive 15 minutes prior to departure along with a printed or digital copy of your ticket/voucher.
If you have booked a hotel pickup with SmartBus™, please be at your chosen pickup location 30 minutes before the departure of the tour. Look for the Green SmartBus™ which will be outside your accommodation within 30 minutes of pickup.
Best selection of northern lights tours and winter adventure in Iceland
Free retry if lights are not seen