2 Day South Coast – Ice Cave, Skaftafell & Jökulsárlon Glacier Lagoon
Join us for this great two-day tour along the south coast and enjoy all the best sites the south has to offer. This tour provides a great chance of catching the northern lights!
Day One – The Grand South Coast and Northern Lights
We take off from Reykjavík on a dark winter morning and drive towards the slowly rising sun. Our first stop is at Seljalandsfoss waterfall located at the feet of the famous Eyjafjallajokull volcano. Here you will have the chance to explore this beautiful waterfall from both sides, as this in the fall that you are able to walk behind. A little further to the east we come to our next highlight; Skógafoss waterfall. On a clear day, you will have the opportunity to see the two surrounding glaciers, Eyjafjallajökull and Myrdalsjokull. As we continue on, we come to Reynisfjara black sand beach where some fantastic sights such as the picturesque basalt column formations and the famous Reynisdrangar peaks greet us. We will drive through the charming small villages of Vik and Kirkjubæjarklaustur on our way to our accommodation place. Throughout the entire day, you can expect to see breathtaking landscape consisting of vast lava fields, waterfalls, black sands and glacier tongues. We will enjoy a relaxing evening and recharge for the upcoming day. When the conditions are right, we will hunt for the Northern Lights. The countryside, away from the city lights, is perfect for spotting this natural phenomenon.
Day Two- Land of Ice
This day is devoted to the glacier. We start the day at the renown Jökulsárlón glacier lagoon home of the massive floating icebergs and the location for several blockbuster movies like Batman Begins and The Secret Life of Walter Mitty to name a few. From the lagoon, we go to the Crystal Ice Cave where our certified guides will assure a safe and exciting experience. Ice caves, like the crystal cave, are only found during the wintertime when the glacial rivers retract and the water freezes. New caves are formed in different locations each year. Ice Caves give you an unparalleled photographic opportunity where you can capture the blue light passing through the glacier ice. After visiting the Ice Cave, we start making our way back to Reykjavik. Before we leave this magnificent area behind we will stop at Skaftafell Nature Reserve, a part of Vatnajokull National Park. Surrounded by amazing jagged mountains and glacier-topped peaks, the scenery consists of indistinguishable features making it a definite highlight of the tour. On the drive back, after the night falls, we will make sure to look for the Northern Lights.
If the ice cave cannot be entered due to conditions we refund 10.000 ISK.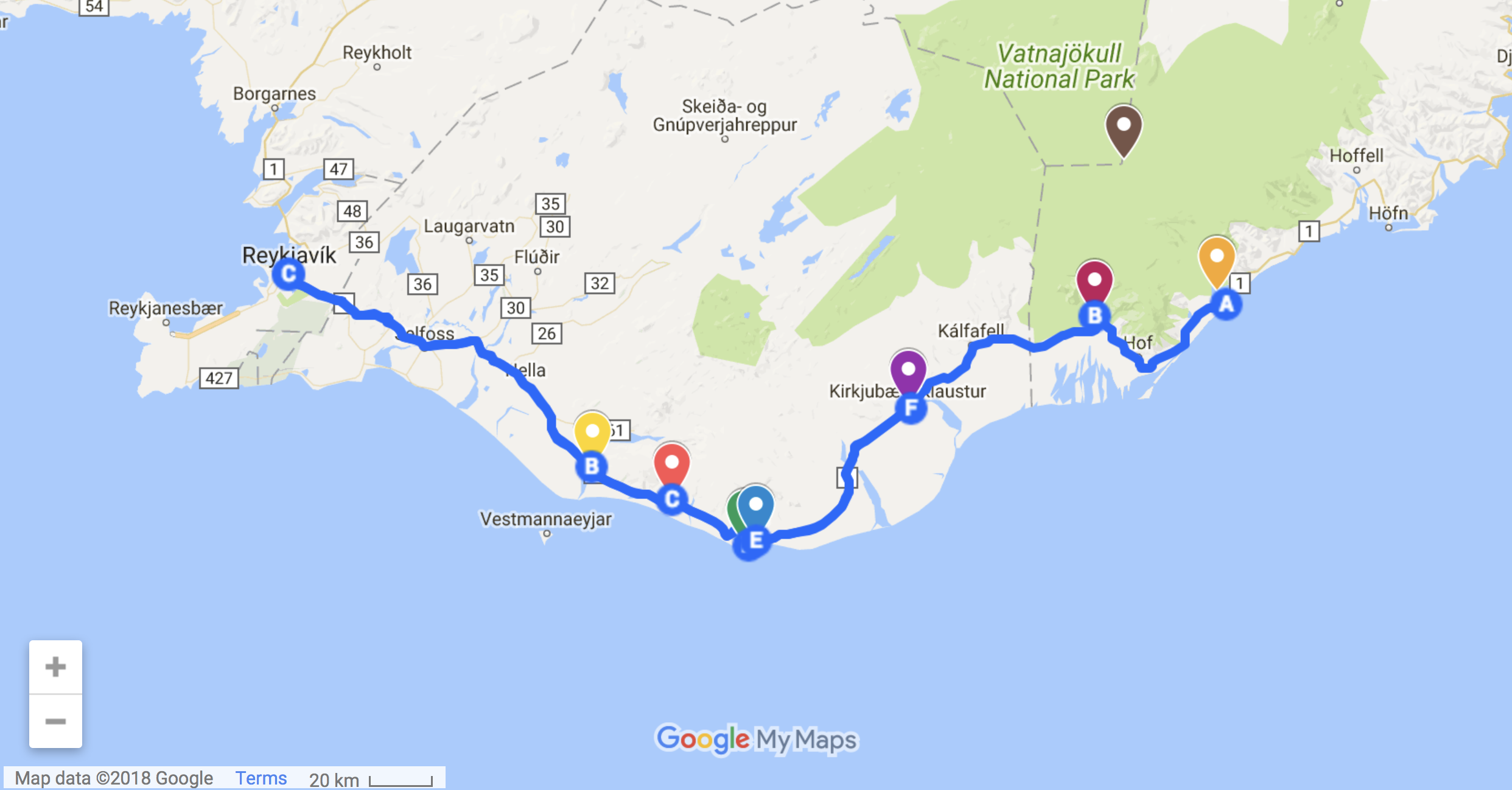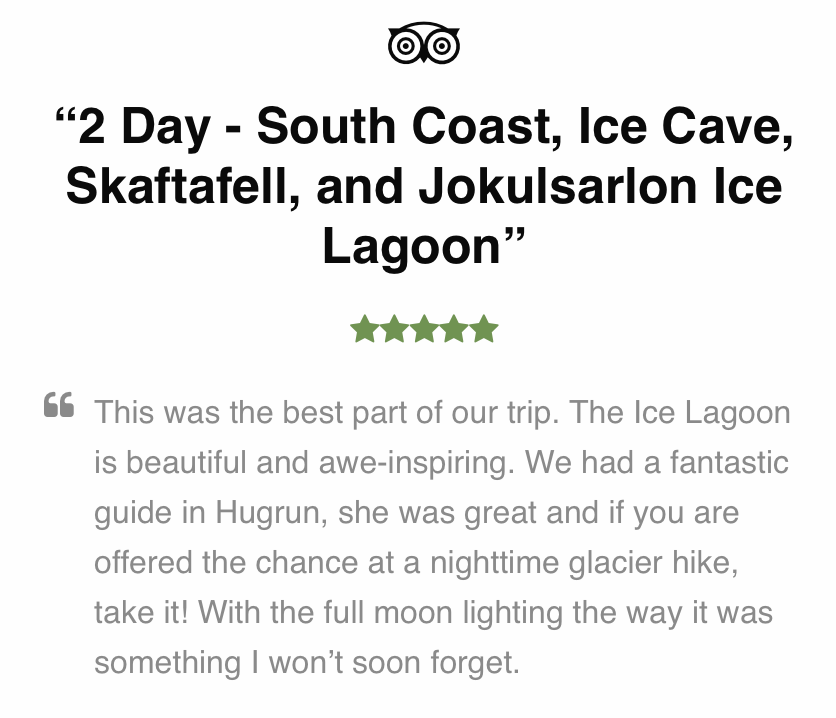 Rated:
Easy.
Duration:
2 days.
Pick up time:
8:00-8:45 and drop off 21:00 to 24:00 the following day.
Included:
Pick-up from your hotel in Reykjavík, a guided tour in a minibus, a visit to Seljalandsfoss, Skogafoss, Reynisfjara, Skaftafell, Jokulsarlon Ice Glacier Lagoon, Crystal Ice Cave, a certified glacier guide. Hotel room with bathroom, and breakfast. Please note that if you do not choose the single supplement you will be paired in a twin room with another participant of the same gender.
Please note that food is NOT included on this tour, except breakfast on day two.
Remember to bring:
Warm outdoor clothing, a waterproof jacket and pants, headwear and gloves. Good hiking shoes are recommended.
Minimum age:
10 years, because of age restrictions in Ice Caves.
Maximum number of participants:
16 persons per guide.
* Views of Eyjafjallajökull glacier, Hekla Volcano and entrance to the crystal cave are subjected to weather conditions.
Please note that ice caves are an ever-changing natural phenomenon and, therefore, unpredictable. We will visit one ice cave during the tour and the choice of a cave is based on conditions and safety.
Please note that if you do not choose the single supplement you will be paired in a twin room with another participant of the same gender.
Crystal Ice Cave
Seljandsfoss Waterfall
Skogafoss Waterfall
Vatnajökull – Europe's biggest glacier
Skaftafell Nature Reserve
Jökulsárlón Glacier Lagoon
Vík – The Coastal Village
Reynisfjara – Basalt Columns & Black Sand Beaches
Northern Lights
Small group experience
Eyjafjallajökull Glacier / Volcano view*
Hekla Volcano / Volcano view*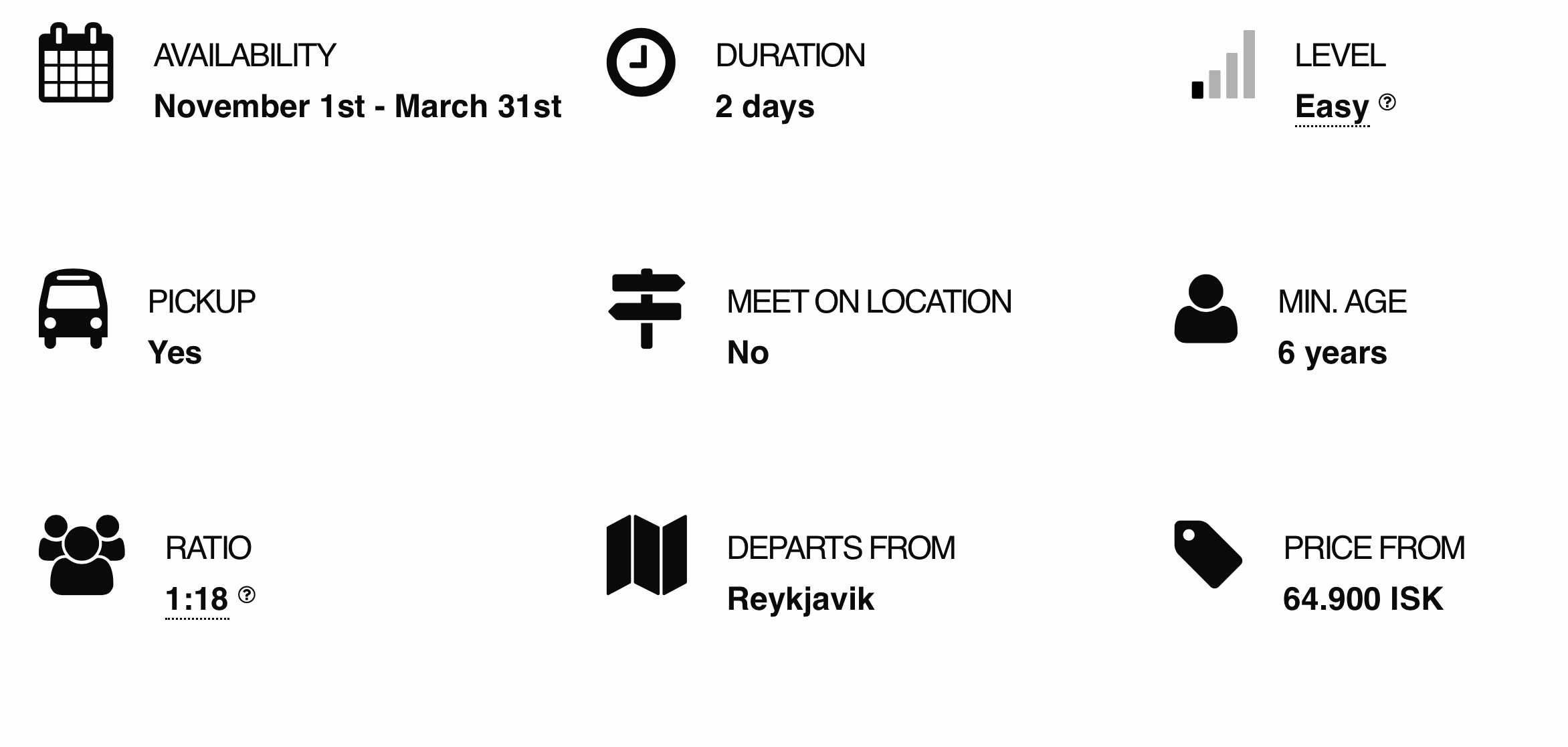 Terms and Conditions
Note
Changes to itinerary and cancellations are notified only via email
The Northern Lights are a natural phenomenon and beyond our control. They are visible in Iceland from September through April but visibility is subject to Northern Lights activity and cloud coverage
We cannot guarantee sightings even if the tour is operated
Due to weather and/or road conditions we might have to alter the itinerary, have longer journey time or cancel the tour
Disclaimer
All our tours are undertaken on the responsibility of its participants. Arctic Adventures does not assume any responsibility for accidents that are caused by its customers or can be traced to their own actions. Participants have to sign a waiver before undertaking all trips stating that they realize that all outdoor activities carry an inherent risk.
You may also like