THE BEST TIME TO SEE THE NORTHERN LIGHTS IN ICELAND
Seeing the otherworldly Aurora Borealis, or northern lights, has been fascinating humans for centuries – and is a life-long dream of many travelers.
For each and every northern lights enthusiast, one question arises: 
When is the best time to see the Northern Lights?
JOIN US ON A NORTHERN LIGHTS EXCURSION
Let's start by demystifying the most common myth about the Northern Lights:
"The Aurora can only be seen in winter – when it is very cold outside."
In fact, all the countries located under the so-called auroral oval – the region where the northern lights can be observed on a regular basis – are located at arctic and sub-arctic latitudes, indeed not blessed with all-year-round tropical temperatures.
But: The Aurora itself occurs far above our weather system and is not affected by temperatures on Earth.
Truth is, you need clear skies to see the northern lights, and crispy clear nights are usually colder than cloudy nights, but there is no real link between cold weather and Auroras.
At polar latitudes, Auroras can appear on any dark night. That's why the northern lights are not visible during the summer months in Iceland, when the midnight Sun and consequent lack of darkness make them fade away.
In conclusion, the Aurora season in Iceland starts around the end of August and ends in mid-April, and if you visit for a few days during this time frame, you will have good chances of success.
 However, any period within the Aurora season has its own peculiarities:
NORTHERN LIGHTS SUPERJEEP EXCURSION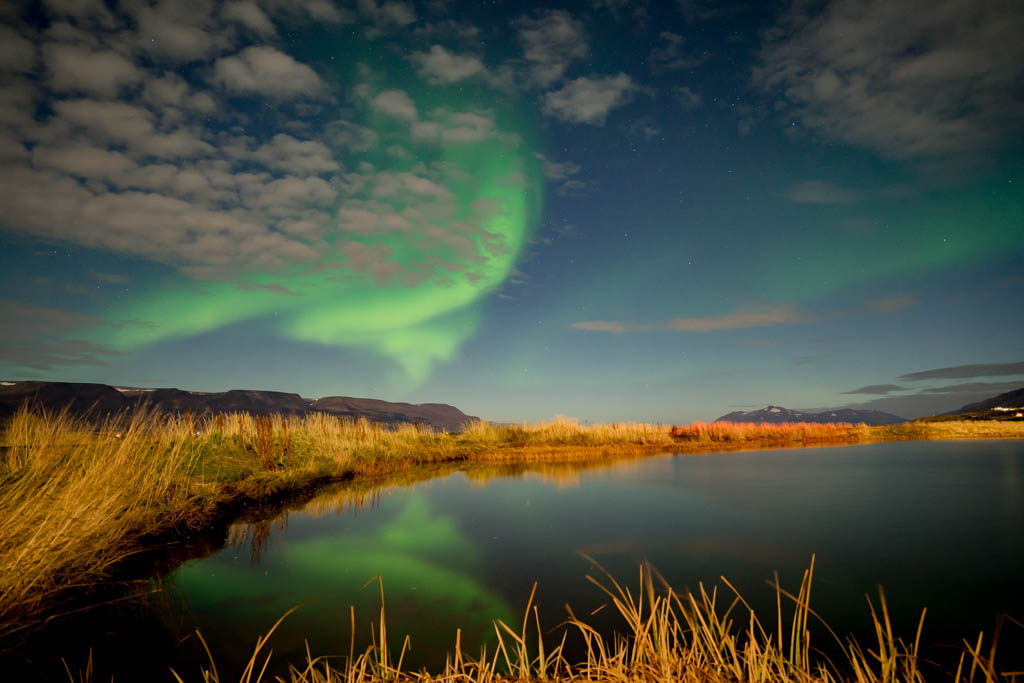 Scenic Autumn Aurora – September / October
As photographers, fall is one of our favorite times to go hunting for the Northern Lights. Here's why:
The Indian Summer Colors
Iceland in autumn is simply beautiful. Under the sugar-covered mountain tops, arctic moss, blueberry bushes and birch trees are painted in golds and reds, creating the perfect scenery for observing the first northern lights displays of the season.
Temperatures are still reasonable
Yes, this is Iceland, and observing the Northern Lights comes for a price: it can be freezing!
In September though, temperatures usually don't reach beneath 0°C yet, making it the perfect time to spend a night out under the arctic sky.
Aurora loves Equinoxes
Summer officially turns into autumn on the autumn equinox, September 23rd. While the Aurora Borealis is visible from late August, it is the equinox that gives this cosmic light show an extra boost often producing some of the best northern lights activity of the season.
Lakes and ponds are not frozen yet,
which increases the number of potential locations for beautiful reflection photos.
Twilight Auroras are the most stunning
The Sun is still setting late in September, giving the chance of observing amazing twilight auroras. When the auroral activity is high, the northern lights often start dancing right after sunset, when the sky is still lit up in beautiful dark blue and orange colors on the horizon.
 Some of the most impressive Aurora displays are captured in September and October – here is one of our real-time videos from the fall last year.
Are you ready to see the lights this autumn? Take a look at our favorite tours here!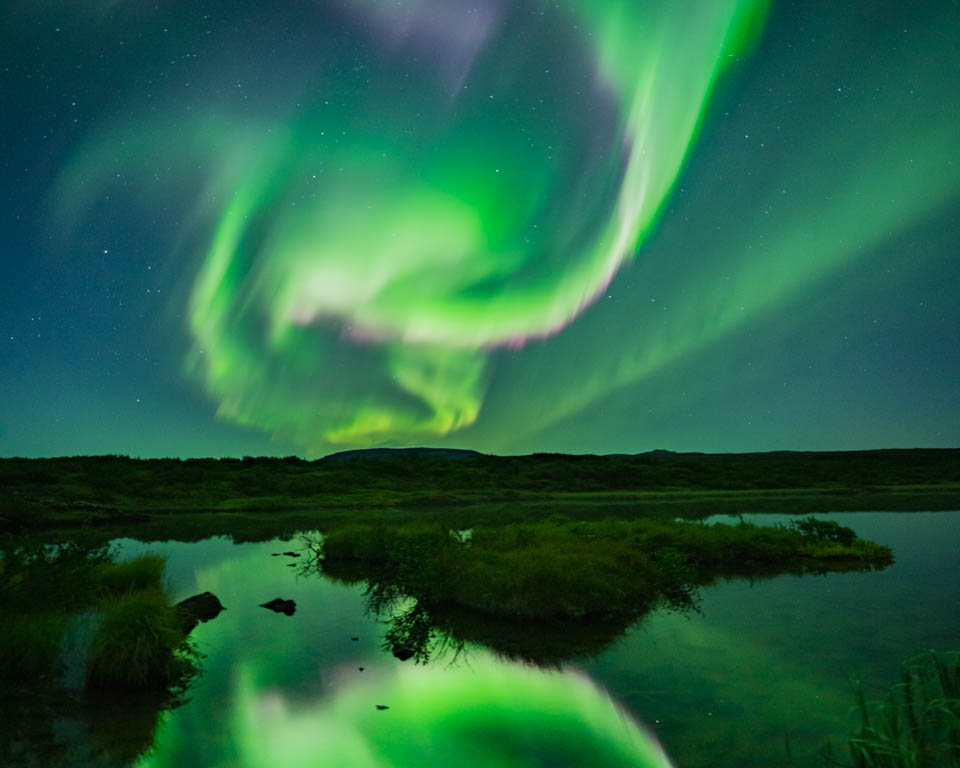 Outburst of Lights in September, Þingvellir National Park
NORTHERN LIGHTS SUPERJEEP EXCURSION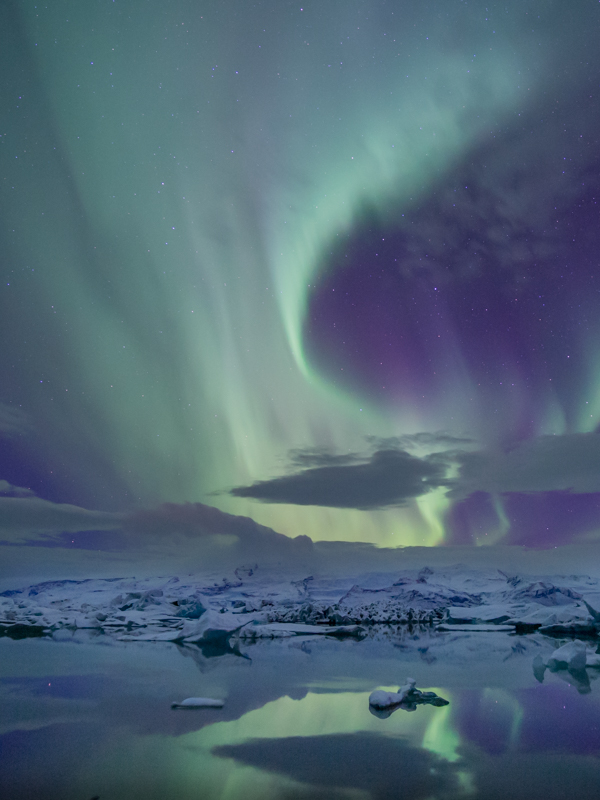 Winter Northern Lights at Jökulsárlón 
Scenic Arctic Night and Winter Wonderland – December and January
Due to its location just below the Arctic Circle, Iceland does not get polar nights in the standard definition. Even though there is no total winter blackout, hours of daylight in December and January are very limited. Essentially, you're getting between four to five hours of sunlight a day during the depths of winter in Iceland. It is therefore especially important to keep the light factor into consideration when planning activities and excursions. 
To give you an idea, here are a few sunrise and sunset times in Reykjavik during the winter:
December 1st: Sunrise at 10:45 am and sunset at 3:45 pm
December 15th: Sunrise at 11:15 am and sunset at 3:30 pm
January 1st: Sunrise at 11:19 am and sunset at 3:42 pm
January 15th: Sunrise at 10:56 am and sunset at 4:18pm
This being said, there are of course several good reasons to plan your northern light trip to Iceland in winter: 
1. Winter has arrived!
Cold temperatures start to settle in, and snow usually begins to accumulate in December. Aurora hunting in the snow-covered outback is a perfect way to enjoy the northern lights. 
2. Long arctic nights
In order to see the Northern Lights, the most important factor is: Darkness. Of which we have plenty during the long winer month in the Nordics!
3. Romantic and fun seasonal holidays
In December, Iceland is the ultimate winter wonderland Christmas or New Year's holiday destination! 
4. Stargazing! 
Due to the extended hours of darkness, winter in Iceland is the perfect time for observing the night sky. Almost no light pollution and crispy clear skies make Iceland an outstanding destination to discover our universe – and beyond.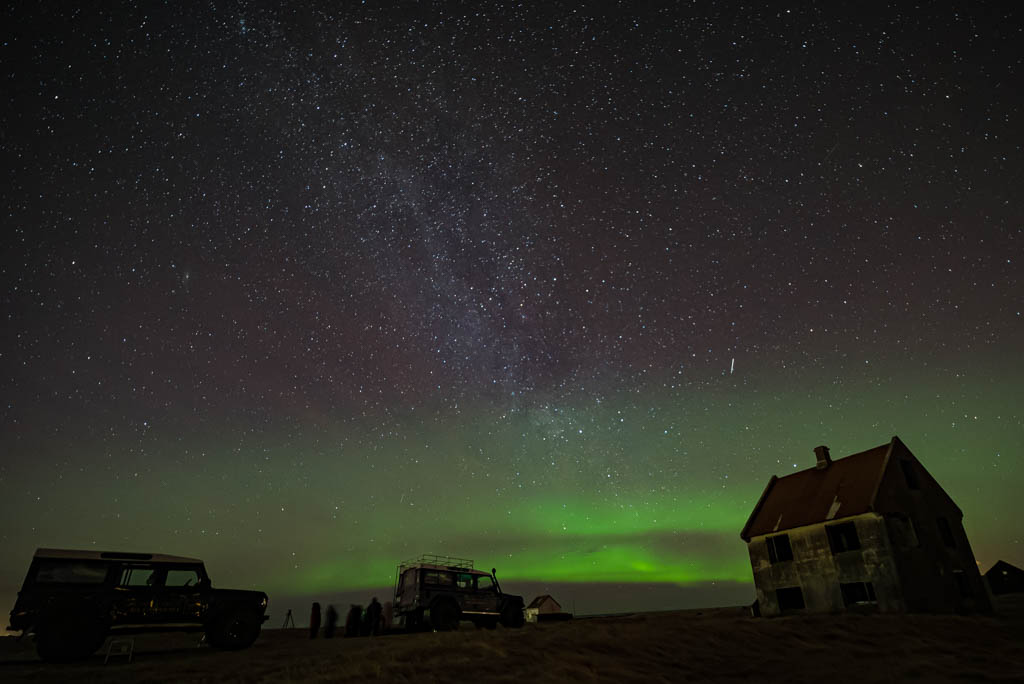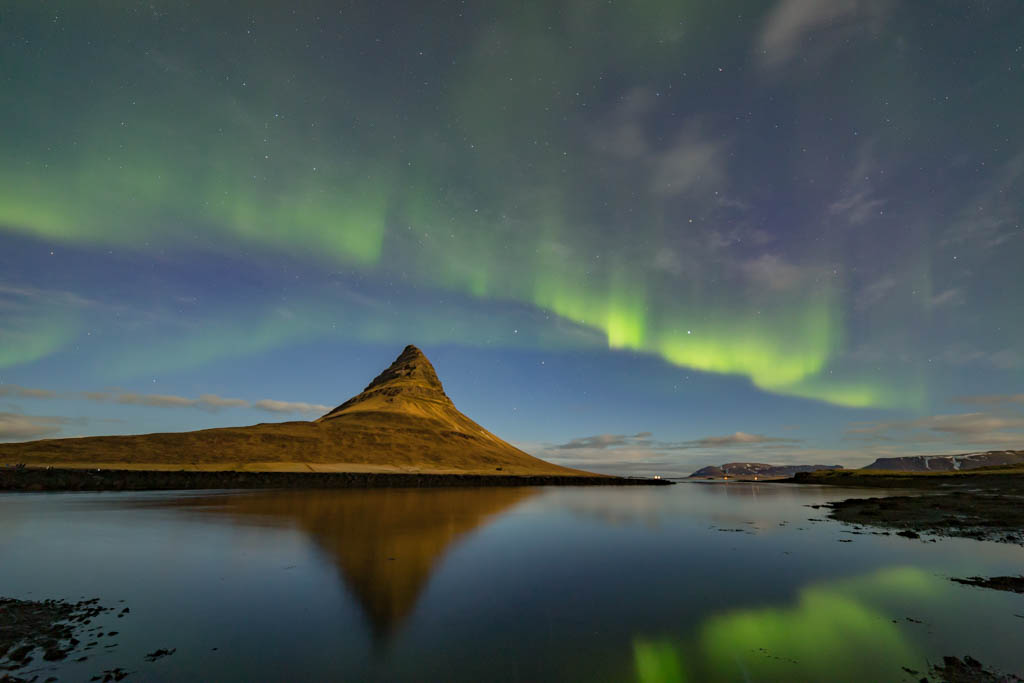 Northern Lights at Kirkjufell in March
Scenic Spectacular spring Aurora – February and March
Late winter and early spring are the most popular times to visit Iceland for the northern lights, and for good reasons:
Spring is Aurora season!
Geomagnetic disturbances are almost twice as likely in spring and fall compared to winter and summer, according to 75 years of historical records.
In spring, we often experience strong auroral outbursts, called auroral sub storms. Sub storms happen with little warning and sometimes outrageous intensity, turning the entire sky green. Be prepared for the most spectacular sightings!
The otherworldly snowy landscapes
Iceland is covered in snow – now the country truly honors its name.  The combination of Northern Lights and deep powdery snow truly is a sight to behold. Lakes and ponds are frozen, and the views so stunningly unique to make for a real once-in-a-lifetime experience.
More hours of daylight
Days are extending quickly, opening a treasure trove of winter activities to choose from. For many of our guests, combining day-time winter activities, such as ice caving, dog sledding or snowshoe hiking, with night-time northern lights hunting is the perfect way to explore Iceland. Thanks to the increase in daylight, there is a plenty of extra time to travel the country during the day. 
 Are you ready to plan your visit in February or March? Take a look at these tours.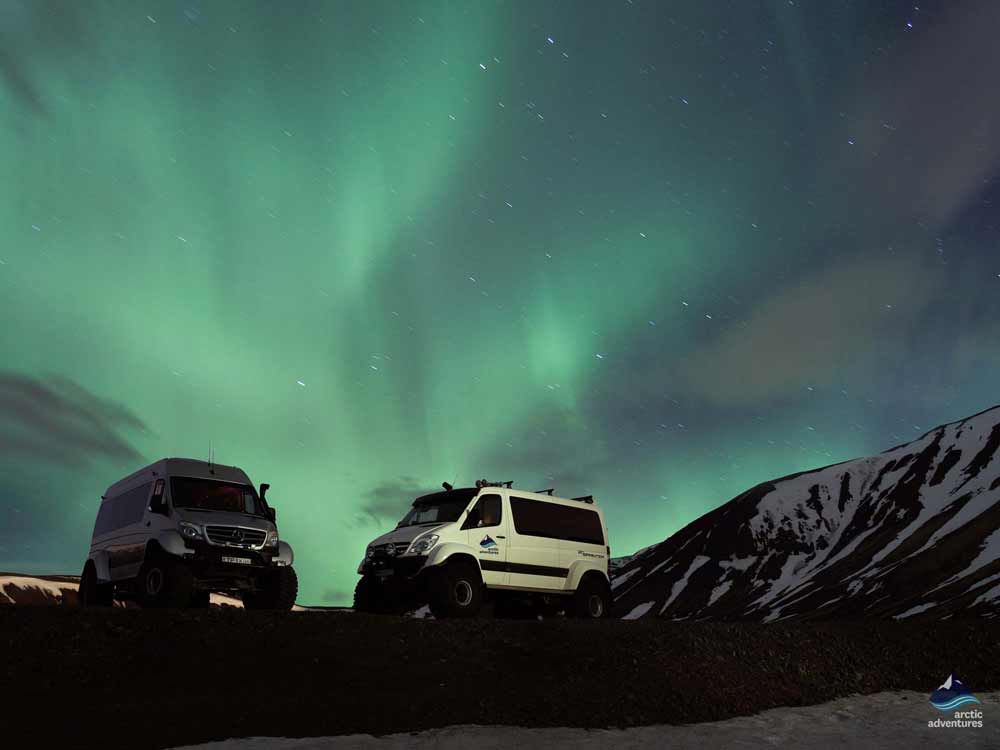 Summary
1. In Iceland, the Aurora season starts around the end of August and ends in mid-April, and if you visit at any point within this time frame for a few days, you will have a good probability of success.
2. Contrary to the common belief, deep winter is not necessarily the best time for the northern lights, due to reduced solar activity and unstable weather conditions. Consider September or March to increase your chances!
3. Keep in mind that the magnificent Aurora Borealis is a natural phenomenon, which does not always show up on a cue. Even when the odds seem to be in your favor – always take seeing the northern lights as the cherry on top of your trip.
4. Choose the season for your holiday according to your preferences and needs – are you aiming for an arctic winter getaway with ever-dancing lights above your hot tub, or would you rather have more hours of daylight and warmer temperatures for exploring the country's various sights and activities?
JOIN US ON A NORTHERN LIGHTS EXCURSION