4-DAY NORTHERN LIGHTS WINTER PACKAGE
SEE THE NORTHERN LIGHTS,
VISIT THE GOLDEN CIRCLE,
RIDE A SNOWMOBILE,
HIKE ON A GLACIER
& SOAK IN THE BLUE LAGOON
This package offers the best winter adventures in Iceland. See the northern lights, get your adrenaline pumping with a drive through the Golden Circle, an unforgettable snowmobile ride and glacier hike, and top it all off with a soak in the Blue Lagoon.

FREE CANCELLATION
BEST PRICE GUARANTEE
NO BOOKING FEES
FAST & SECURE PAYMENT

Trip difficulty: 3/5, moderate.
Tour Highlights: Northern Lights, Þingvellir National Park, Gullfoss, Geysir, Skógafoss, Sólheimajökull Glacier, Glacier Hiking, Ice Climbing, Langjökull, Snowmobiling, Blue Lagoon
Day 1: Northern Lights Explorer:The mesmerizing sight of the dancing colors and shapes on the dark arctic sky will leave you awestruck. First, your Northern Lights guide will pick you up at your hotel in an custom-built 4×4 super jeep. On the search for the Northern Lights you will travel through some of Iceland's most spectacular natural sights by night time with a very informative and experienced guide. The best part: The super jeeps give us the flexibility to go off of the beaten path, where big tour buses can not reach giving us a better chance to enjoy the Northern Lights without the discomfort big crowds. Venture into the night with us for front row seats on a chase to see the spectacular, unique and ever changing show that are the Northern Lights!
– Day 2: Golden Circle and Snowmobiling: The Golden Circle tour allows visitors to get in touch with some of Iceland's most famous and exciting natural phenomena. Our first stop is at the Þingvellir National Park 40 min due east of the city. From there we head along gravel tracks toward the world-renowned geothermal area around the Geysir hot spring where you can witness gurgling bubbling water burst 25 meters high. This is the one spouting hot spring that all such phenomena on Earth are named after. From there we continue on to Gullfoss, "the Golden waterfall", with practically no limit to how close you can stand next to it. Gullfoss is a great sight with water rushing down three steps of lava layers exhibiting breathtaking power and grandeur.
Next we kick the action into higher gear and go for a snowmobiling tour on Langjökull, Iceland's second largest glacier. Here you will experience the chance to maneuver a snowmobile through the glacier's endless vastness of white snow.
Required: A valid driving license to drive the snowmobiles. Snowmobiles seat 2 persons.
– Day 3: Blue Ice:Here is your chance to hike an immeasurably magnificent Glacier. This trip will take you to the frozen glacial tongue called Sólheimajökull. It is a rugged, raw and ever changing hub of ancient frozen water- truly a phenomenon. On this tour we will explore the crevasse riddled outlet glacier. With its amazing ice formations, sinkholes and jagged ridges, it is truly an unforgettable experience. We will walk along the beautiful glacier and also test our ice climbing skills. We will provide you with all the tools you need: ice axes, crampons and safety lines. On our return journey to Reykjavik, we will stop at the beautiful waterfall, Skógafoss. On this trip you will be enriched with a unique experience along the ICE-landic glacier.
– Day 4: Blue Lagoon:With water at 37-40°C (98-104°F), year-round, the Blue Lagoon is the perfect place to enjoy a natural hot bath. Consisting of Silica, Algae & Minerals, this hot spot will leave you relaxed and rejuvenated, all while in the comfort of one of the most unique places in the world.
Disclaimer: All trips are undertaken on the responsibility of its participants. Arctic Adventures does not assume any responsibility for accidents which are caused by its customers or can be traced to there own actions. Participants have to sign a waiver before undertaking all trips stating that they realize that all outdoor activities carry an inherent risk.
Arctic Adventures reserves the right to alter itineraries and/or timetables should it be necessary, due to adverse weather and or other related conditions.

Cancellation policy
We will charge a cancellation fee of 100% if booking is cancelled 2 days or less before event
We will charge a cancellation fee of 50% if booking is cancelled 14 days or less before event
We will charge a cancellation fee of 10% if booking is cancelled 365 days or less before event
Transport to/from Reykjavík each dayGuided minibus tours each day
All activities mentioned in highlights
All glacier and ice climbing equipment
All snowmobiling equipment
Entrance to the Blue lagoon
Golden Circle sightseeing
Exclusions
Food, beverages and accommodation are not included.
What do I need to bring?
Warm and waterproof outdoor clothing, headwear, gloves, bathing suit and a towel. Good hiking shoes are recommended. 
Day 1: Northern Lights Super Jeep Adventure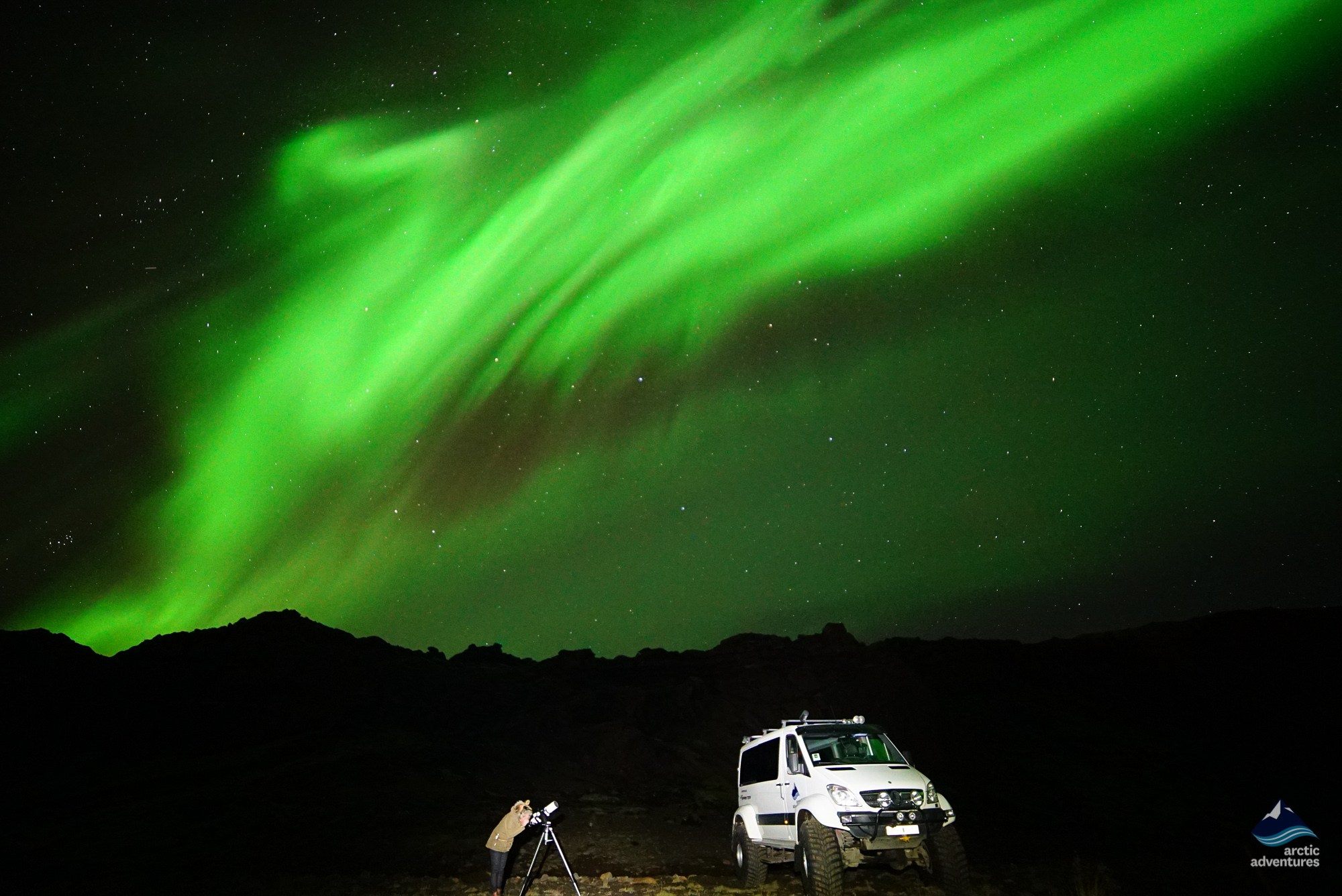 Pickup is around 21:30 from your accommodation or a nearby location in Reykjavík. The start times for our Northern Lights tours vary a little from day to day. The correct time will be stated on your itinerary. Picking everyone up can take 30 minutes, so you may have to wait, but please be ready at your pickup point at the time stated in the email.
Our custom-built Super Jeeps can take you to rugged places where regular buses dare not venture. On this tour, we'll go wherever necessary to catch the aurora borealis. Are you up for the excitement of a true Northern Lights safari?
Our specialist Northern Lights guides will make sure you get the best chance to see this natural phenomenon far away from the city lights. The various ways in which they manifest is all part of the excitement! Will they be transparent green glows, rippling softly, or intense jewel colors scintillating in powerful curtains across dark skies? While green and yellow are the most common colors, we sometimes catch other colors, such as violet, blue, or even the rarest of them all, red. Red auroras are more common in Iceland than anywhere else in the world.
Northern Lights tours are always, in a way, unpredictable. The cloud and aurora forecasts will determine the direction we take as we head away from city lights. In the velvety darkness of the countryside, the colors of the aurora shine more clearly, and the stars will shine brighter. This tour is also a treat for astronomy enthusiasts!
To cap off the night, we'll offer hot chocolate, and even a touch of Brennavín, the famous Icelandic liquor, for the braver souls among us.
You can't wear too many clothes on a Northern Lights tour, so be sure to dress appropriately. – when things chill down just remember really cold frosty weather, those frost particles give the Aurora a greater effervescence!
Please note: The northern lights can never be guaranteed to show even when the forecast is good. We cancel tours when the conditions are unsuitable.
Day 2: Golden Circle, Super Jeep & Snowmobiling Adventure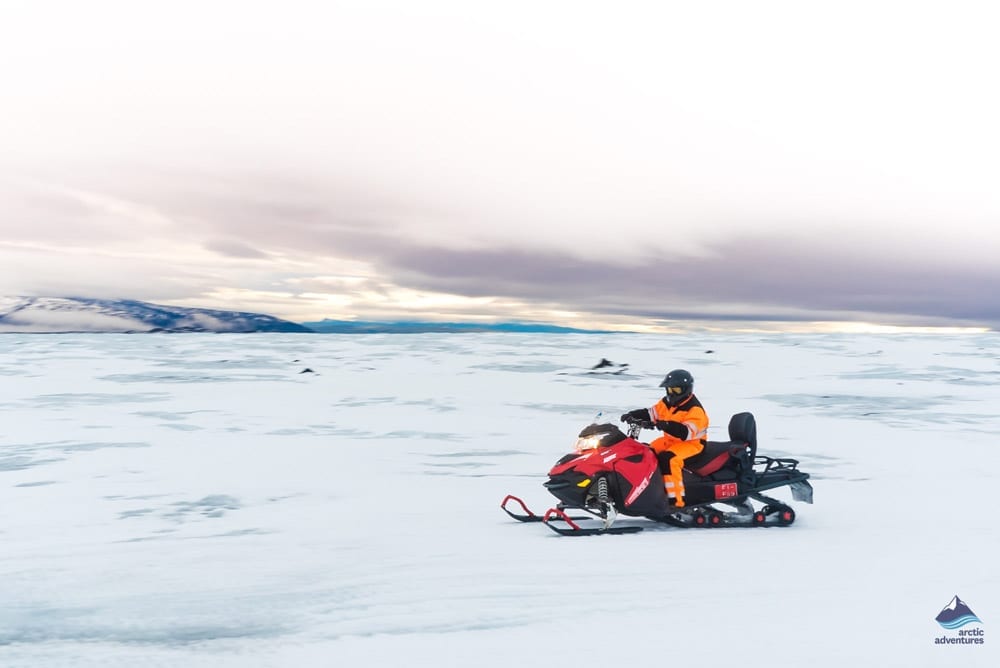 Pick up is at 08:30 am from your Reykjavík pick up point. Picking everyone up takes about 30 minutes but please be ready on time.
Þingvellir National Park is your first amazing stop, the site of Iceland's first parliament, Alþingi, founded in 930 AD. This incredible UNESCO World Heritage Site is also a great geological wonder of the world and lies between the Eurasian and North American tectonic plates. Next on the agenda is the Geysir geothermal area to witness Strokkur geyser erupting torrents of boiling water skywards every 5 to 10 minutes. Last, we take you to see Gullfoss Waterfall (the Golden Falls), on the Hvítá (the White River), which flows all the way from Langjokull Glacier. Feel the extraordinary power as the water pours through the canyon, dropping 32 m in two stages, pivoting dramatically as it does so. You'll have the opportunity to enjoy lunch at Gullfoss Café (not included).
Now for the glacier! Our all-terrain vehicle will drive you to our remote but warm and welcoming Langjökull snowmobiling base. Langjökull is the second largest glacier in Iceland, covering a vast area of 953 m². It rises to 14,500 m above sea level and is surrounded by high mountain peaks. Your snowmobile specialist will give you an overview of your gear and driving instructions step-by-step, and then you'll be ready to hit the slopes for an hour. A rip-roaring ride will get the adrenaline racing through your veins! As you skim across Langjökull, you'll feel like you're sailing across a high snow-capped plateau–a real-life magic carpet ride! Why settle for the ordinary when you can experience something as extraordinary as this?
After it's over, we drive back to Reykjavik, arriving around 18:30 (6:30 p.m.).
Remember to bring: warm layers and weatherproof top layer, headwear, gloves, scarves, and good hiking shoes. A valid Driver's License is required for all snowmobile drivers. Two people share a snowmobile. If you're on your own, or you wish to ride solo, an additional fee of 6000 ISK is payable.
Day 3: Glacier Hiking & Ice Climbing on Solheimajokull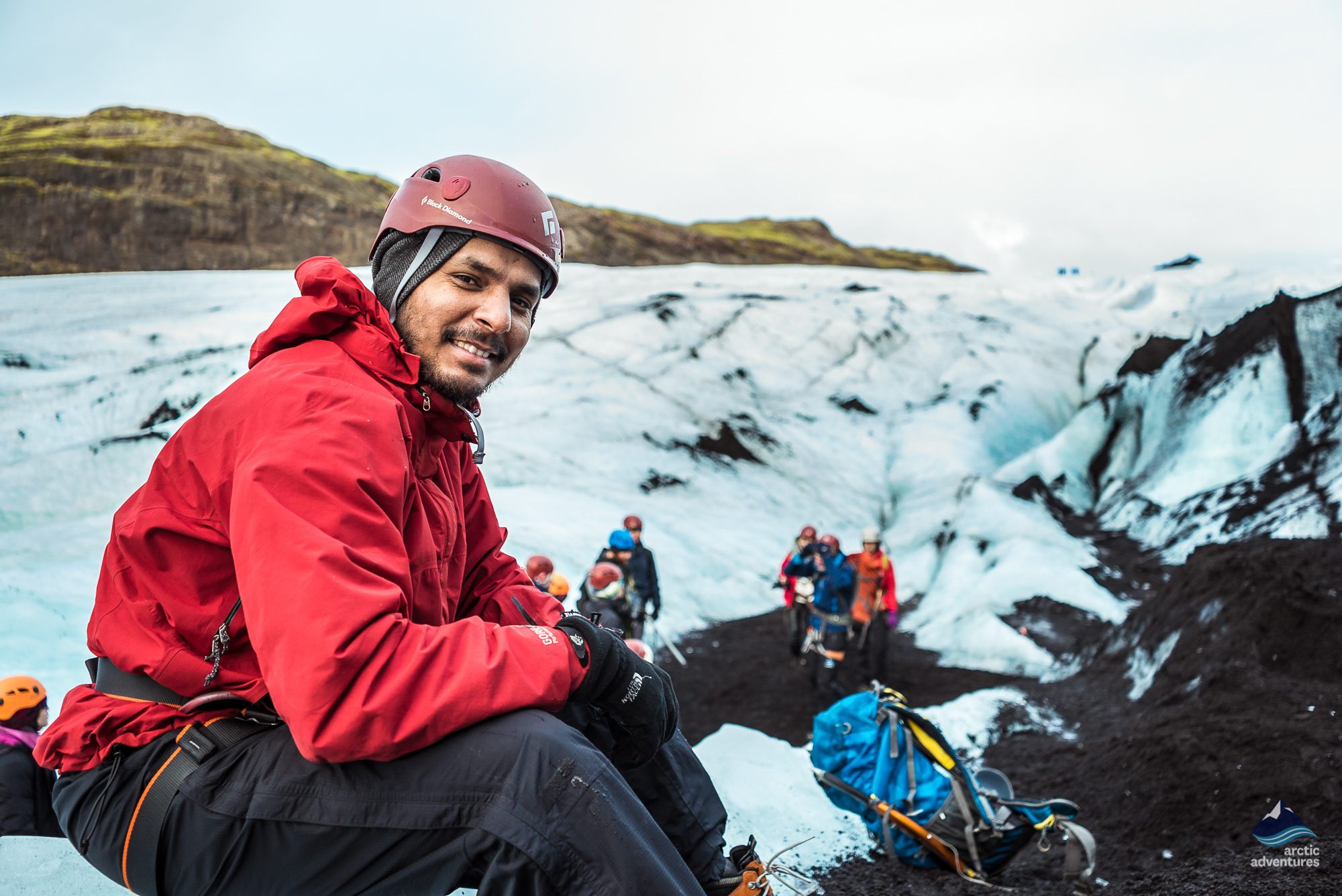 Pick up at 9:00 AM from your accommodation or a nearby location in Reykjavík. Please note: the pickup process can take up to 30 minutes but you do need to be ready and waiting at 09:00 AM.
Here is your chance to hike and climb on a majestic Glacier! This tour will take you onto the amazing frozen world of Sólheimajökull Glacier, a rugged, raw, and constantly evolving outlet glacier of Vatnajökull, the largest glacier in Europe. You'll be joined by a professional glacier guide, who will gear you up with all of the necessary glacier equipment. Your guide will explain how the extraordinary ice formations of this crevasse-riddled outlet glacier were formed, you will see great sinkholes and jagged-toothed ice ridges. The glacier may seem peaceful, but it's constantly shifting and changing. If you stand quietly, you'll hear the cracks and groans as the ice adjusts and moves.
Those who feel up to the challenge can test their ice climbing skills on the glacier using ice axes, crampons, and safety lines. This glacier experience of a lifetime will leave you with unforgettable memories.
On the way back to Reykjavík, we'll make a stop at Skógafoss, a sensational 60-m high waterfall, falling from the former sea cliff! Hike up 527 steps to the crest to look over the Fimmvörðuháls hike path and onto the lowland below.
Day 4: Reykjavik & The Blue Lagoon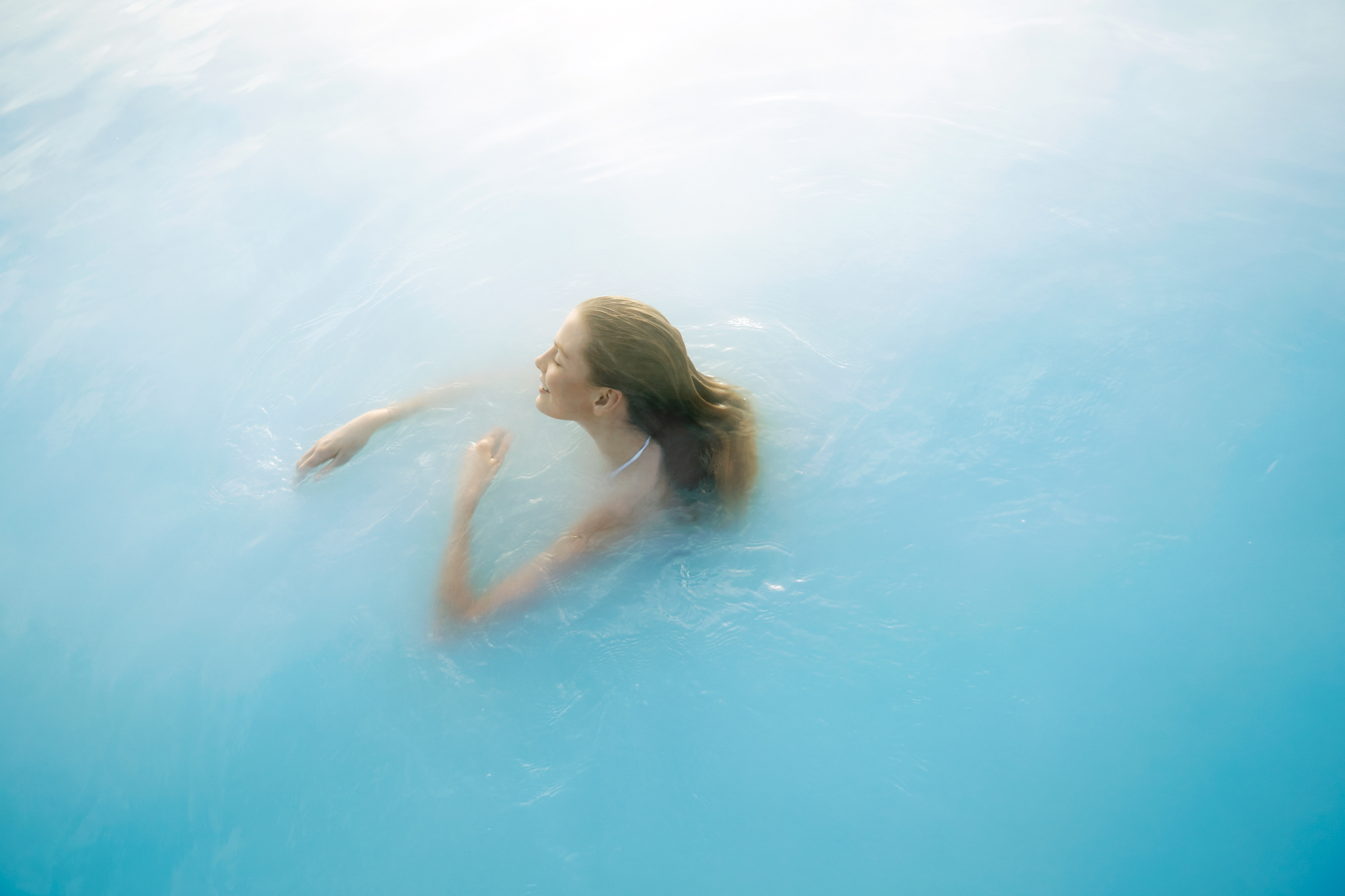 Pick up: There are several tour departures to the Blue Lagoon each day, so you just arrange your departure time with our sales team when you book your tour. Perhaps you want to start early to catch an afternoon flight out. Or maybe you want to sleep in a little on the final day of your grand weekend in Iceland. You may even want a full half-day to explore Reykjavik on your own, before or after. Though small, the capital has plenty to see, from historical museums and galleries to charming coffee houses,  exceptional restaurants and the concert hall of Harpa. Reykjavík's famous shopping street, Laugavegur, is home to great souvenir and artisan shops. Turn upSkólavörðustígur toward Reykjavik's iconic white church, Hallgrímskirkja, where on a clear day you can enjoy awesome views from the church tower.
The Blue Lagoon is now listed as one of the great spas of the world. Bathing in the milky, steamy and skin-soothing waters surrounded by the lunar lava landscapes makes a perfect cap on your winter adventure. Facilities include a shop, cafeteria, the Lava Restaurant and a bar offering an impressive cocktail menu.
Flights, lunch, dinner, accommodation, solo snowmobile on the second day are not included in this tour.
This tour is comprised of 4 different day tours from Reykjavík, and the order of the tours can vary between departures. We will send you the final itinerary once your tour is booked.
Vouchers
Pickup and expected dropoff times will be confirmed by our sales team after booking. When you arrange your trip you will initially be sent a voucher as proof of booking. This document will not contain your pickup and dropoff details. Our sales team will send you a separate email containing your full itinerary, so please look out for this.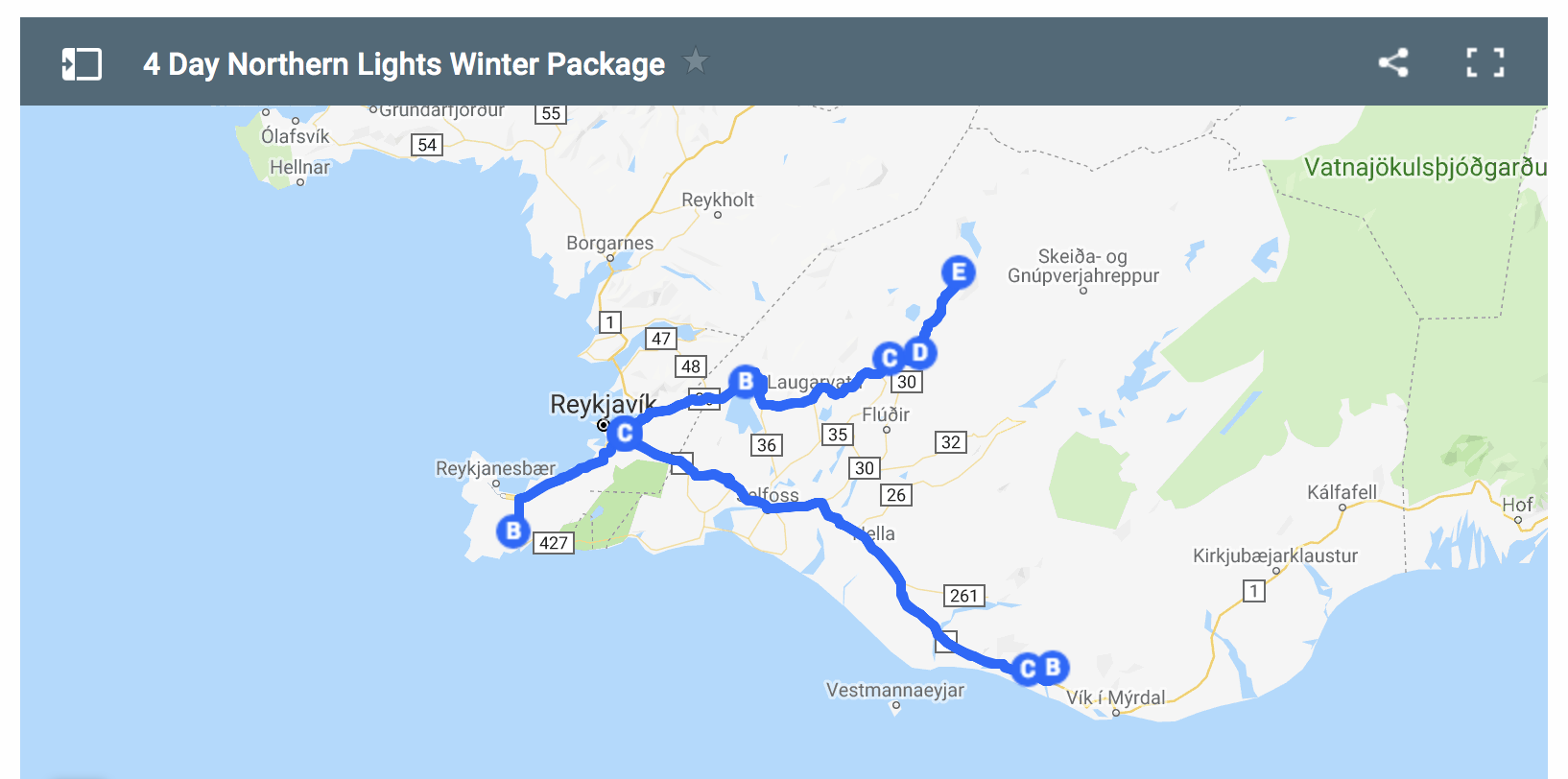 Terms and Conditions
Booking Terms & Conditions
These terms and conditions may be amended from time to time and apply to all of our services.
By accessing, browsing, using and/or completing a reservation through our (mobile) website you acknowledge and agree to have read, understood and agreed to the terms and conditions set out below.

This tour is operated by our partner Arctic Adventures. Arctic Adventures is a tour operator, offering a wide range of adventure tours in Iceland.
Arctic Adventures reserves the right to alter itineraries and/or timetables should it be necessary, due to adverse weather and or other related conditions.  Arctic Adventures is not responsible for expenses and/or other related costs due to factors outside of its control, such as flight delays, changes and or cancellations, injuries, weather, war, natural disasters etc. and/or other unforeseeable matters. You are responsible for providing Arctic Adventures with the correct contact information and related details so that we can keep you informed in the event of changes made to the services booked.
1. Prices
Please note that all prices for the services provided by Arctic Adventures and its sub-brands are in the company's local currency,  Icelandic Krona (ISK). As a local operator, Arctic Adventures can not be responsible for currency fluctuations and or additional fees outside its control that may be applied such as bank transfer fees, credit card fees and etc.
2. Special offers & Promotional codes
Please note that special offers such as promotional codes cannot be applied to a reservation after purchase has been made such as in the form of a refund. When offered, promotional codes and/or other special offers, must be entered into the relevant field located on the payment page upon check out at the time of booking in order to be valid and applied.
3. Pick-up & Drop-off Services

Arctic Adventures offers pick up and drop-off services for most of its tours. Please read the tour description very carefully to see if pick-up and drop-off services are included in the price, can be added as an extra or the activity in question only offers the option of meeting us on location.
You as the traveler are responsible for your pick-up, this includes providing Arctic Adventures with your pick up location in time as well as being ready at the correct time for the pick-up for your tour. Arctic Adventures will provide you with information about your pick up time on your voucher which is provided upon booking. If you are unsure when to be ready for your scheduled tour then please contact our Customer Support Team.
Please note that missing the pick-up does not entitle you to a refund of the price paid for the services. You are responsible to be ready for pick up at the assigned pick up point from the start of the pick-up time in order to not miss our guides when they arrive to pick you up.
4. Extras & Rental gear.
Extras and rental gear can both be added upon booking your tour as well as afterwards as long as it is made no later than the evening before your tour departure date. If you have already made a reservation with us and would like to add any extras and/or rental gear to your reservation then please contact our Customer Support Team.
Please note that all extras and rental gear reservations are final. No refund is given for extras & rental gear, this includes single supplements, hiking shoes, waterproof jacket and pants etc.
Safety equipment needed for each tour is provided by Arctic Adventures and is not classified as rental gear.
5. Travel insurance
As with any and all world travel, we strongly recommend that you purchase travel a travel insurance policy in your home country that covers your cost should you have to cancel your travel reservation with short notice. These kind of travel insurances are not expensive and frequently cover other risks. Having travel insurances is always a good idea when traveling around the world.
6. Icelandic weather and conditions
All adventure trips and outdoor activities are dependent on weather and general conditions. Arctic Adventures reserves the right to alter routes, itineraries, departure times and or cancel your trip without prior notice with your safety in mind, should the necessity arise.
Please keep in mind that Iceland is and will always be Iceland. The weather changes fast on our northern island and with it, conditions change. Our guides are specially trained to deal with changing conditions and their number one priority is to make decisions with your safety in mind. Please be aware of this and respect your guides authority to do so. This is especially valid for winter travel in Iceland. Our summer trips (excluding high alpine trips), operated from June through August, are rarely adversely affected by harsh weather.
Arctic Adventures can not be held responsible for any loss, damage, accident, injury, sickness, schedule change or other factors due to weather, strike, natural disasters or any other cause beyond Arctic Adventures's control. Arctic Adventures acts in good faith and cannot be held responsible for defaults or delays of organizations that are not a part of the Arctic family such as individual agencies, hotels, other tour operators, airlines, guides, restaurants or any other person's or company's act.
In the case of any changes to flights (domestic and international), the passenger is responsible for any additional costs incurred as a result of such changes (i.e. additional hotel nights, meals, transfers, etc.), at the time provided. We, therefore, advise all customers to have comprehensive travel insurance to meet all contingencies.
7. Clothing
Appropriate footwear and suitable outdoor clothing must be worn. We reserve the right to refuse participation to customers who are dressed inappropriately or with inappropriate footwear since this will put the client's well-being and safety at risk.
8. Luggage
Please note that Arctic Adventures cannot be held responsible for damaged luggage if it is taken on the tour. Luggage storage can be bought as an optional extra if the customer would like to securely store their luggage while on the multi-day adventure.
9. Assumed risk & Outdoor activities
Guests/Clients are advised that all activities are undertaken entirely at their own risk and they must behave in a fit and proper manner at all times in accordance with Arctic Adventures, Arctic Rafting, Glacier Guides, Trek Iceland, Snowmobile.is or their partners' guidelines and must take proper responsibility for their own safety. All adventure tours and outdoor activities carry inherent risks and Arctic Adventures or its partners do not assume any responsibility for accidents that are caused by its customers or can be traced to their own actions or are caused by factors outside of human control (Force majeure). With the purchase of your trip you agree to these conditions, understand its implications and accept responsibility for your participation in your trip. Depending on the excursion, you may be requested to sign an additional liability release.
10. Alcohol and drugs:
We reserve the right to refuse participation to clients we believe are under the influence of alcohol or drugs, in such circumstances, no refund shall be given. Our guides reserve the right to refuse participation to any customer whose conduct or manner is likely to cause offence, upset or put other passengers in danger. In such cases, full cancellation charges apply.
11. Reviews & Feedback
Arctic Adventures welcomes all feedback, both positive as well as negative as it helps us improve our overall services, and performance. We would greatly appreciate it if you could share your tour experience with us.
Please note that all complaints must reach Arctic Adventures within 5 days from the completion of your tour. Otherwise, possible compensation is not valid.
Cancellation Policy
All cancellation fees held by Arctic Adventures are only intended to cover our direct cost of amending and/or canceling your reservation.
For tours purchased through another vendor please reach out to the vendor directly with your refund and/or cancellation request.
Cancellation fees & charges
Cancellations of Multi-day, Self-Drive, Stopover Packages, Group & Trekking Tours

More than 28 days' notice
90% refund
Less than 28 days' notice
50% refund
Less than 48 hours' notice
No refund
Cancellations with more than 28 days' notice before trip departure:
You will be refunded 90% of the total tour price. 10% is non-refundable, as this represents our direct cost of booking and preparing your tour.
Cancellations with less than 28 days' notice before trip departure:
You will be refunded 50% of your total tour price. 50% is non-refundable, as this represents our direct cost of canceling any arrangements made for your tour.
Cancellations with less than 48-hours' notice before trip departure:
No refund will be given if tours are canceled with less than 48 hours' notice, as Arctic Adventures will be charged for all costs such as guides, transport etc.
10% of the price of your trip is non-refundable, this percentage reflects our cost of booking and preparing your trip.