The Ultimate Guide to see the Northern Lights in Iceland
Best time
Best places
Best tours
 There is perhaps nothing more magical than witnessing the beauty of a northern lights display, and it has been a lifelong dream of many. However, those unpredictable, ever dancing lights don't always show up on cue.
Here is all you need to know to make your aurora dream come true!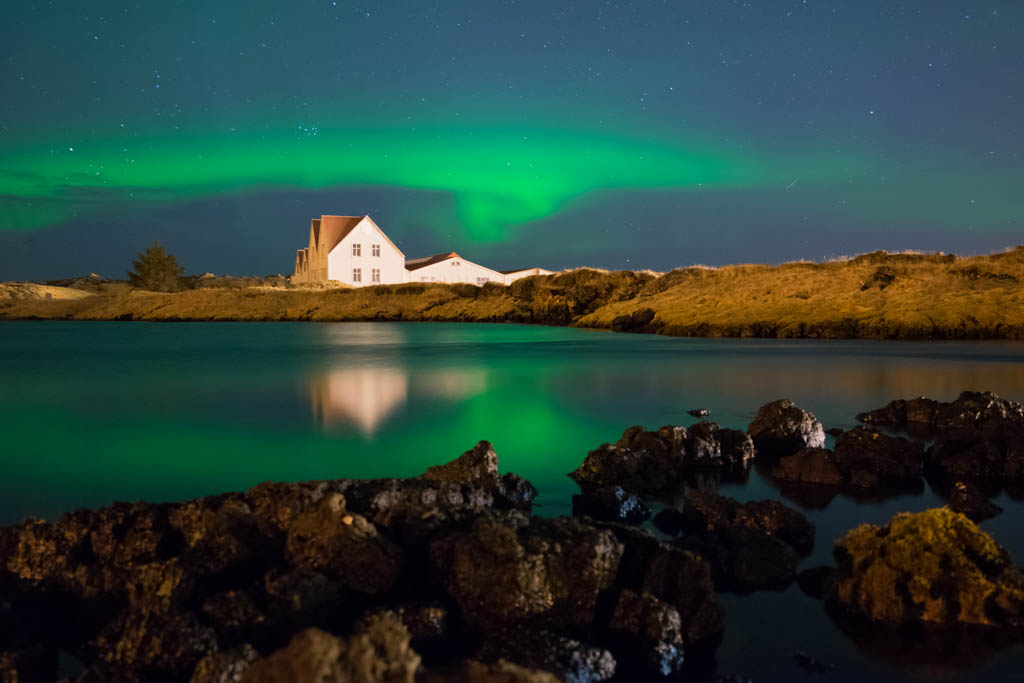 Northern Lights at Straumur, an old farm close to Reykjavík
Witnessing the Northern Lights in Iceland requires knowledge, patience and a little bit of luck. For catching a beautiful display, you need a few factors in your favor: 
darkness,
clear skies (or openings in the cloud cover),
good solar activity (which is pretty common from Iceland)
and little to no light pollution
Darkness
 For viewing the Northern Lights, darkness is required – making hunting the lights a night-time activity. During end of August and mid April, the skies get dark enough to witness auroral displays in Iceland. 
Clear skies
 The Northern Lights occur above our weather system, so clouds will block your sight. The Northern Lights forecast shows you the forecast for total could cover over Iceland. Weather and wind directions are changing fast in Iceland, making conditions almost unpredictable. Tour operators usually decide in the late afternoon if the actual weather situation is favourable enough to head out – if you go on your own, check right before you start where chances for clear skies are best.
Solar activity
 The strength of an auroral display depends on the solar activity, which is measured by the so called KP index. This index ranges from 0-10. The higher the number on the scale, the more auroral activity and the better your chance of witnessing fast dancing lights in various colours.  However, the Sun is constantly emitting solar particles, and a KP 2-3 is enough to get a nice display of Northern Lights in Iceland.  
Here you can monitor the KP index. Keep in mind that this scale is just a forecast and no guarantee for the Northern Lights to occur – we have witnessed nights with a predicted KP7 and absolutely no lights where seen – and even more often nights with a predicted KP 2 and lights dancing all across the sky. If skies are clear, head out, no matter what KP. 
Light pollution
 The further you get away from the city lights, the better your chances of seeing the Northern Lights. Being out in the vast and rugged Icelandic nature also makes the experience so much more authentic and natural, and is a big part of the adventure. 
Pro-tip: Keep in mind that the moon creates light pollution, too. If you experience the Northern Lights for the first time in your life, we highly recommend choosing a period with little to no moon.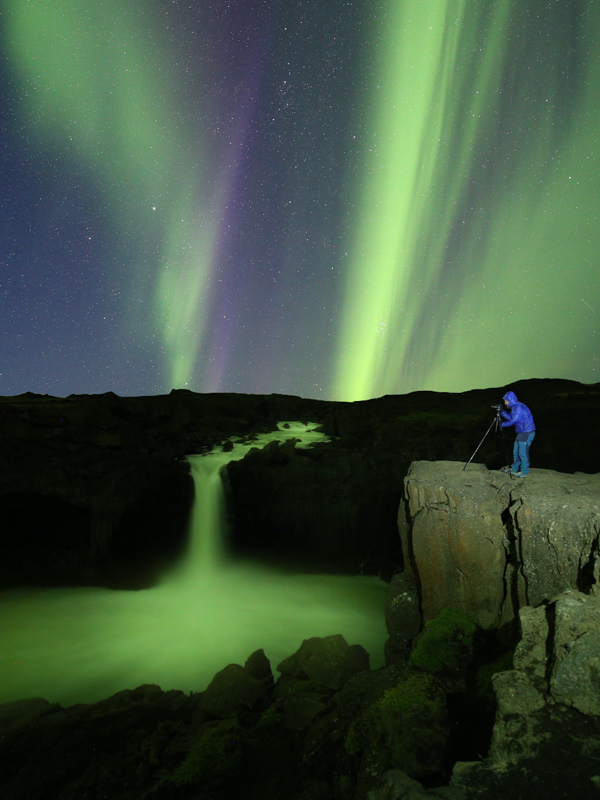 Northern Lights are caused by solar particles interacting with gases in our atmosphere
What are the Northern Lights
The Northern Lights are a natural phenomenon caused by electrically charged particles from the sun, called plasma. When hitting the Earth's magnetic field, the plasma reacts with gases in our atmosphere and energy is released in form of light: The Aurora Borealis.
Their intensity depends on the activity of the sun, and the acceleration speed of the solar plasma.
The most common auroral color is green, but colors can vary from white, green, pink and purple, depending on the elements being ionized.  
The Northern Lights appear in the polar regions, under the so-called auroral oval.
Located straight in the middle of this oval, Iceland is the perfect destination for observing the Northern Lights.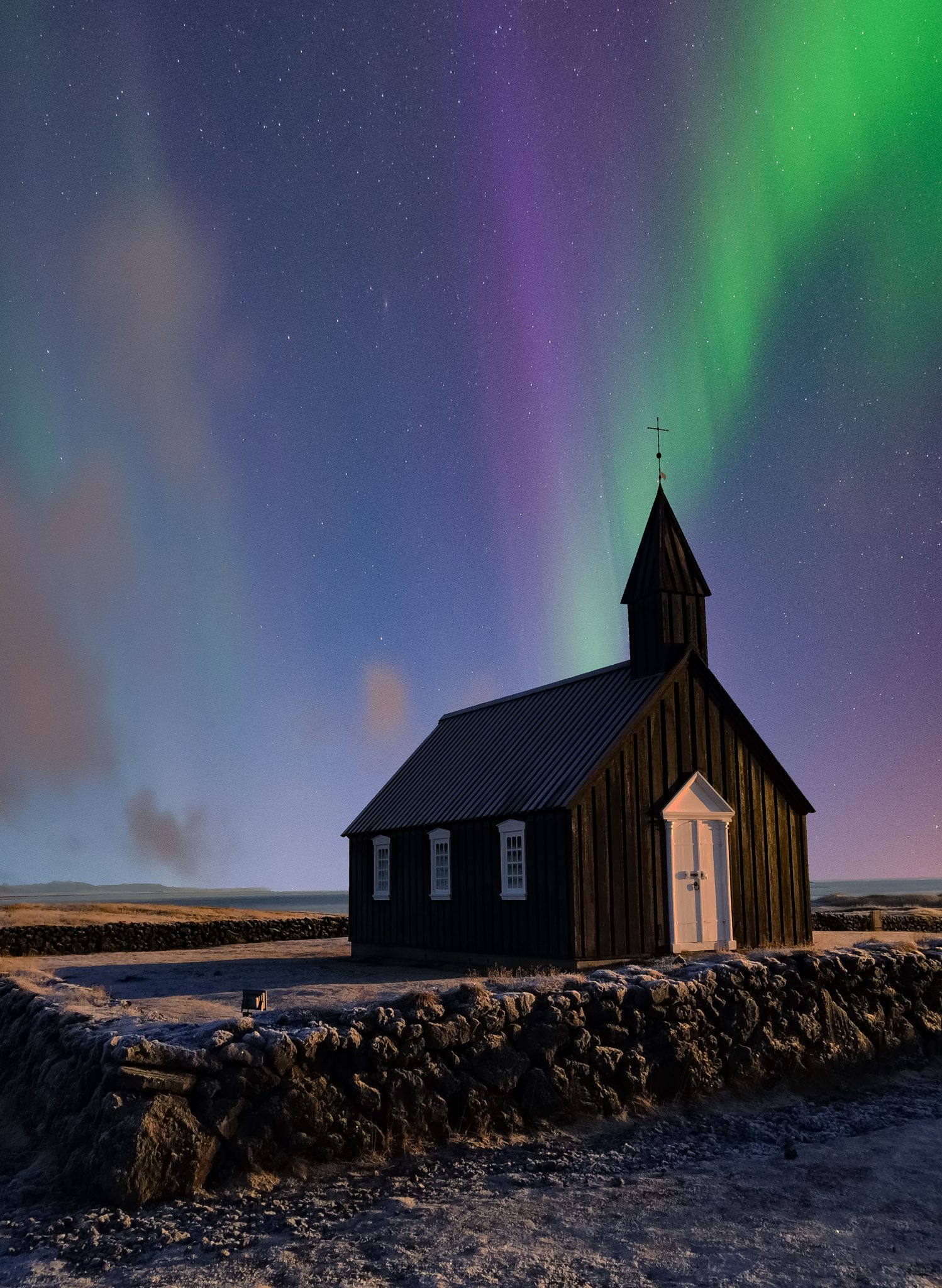 What's the best time to see the Northern Lights?
In Iceland, the Aurora season starts in late August and ends mid April. Any time during this period is favourable and has it's very unique advantages. 
Statistically, the aurora is most often seen around the equinoxes in September/October and March/April.
As Northern Light photographers, we personally love September/October – read here why.
How to see the Northern Lights in Iceland
You have several option to see the Northern Lights in Iceland:
1. Hunting the lights in Reykjavík
2. Joining a guided tour
3. Renting a car and search yourself
4. Taking a Northern Light evening cruise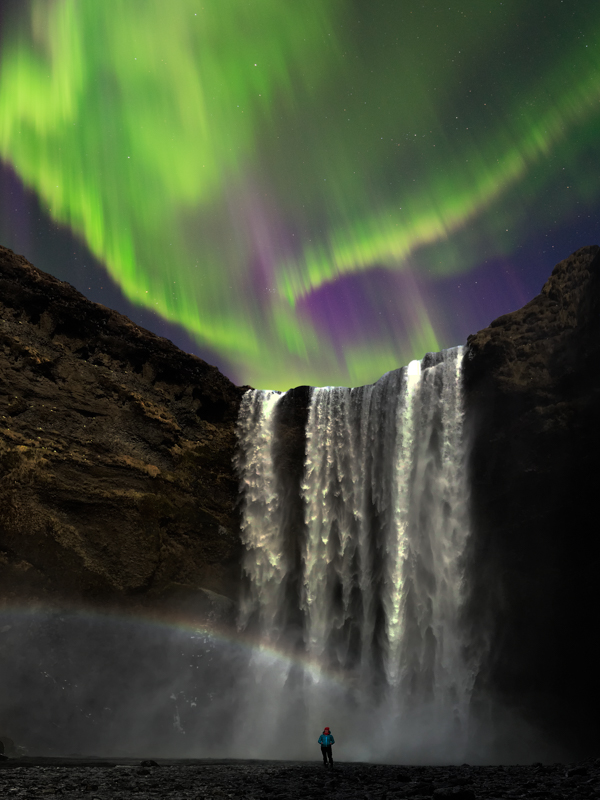 Northern Lights at Skógafoss
Hunting the Northern Lights in Reykjavik          
"Can you see the Aurora from the city?", is a frequent question of hopeful aurora hunters. The answer: Yes, if conditions are right, you can.
However, the experience will of course not be as delightful as if you'd leave the city lights behind and head out into the arctic wilderness. We often compare it to watching a movie at the cinema with all the lights switched on. Dust and electrical illumination can make it hard to see auroral lights, so your eyes will process them more fainted and not as colorful.
That being said – if your budget is a concern, you can always try  to catch the auroras from the place you are staying at. 
Find here the best spots to see the Northern Lights in Reykjavík.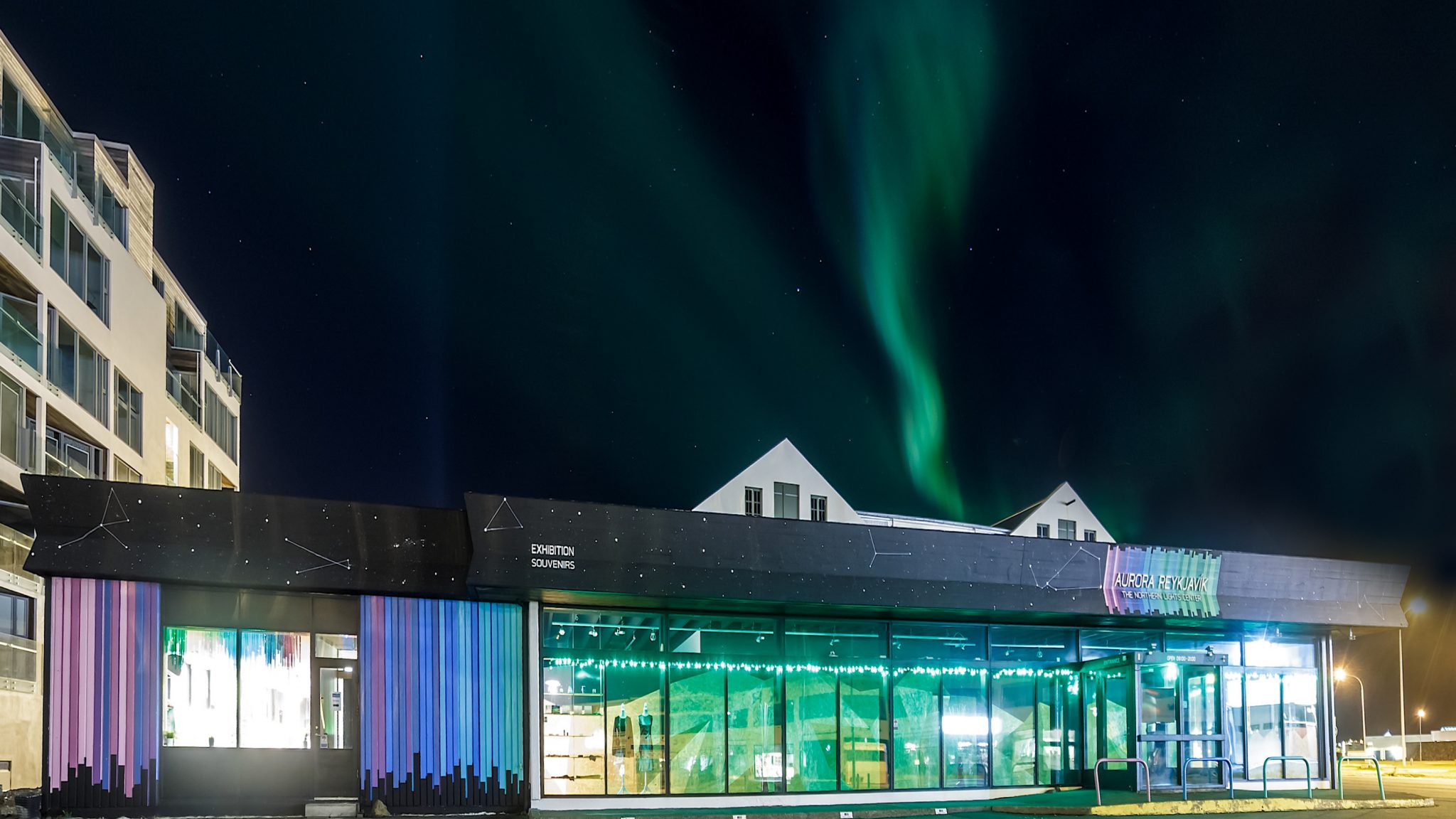 Northern Lights above Aurora Reykjavík
Joining a guided Northern Lights Tour             
The most common way to hunt for the aurora borealis is taking a guided tour. There are several tour operators running tours regularly from September to April, offering a wide range of different tours for all kind of budgets and personal preferences:
Bus and minibus tours,
Super jeep tours,
Photo tours,
Private tours,
and a variety of combo-tours that are worth to consider.
 All tour operators try their best to find the Northern Lights and make it a unique experience for you. If the tour gets canceled due to unfavorable weather conditions or no lights are seen, you will always get another opportunity to reschedule or retry with no additional charge.
There are several advantages of joining a guided tour:  
You will be under the guidance of an expert on the Northern Lights who knows where to find them, and how to photograph them

You will be mobile enough to move to where the forecast is most promising

You are with like-minded people

You won't need to worry about driving yourself in Iceland's winter conditions.
Those on a budget will appreciate reasonably cheap bus tours, which take you to the most promising locations without breaking the bank.
The minibus tours offer a small group experience, and usually, have added values like hot chocolate or photos of you under the Northern Lights. Of course, they're also more flexible vehicles in terms of nice spots to park.  
If you want to make your Northern Light hunt a real once-in-a-lifetime experience, we highly recommend choosing a super jeep tour.  These tours offer for sure the most personal, immersive experience and the highest chances to witness a beautiful display.
 You can find our favorite tours here.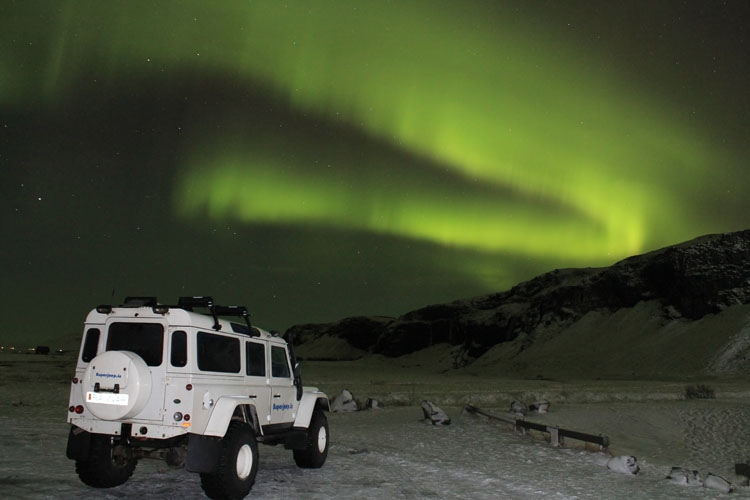 Joining a Northern Lights Evening Cruise           
Another way to enjoy a Northern Lights evening is joining an Aurora evening cruise. These tours are very convenient, as the boats provide heated indoor areas featuring a bar and toilet facilities, and warm overalls are offered for staying on the outside decks.
Just keep in mind that you don't have quiet the mobility a bus or jeep tour can offer, and due to the movement of the boats it can also be tricky to photograph the Northern Lights using long exposure settings.
The main advantage of a Northern Lights cruise is not so much the 'hunt' of the lights, but enjoying being out on the sea, surrounded by beautiful landscapes and a stunning view on Reykjavík's or Akureyri's skyline.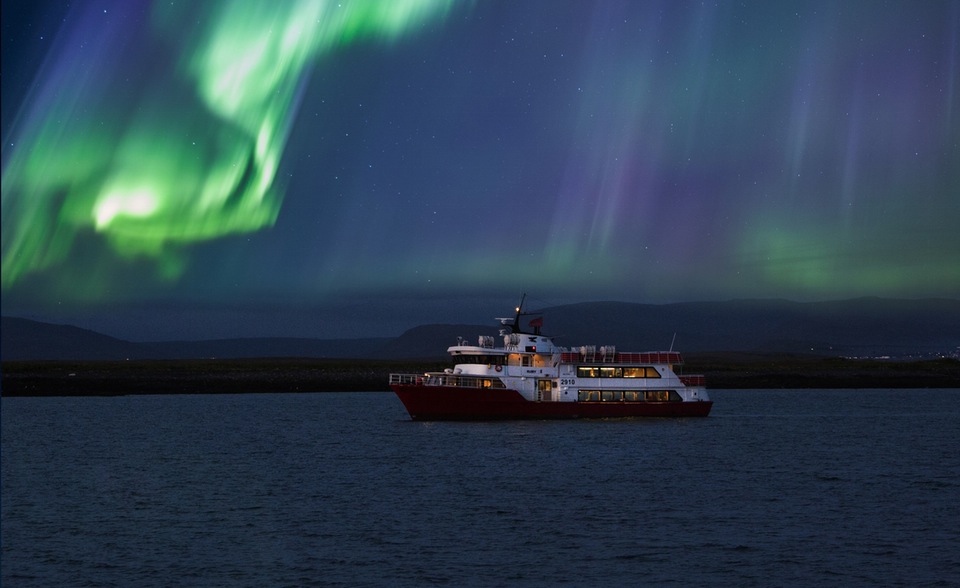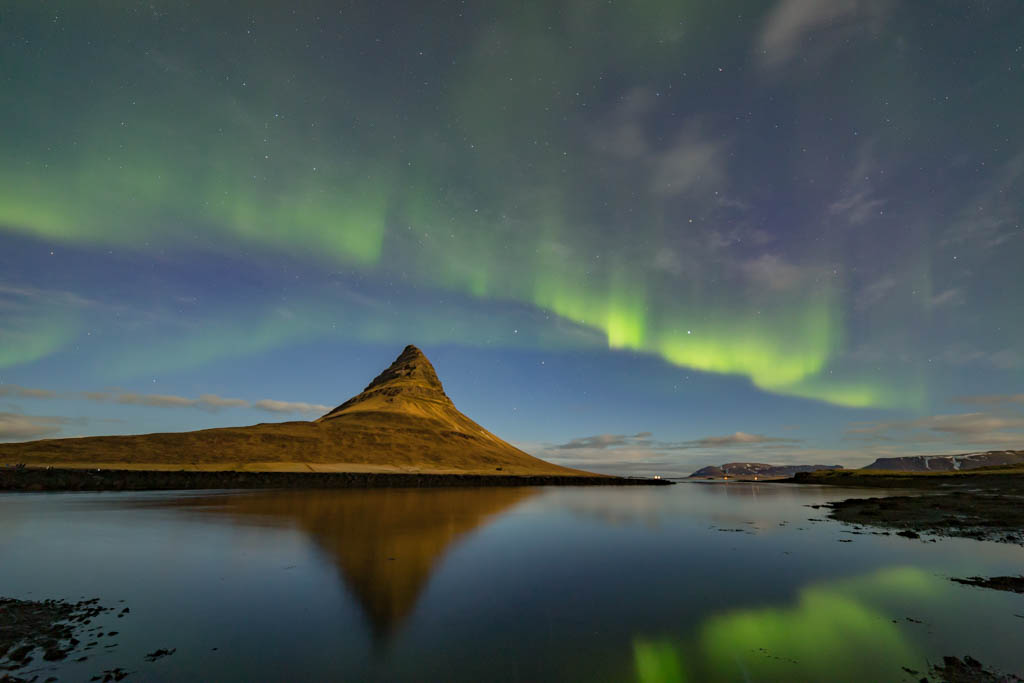 Northern Lights at Kirkjufell
How are my chances to see the lights – and how can I enhance them? 
The Sun is constantly emitting plasma, and chances to see the Northern Lights are usually quite good if you keep a few things in mind:
1. Consider a guided tour with an experienced guide
Northern lights hunting can be tricky, and we highly recommend to rely on the knowledge and experience of a local tour guide. People often fail to see the lights for very simple reasons – for example being on the wrong side of a mountain range, while the lights dance happily hidden behind the peaks.
2. The length of your stay in Iceland
The Northern Lights tend to be very active for 2-3 nights, then low for 4-5 nights, in ongoing cycles. So, the longer your stay the bigger your chances.
 3. Book your tour for the first night of your stay
In case your tour gets canceled due to unfavorable weather conditions or no lights are seen, you'll still have enough chances to reschedule or make use of your free retry. And if you're lucky to catch them in your first night on a tour, you might want to try on your own the following nights.
 4. Patience is the key
The Northern Lights tend to occur around magnetic midnight, which converts to 11 pm Icelandic time. However, they can occur at any time, darkness required. So dress up properly, grab a thermos with hot chocolate and a blanket and head out for a long night under the arctic sky!
Best places to see the Northern Lights in Iceland
 Chances to see the Northern Lights are about the same all over Iceland, due to it's location under the auroral oval.
 It's all a matter of clear and dark skies, so any place away from light pollution and cloud cover is fine.
 However, here are some personal recommendations: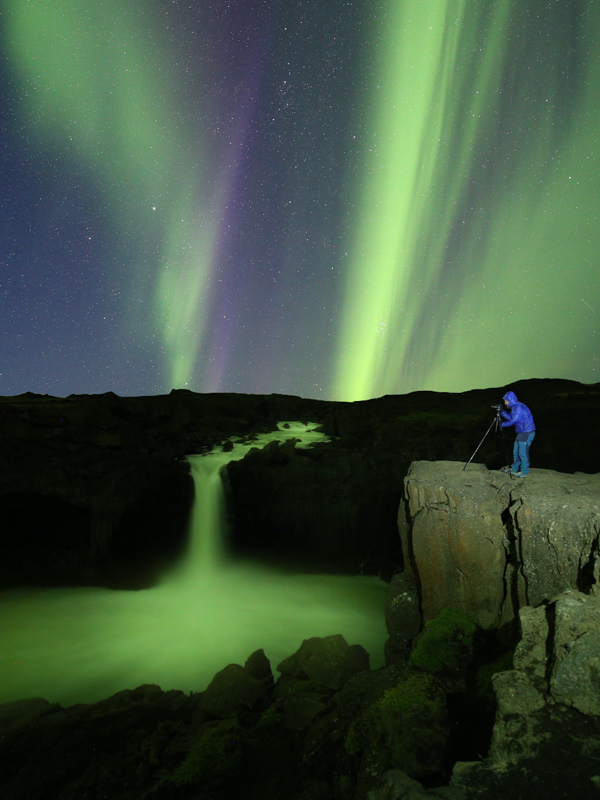 1. Being next to an unfrozen lake like Þingvellir gives the opportunity to witness amazing reflections.
2. The Blue Lagoon – not only a perfect spot to take a dip, but also to observe some beautiful auroral displays
3. The countless waterfalls at Iceland's South shore like Skógafoss make a perfect scenic foreground for stunning Northern lights captures.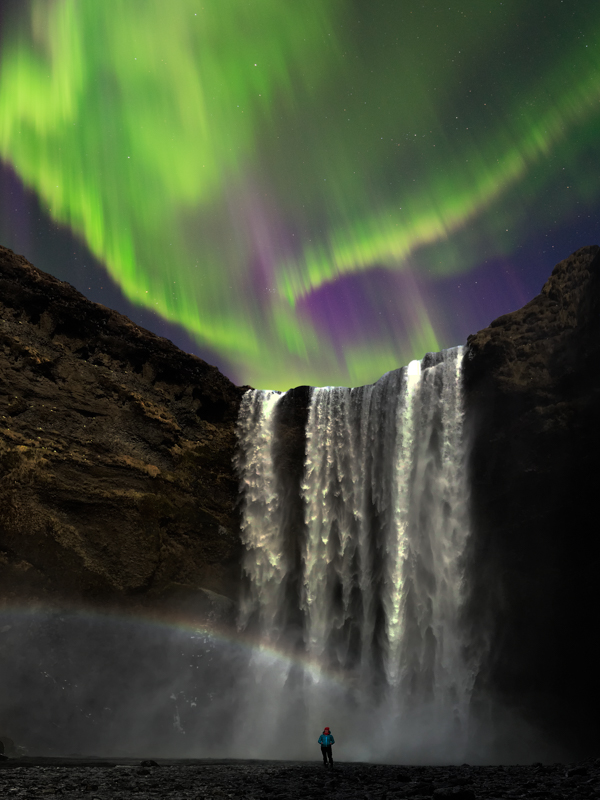 What to bring for a Northern Lights adventure
Here are some essentials to make your Northern Lights hunt a great experience:
Warm, wind- and waterproof clothes – dress preferable in layers

Warm and steady shoes

Thermos bottle with hot drinks

Snacks 

Hand- and toe warmers

Forehead lamp, preferable with red light 
For photographing, you will need:
Camera or phone with manual mode

Tripod

Spare batteries
Hunting for the Northern Lights is always an adventure and witnessing a display of this magical phenomenon will last in your memory for a lifetime. Tell us about your experiences in the comments!