Northern Lights Evening Cruise
Search for Aurora Borealis away from the city lights, on this thrilling winter cruise.
The Northern Lights Cruise commences at our office by the Ægisgarður pier in the Old Harbour in downtown Reykjavik. There you exchange your voucher for a prepaid trip. A guide will meet you in the Whale Watching Centre, which is facilitated on board an old fishing vessel permanently placed by the pier. At night it takes on a magical form with a multimedia northern lights show. The 10 minute show includes images, time-lapse footage of the lights while explaining the science behind the northern lights.
On the tour we will take you out into the dark blue yonder of Faxaflói bay in search for the mystical phenomenon we call the Aurora Borealis or Northern Lights, leaving behind the bright city lights of the capital Reykjavík. Our open top viewing decks provide the perfect platform for witnessing the dazzling spectacle while our heated indoor lounge is a great place to take a break and warm up in between sightings. Our expert guide will be at hand to answer your questions while you enjoy Mother Nature's light show and starry skies wrapped up in one of our warm overalls. On board you will find several outdoor viewing platforms and a large indoor saloon with toilet facilities and café where you can buy light refreshments.
Duration: 1,5-2,5 hours

WHY BOOK WITH US
FREE CANCELLATION
BEST PRICE GUARANTEE
NO BOOKING FEES
FAST & SECURE PAYMENT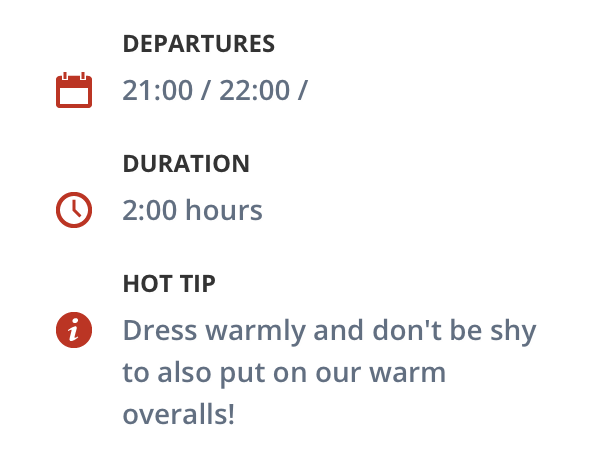 Access to Visitor Centre
Multimedia show
Use of warm overalls
Excellent guidance
Onboard WiFi
Terms and conditions
These tours are subject to correct weather conditions and sightings cannot be guaranteed. We recommend to dress in warm clothes as the weather can change quickly. If you join the tour and there are no sightings you will get another ticket to join us on the next available departure.
General Conditions
These Terms and Conditions are in accordance with Icelandic law. Any claim or action against Harpa Yachts is subject to the exclusive jurisdiction of the Icelandic Courts.
Privacy
All information from our customers will be strictly confidential and never be used for any other purpose other than what is needed at the time.
Your information will never be given or sold to a third party.
All payments through our website are processed over secure payment gateways and/or connections.
Bookings & Payments
Seats cannot be guaranteed unless reserved or booked at least 1 hour before scheduled departure time.
Prices
Tours and services are subject to currency fluctuation and conditions of cooperative contractors that may provide transportation and other services.
Discount for children
Harpa Yachts offer special discount fares for children accompanied by adults.
Pick up and drop off
Pick up for tours is operated throughout the city centre up to 30 minutes before tour departure. Please be in front of your hotel or in the lobby for pick up.
Drop off starts after indicated arrival time. Please note that drop off locations may not be directly in front of your hotel/guesthouse dictated by actual conditions (e.g. narrow streets, coach size, roadworks etc.).
Liability
Harpa Yachts reserve the right to alter routes, itineraries or timetables without prior notice, should the necessity arise. No liability is accepted for losses or expenses due to delays or changes of arrival or departure of flights or other services, injury, sickness, accident, strikes, damage, negligence, weather, war or other causes outside the control of Harpa Yachts. All such losses and expenses are the personal liability of the traveler.
Cancellation Policy
Reservations can be cancelled 24 hours prior to departure without penalty. Cancellations received less than 24 hours prior to departure will be charged full price.