NORTHERN LIGHTS EXPLORER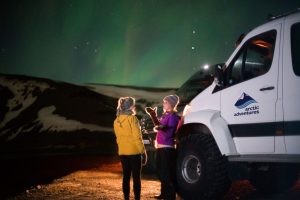 During this Northern Lights Hunt tour, you'll be able to witness the wonderful northern lights in action!
This fascinating natural phenomenon known as the Northern Lights is one of the most mesmerizing sights you will ever come across in your lifetime. The dancing colors and shapes in the dark arctic sky will simply leave you awestruck.
The tour includes entry to the amazing Aurora Reykjavik Museum: you can pick up tips on how to set up your cameras and enjoy videos on the science of Northern Lights, learn all about the cultural beliefs of many nations and what they believe the Northern Lights were or meant to them.
ENTRANCE TO AURORA REYKJAVIK INCLUDED IN PRICE
You will then be picked up from the museum in a custom-built 4×4 super jeep (max 18 passengers). On the search for the Northern Lights you will travel through some of Iceland's most spectacular natural sights by night time with a very informative guide. The best part: The super jeep gives us flexibility to go off of the beaten path, where big tour buses can not reach giving us a better chance to enjoy the Northern Lights without the discomfort of big crowds.
Venture into the night with us for front row seats on a chase to see the spectacular, unique and ever changing show that are the Northern Lights.
In the cold night, there is nothing like some hot chocolate to keep warm and the brave ones can even add some Icelandic Brennivín to theirs!
Our guides take photos every time the Northern lights are spotted so you can be sure to get your picture taken with the Aurora.
Please note: As the success of the Super Jeep Northern Lights tour is heavily dependent on weather conditions, we reserve the right to cancel departures up until 18:15 on the day of the tour. If the Northern Lights jeep tour goes ahead and no northern lights are seen we offer clients the chance to join a minibus version on another evening's departure free of charge upon availability. Note that you need to contact us to re-book.
Arrive at the Aurora Centre by 7.30pm
Pick up from the Aurora Centre at 08.30pm
Tour time approx 5 hours
Max 18 passengers
Please note
Hunting for Northern Lights although fun and very rewarding can be cold. The night sky in Iceland being so close to the Arctic Circle will provide for great displays of the aurora but are equally as cold so please ensure you wrap up in warm clothing. Northern Lights are beautiful, but it is good to remember that these are a natural phenomenon and sometimes just don't show, so be prepared for dark skies and when those lights show you will be even more impressed.
Cancellation policy
We will charge a cancellation fee of 100% if booking is cancelled 1 day or less before event
Entry to Aurora Reykjavik 
Pick up from Aurora Reykjavik in a superjeep 
Pictures/Photos during your tour
Hot Chocolate and Buscuits
Try a local shot of Brennivin
What do I need to bring?
Warm Clothing 
Hat and Gloves 
Waterproofs 
You may also like