NORTHERN LIGHTS AND STARS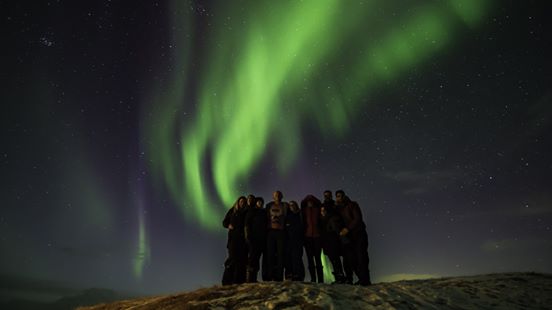 You are about to embark on a mission to see the Northern Lights, which are undoubtedly one of the most beautiful celestial displays found in nature. But up there, there are many other cosmic wonders waiting to be discovered. All you need to do is gaze skywards into the Arctic night canopy to explore the magic of countless stars and the moon itself.
The tour not only sets out to find the legendary Northern Lights, we also use the opportunity to pinpoint some of the stars & constellations in the sky.
Every guide brings along an astronomical binoculars for you to try out and will assist you in finding the most-known constellations and stars, and answer any questions you might have. Do you for example know where Jupiter is?
We depart from Reykjavík, where you will step on board our brand new bus fleet,  equipped with computer tablets in each seat. The tablets provide us with an "In Bus Audio Guide'' on the tour, which is available in 10 languages. On board you will find a USB charger and free WiFi. We will also offer useful tips on how best to capture the Northern Lights on camera.
There are a few factors that determine whether or not seeing the Aurora Borelis is possible, and we're experts in reckoning our chances of seeing them. This means we have a high success rate, and we do not go out unless we feel the odds are in our favour.
All our northern lights tours are guided by one of our specially trained northern lights guides, they are both knowledgeable and helpful and will even give you tips on how to take photos of the show. We offer free use of camera tripods on all tours (a must to take northern lights photos).
To search for the Auroras you need to stand outside in the Icelandic winter and you need to dress very warmly. We are the only operator to offer extremely warm "Aurora Jackets" and ultra warm winter boots for rent on our tours.

Why book with us
FREE CANCELLATION
BEST PRICE GUARANTEE
NO BOOKING FEES
FAST & SECURE PAYMENT
Price & Availability: See booking window on right.
Teenagers 12-15 years: 50% Discount & children 0-11 years old free.
Departures are highly dependant on weather.
Min: No minimum number of participants.
Age limit: No age limit
Bring with you: Dress according to weather. In Iceland it is always wise to dress in warm, waterproof clothes. Weather changes can be sudden so expect the unexpected. Bring a waterproof jacket and pants, headwear and gloves. Good outdoor shoes are recommended.
In-Bus-Audio-Guide: We recommend that you bring your own headphones, simply because they will fit you best. It is also great for the environment. If you don't have your headphones, with you or forgot to bring them, no worries we sell earphones on board.
Duration: Approximately 3 hours.
Knowledgeable Northern Lights & Stars guide
Free use of astronomy binoculars on every tour
Free star map to learn about the sky above you, at that specific time in the year.
Learn the basics of Northern Lights photography on our smart tablets.
Free use of camera tripods, every tour has tripods that fit almost any camera or phone
Northern Lights Guarantee – see the lights or come again for free!
Free Wi-Fi and USB charger for each seat
In-bus audio guide with a choice of 10 languages
Pick-up from your accommodation in Reykjavík available on additional charge 
Important: If your hotel is located downtown, you might have to go to a special pick-up place, since the area is free of heavy traffic. The stops are located in and around the city center and are easily accessible. On your voucher, you will find the bus stop closest to your accommodation. The bus stops are marked on this map here.
You may also like