MAGICAL AURORAS MINIBUS TOUR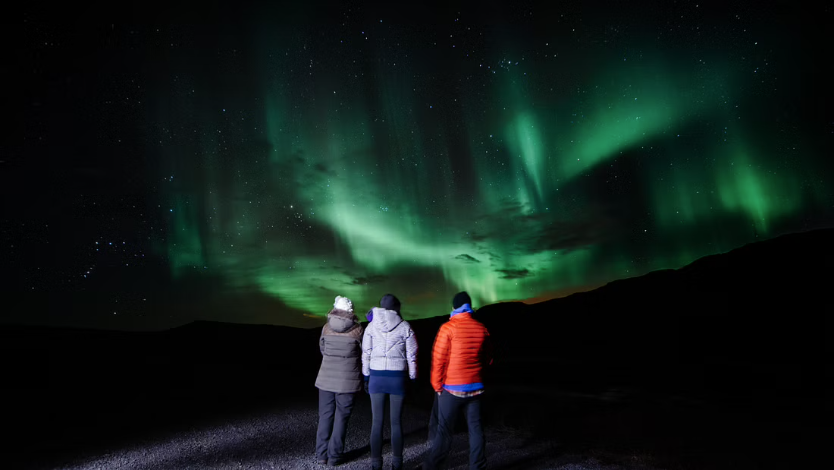 Magical Aurora – minibus northern lights tour is an experience you'll not likely forget.
About Small Group Northern Lights Tour Iceland:
This fascinating natural phenomenon known as the Northern Lights, is one of the most mesmerising sights you will ever come across in your lifetime. The dancing colours and shapes in the dark arctic sky will simply leave you awestruck.
Firstly, your expert Northern Lights guide will pick you up at your selected pick up location in a minibus so you can properly enjoy a small group (max 28 passengers) experience. On the search for the Northern Lights you will travel through some of Iceland's most spectacular natural sights by night time with a very informative guide.
Our guides take photos every time the Northern lights are spotted so you can be sure to get your picture taken with the Aurora.
Please note: As the success of the Northern Lights tour is heavily dependent on weather conditions, we reserve the right to cancel departures up until 18:15 on the day of the tour. If the tour goes ahead and no northern lights are seen we offer clients the chance to join another evening's departure free of charge upon availability. Note that you need to contact Arctic Adventures to re-book.
Tour HIghlights:
Small Group Experience (max 28 passengers)
Northern Lights Photos
The Northern Lights
Guided Tour in a Minibus
Iceland Countryside
Duration:
4 hours
Minimum age of passengers:
6
Please note
The Northern Lights are natural phenomena that are difficult to predict, but our guides do everything in their power to make sure you see the lights.
Cancellation policy
We will charge a cancellation fee of 100% if booking is cancelled 1 day or less before event
Pick-up & drop off from Reykjavík
Minibus Transport
Expert Guide
Northern Lights Photos
English Speaking Tour Guide
Free WiFi on Board Your Bus 
What do I need to bring?
Warm layers, waterproof jacket and pants, headwear, gloves, scarves, water bottle, snacks and a small backpack is always useful. Strong hiking boots are absolutely essential, ice crampons are provided for your glacier walk, it is not possible to fit them to any other kind of footwear.
What if I don't own all of these clothing items?
Don't worry, you can always rent sturdy hiking boots, waterproof jacket and pants in the booking process or on location. Booking these items in advance is recommended. 
You may also like