Comment interpréter les prévisions d'Aurores boréales
Le site Icelandic Met Office mesure l'activité solaire. En combinant cela avec les observations de couverture nuageuse, vous aurez tous les indices en votre possession pour trouver le lieu où la formation d'Aurores boréales sera la plus probable.
Utilisez le curseur en bas du graphique pour ajuster la date et l'heure des prévisions.
Remarquez que les prévisions peuvent changer, et qu'il est plus sûr de les consulter aux alentours de 18 heure le jour même. Il n'est tout de même pas garantit de voir les Aurores boréales.
Observations nuageuses
Une règle simple : un ciel couvert = pas d'Aurores boréales.
Il y a différents niveaux d'altitude de nuages, qui ont donc un impact différent.
Grâce aux onglets en haut du graphique, changez les écrans pour observer les différentes formations nuageuses.
Les nuages hauts ne sont pas vraiment un problème en Islande. Concentrez-vous sur les nuages bas et mi-bas, et repérez les espaces blancs ou les nuances plus claires sur la carte.
Activité solaire
L'échelle à 9 niveaux située sur la droite de la page est un indicateur simple de vos chances d'observer les Aurores.
0-2: Basse, quasiment pas d'activité. Les rares Aurores que vous puissiez observer seront pâles comme un nuage
2-3: Modérée, mais de bonnes chances de voir les Aurores boréales. Ce sont les prévisions les plus courantes. C'est parti !
4-6: Hourra ! Une grosse tempête solaire arrive, ne manquez pas votre chance d'observer de magnifiques Aurores !
7-9: Très rare, peut-être que vos proches pourront eux aussi observer les Aurores boréales depuis leur pays !
Leirvogur – Observatoire magnétique
L'observatoire magnétique Leirvogur mesure les pertubations magnétique en Islande.
Quand les graphiques commencent à bouger, les vents solaires entrent en collision avec le champs magnétique de la Terre, ce qui amène générallement à la manifestion d'activité aurorale. Sélectionnez la photo pour voir les rapports en temps réel.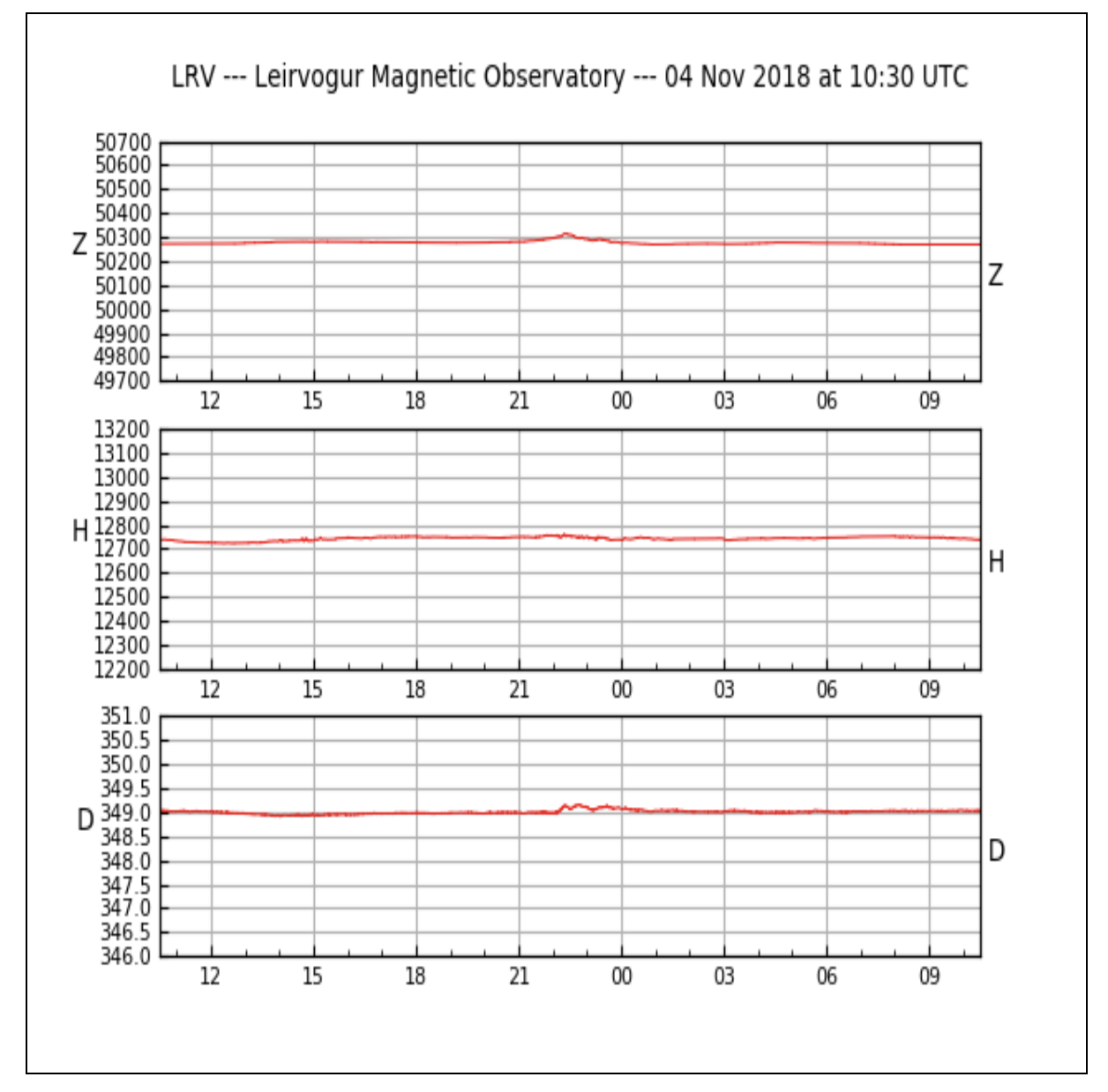 Centre de prévisions météorologiques spatiales
Rejoignez-nous pour une excursion guidée des Aurores boréales !
Pour apprécier pleinement votre expérience des Aurores boréales, nous recommandons de partir en excursion guidée. Vous gagnerez du temps et éviterez les soucis, les guides connaissent les prévision météorologiques et l'activités solaire, vous serez en bonne compagnie. Nous recommandons les compagnies répertoriées ci-dessous. Nous avons minutieusement sélectionné les collaborateurs avec lesquels nous travaillons depuis des années, pour leur professionnalisme et leur travail appliqué.
Are you planning a trip to Iceland but are worried about a possible eruption on Reykjanes peninsula? Here's all you need to know!WHAT IS HAPPENING IN ICELAND? Over of the past few weeks, Reykjanes Peninsula has experienced volcanic unrest, with intense earthquakes in...
read more