Come Search for the Northern Lights with us!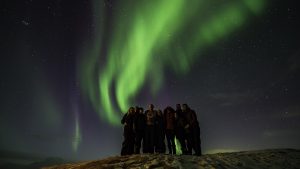 For many, the possibility of seeing the Northern Lights is the reason for visiting Iceland in winter. This can easily be understood, since the Auroras are both wonderfully mysterious and magical. In addition to it excellent record for frequent sightings of the Northern Lights, Iceland offers some of the best conditions for seeing stars, as the air is pure and the light pollution is minimal in this sparsely populated land.
You are about to embark on a mission to see the Northern Lights, which are undoubtedly one of the most beautiful celestial displays found in nature. But up there, there are many other cosmic wonders waiting to be discovered. All you need to do is gaze skywards into the Arctic night canopy to explore the magic of countless stars and the moon itself.
All our northern lights tours are guided by one of our specially trained northern lights guides, they are both knowledgeable and helpful and will even give you tips on how to take photos of the show. We offer free use of camera tripods on all tours (a must to take northern lights photos).
To search for the Auroras you need to stand outside in the Icelandic winter and you need to dress very warmly. We are the only operator to offer extremely warm "Aurora Jackets" and ultra warm winter boots for rent on our tours.
What's included:
Free tour pick-up from your accommodation in Reykjavík
Knowledgeable Northern Lights & Stars guide
Free use of astronomy binoculars on every tour
Free star map to learn about the sky above you, at that specific time in the year.
Learn the basics of Northern Lights photography on our smart tablets.
Free use of camera tripods, every tour has tripods that fit almost any camera or phone
Northern Lights Guarantee – see the lights or come again for free!
Free Wi-Fi and USB charger for each seat
In-bus audio guide with a choice of 10 languages
Book Now!
Loading…