LAST NIGHT IN REYKJAVÍK: GIANT SHOOTING STAR STARS THE NORTHERN LIGHTS
It was probably the longest and most powerful shooting star I have witnessed in my life. I was so vowed, I even forgot to make a wish.
See it from second 11.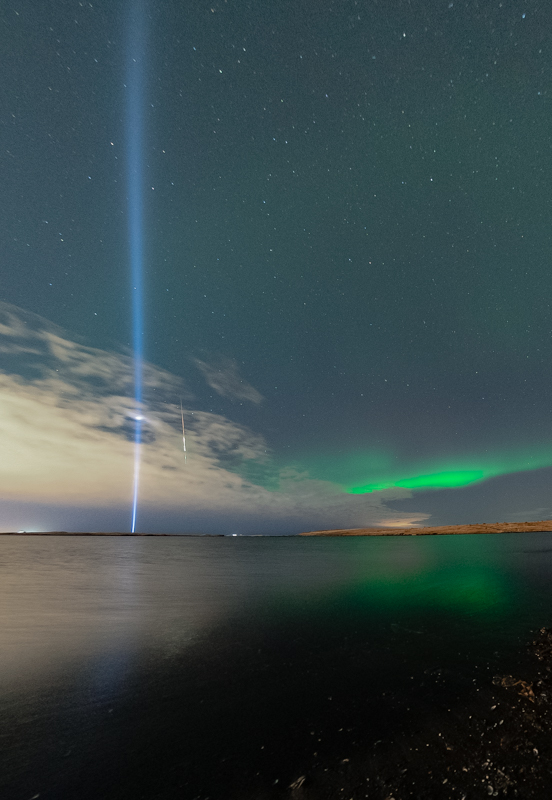 Icelandic have been left awestruck by a bright meteor that illuminated the night sky last night over Reykjavík.
Because of the excellent Northern Lights forecast, unusually many locals and travellers alike have been out last night to possibly witness powerful auroral displays.
Clear skies above the northernmost capital encouraged many curious people to gather along the shore, waiting for the solar storm to arrive.
"We have just set up our cameras to capture new materials for our Northern Lights exhibition", said Grétar Jónsson, CEO of Aurora Reykjavík, The Northern Lights Center. "The first green arches of auroras were already clearly visible above the horizon. Then suddenly the powerful flash occurred, straight down next to Yoko Ono's Imagine Peace Tower, which just got relit last Saturday. People around us were screaming, totally vowed by the long stroke of the fireball."
As mbl reports, the meteor entered our atmosphere around 9,45 pm local time on October 11th, lasting for more than five seconds.
A meteor is a space rock that burns brightly after entering Earth's atmosphere at high speed. It becomes known as a meteorite if it survives its passage to the ground.
JOIN US ON A NORTHERN LIGHTS TOUR: