PREMIUM PUFFIN TOUR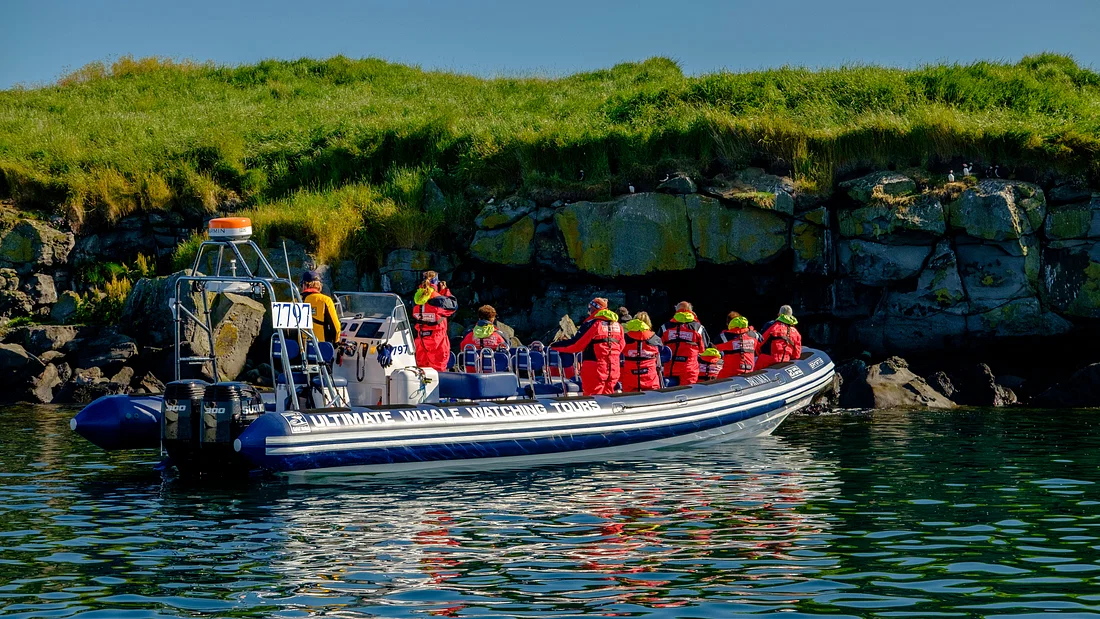 I can't believe how close we got to the puffins, and how many they were! Fantastic experience! 
Hugely increase your chances of seeing puffins in the wild on this guided tour from the Old Harbor in Reykjavík. Traveling aboard a custom-made rigid-inflatable boat (RIB) means you get as close as possible to the islands of Faxaflói Bay where puffins come to breed in the summer. While watching the clownish birds, your guide offers insight into their behavior, as well as those of the other resident seabirds, such as auks and gannets.
Leaving from the Old Harbour in Reykjavík, this is the ultimate puffin adventure tour operated on our RIB speedboats.
The summer is the best time to experience the birds and wildlife of the bay and islands just outside Reykjavík City. Puffins, auks, gannets and an incredible variety of other sea birds dominate the skies and sea cliffs just a few minutes sailing from the Old Harbour.
But that is not all: this tour is operated in our custom made RIB boats. Each boat can only seat 12 passengers so this is a personal tour where you travel with a small group.
The boats are specially designed to get you as close as possible to the islands and when possible we can switch the engines completely off to give the birds (and you) some peace and quiet to enjoy nature. During the tour your guide and captain will tell you interesting facts and tales about the puffins and the surroundings.
On this up close & personal tour each boat only seats 12 passengers so you have plenty of time to ask your guide any question you have about the charismatic puffins and the other Icelandic sea birds.
Our RIBs are also the fastest boats in the harbour, meaning that on a short tour you will spend the majority of you time with the birds.



EASY CANCELLATION
BEST PRICE GUARANTEE
NO BOOKING FEES
FAST & SECURE PAYMENT
Included
✓One hour expertly guided puffin watching tour in a 12 seater RIB boat.
✓Small Group – Only 12 passengers with expert guide & captain
✓Our RIB's are fast and small so we get you extra close and extra quickly out to the islands!
✓Reykjavík sightseeing with panoramic views off the Sun Voyager & Harpa Concert Hall. 
✓Binoculars included for each passenger
✓We supply warm overalls, gloves, goggles and all necessary safety equipment.
What do I need to bring?
Dress warmly for our northern ocean, so if you have it, bring warm outdoor clothing like a  wool or fleece sweater, some warm headgear and gloves. Sturdy shoes are recommended. And of course bring your camera!
Important informations
Please arrive 30 minuets prior to your chosen departure. If you arrive later then 10 minuets prior to the departure we can not guarantee that you can join the tour. 
This tour has a minimum of 2 passengers. If the minimum is not met, we will offer you to reschedule or get a full refund.
The tour has an age limit of 10 years & height limit of 145 CM

This tour may not be suitable for pregnant women. Consult your doctor before signing up.

This tour is not recommended for those with history of back and knee problems or severe heart conditions. Consult your doctor before signing up.

This tour may not be suitable for those over the age of 65 years.

Puffin season is from approximately May – August
Cancellation policy: We will charge a cancellation fee of 100% if booking is cancelled less than 24 hours before event.