VOLCANO HELICOPTER TOUR FROM REYKJAVIK
Come see with your own eyes, the site of the 2021, 2022 and 2023 volcanic eruption on the Reykjanes Peninsula. Widespread lava fields, colossal craters and an abundance of colours!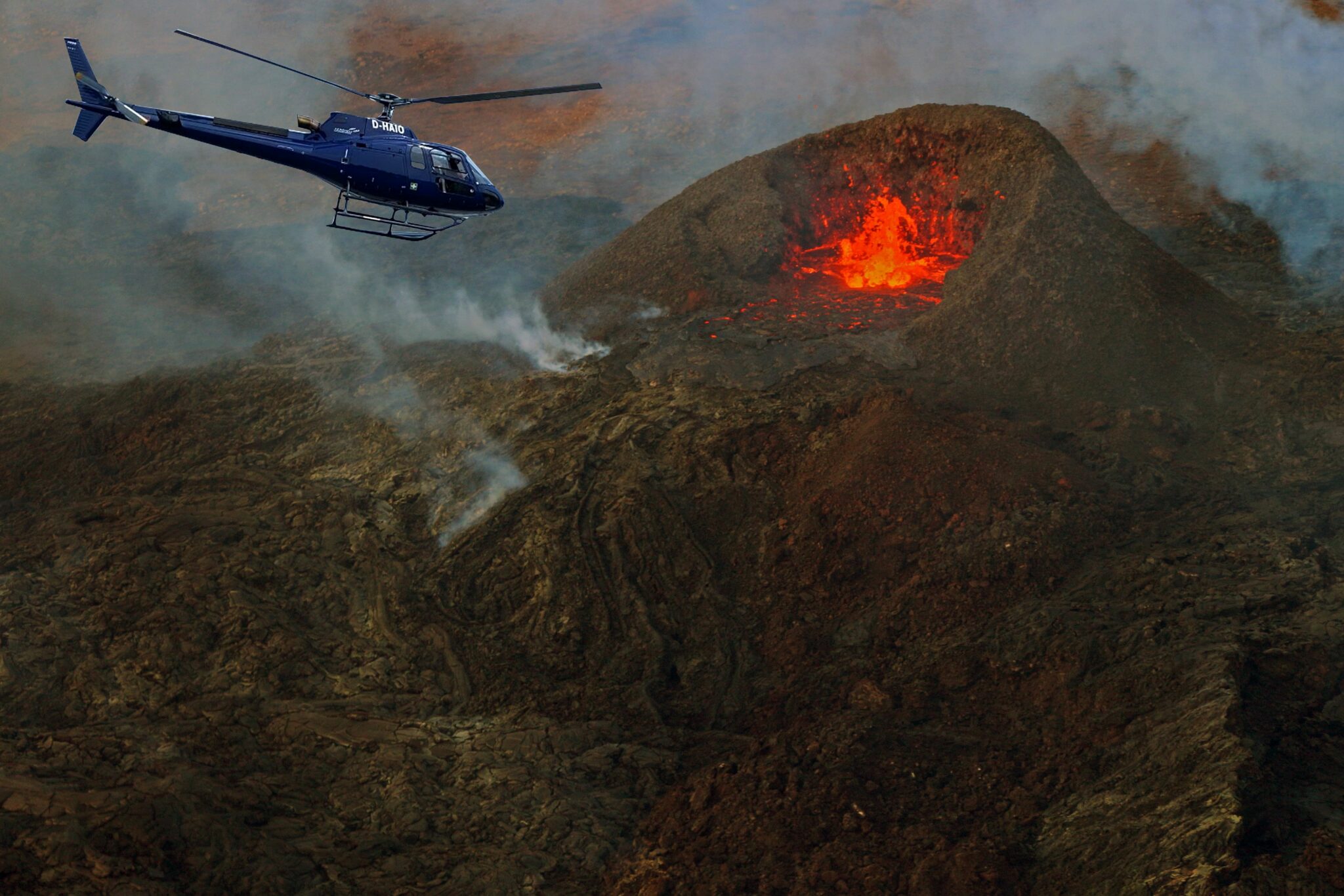 Take off from Reykjavik and fly to the Litli Hrútur 2023 eruption site and witness with your own eyes the newest eruption in Iceland. Seeing this natural wonder with your own eyes is truly remarkable and one of the things you must do if you are in Iceland.
The Litli Hrútur eruption, that started on July 10th 2023 and continued for a whole month, is the third eruption in three years in the area.
The 2021 eruption started on March 19th and lasted for six months, creating a large lava plateau and numerous craters. The eruption was the first eruption on the Reykjanes Peninsula since the 14th century and follows three weeks of over 50.000 earthquakes in the area.
On August 3rd, 2022, a new eruption started and a new crater started forming and new lava got added to the already extensive lava plateau.
On this flight, you get to explore the area from the air, get a bird's eye view of the area, see all the beautiful colors, and massive size of the craters, and enjoy the surrounding scenery.
The total duration of the tour is approx. 40 minutes. Please note that there is no landing at the eruption site but we will give you the best viewing experience from the air.

Please note
The volcano is a natural wonder and we cannot guarantee visible lava at the time of your tour.
There is a 4 person minimum passenger requirement.
All our flights are weather dependent and we have to abide by the rules and regulations set in place by the Department of Civil Protection and Emergency Management. If we have to cancel your flight due to weather or other factors out of our control, we will try to reschedule your flight or give you a full refund.
Due to the nature of the flight, we can not accommodate children under the age of 2 years old on this tour. 
Cancellation policy
We will charge a cancellation fee of 100% if booking is cancelled 1 day or less before event
We will charge a cancellation fee of 50% if booking is cancelled 3 days or less before event
We will charge a cancellation fee of 10% if booking is cancelled 14 days or less before event
Nauthólsvegur, 101 Reykjavík, Iceland