Ultimate Volcano Helicopter Tour from Reykjavik
Experience the power and feel the heat – join us on the Ultimate Volcano Helicopter tour and fly over the ongoing eruption on the Reykjanes Peninsula!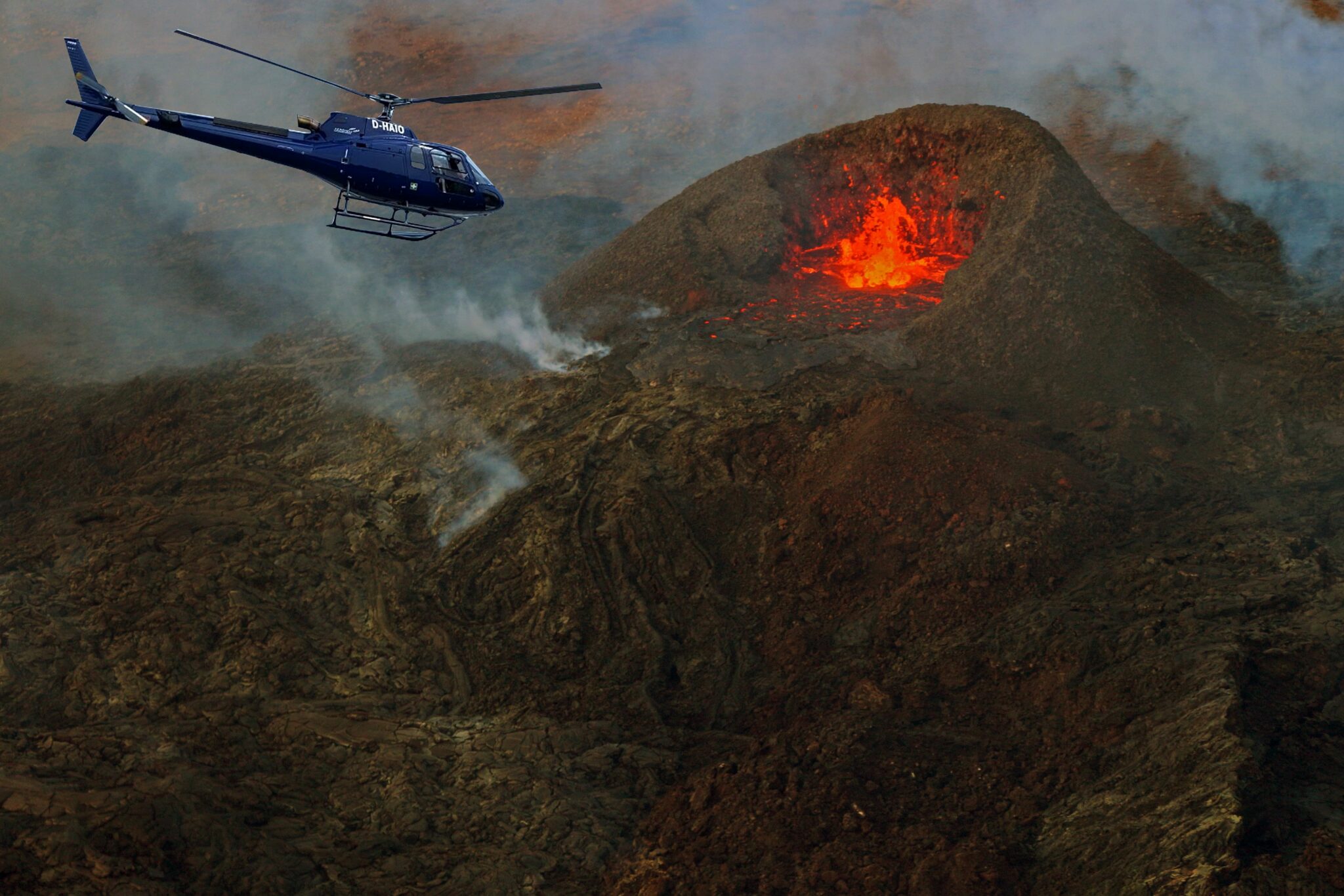 Take off from Reykjavik and fly to the active volcano on the Reykjanes Peninsula. Seeing this natural wonder with your own eyes is truly remarkable and one of the things you must-do if you are in Iceland.
On Friday, March 19th, 2021 a relatively small eruption started on the Reykjanes Peninsula. The Eruption is located in enclosed valleys called Geldingadalir 20 miles southwest of Iceland's capital, Reykjavík. The eruption is the first eruption on the Reykjanes Peninsula since the 14th century and follows three weeks of over 50.000 earthquakes in the area. However during the days leading up to the eruption the seismic activity had died down so the eruption came as somewhat of a surprise.
Although scientists say the eruption started out as a relatively small eruption the lava flow is massive and keeps on building up. Filling up Geldingadalir valley and the surrounding valleys. 
The total duration of the tour is approx. 45 minutes. Please note that there is no landing at the eruption site but we will give you the best viewing experience from the air. Showing you the simmering crater, flowing lava stream, and the extensive lava field. The eruption site is constantly changing and due to the increased gas pollution and the ever-growing height of the crater, making it almost impossible to see into the crater from a safe spot on the ground, we feel our passengers will get the best experience inside our helicopter with a sightseeing flight over the volcano.

Please note
Infants must sit on your lap
There is a 4 person minimum passenger requirement.
If you can't find your desired departure time or are a larger group (+5) please contact us at info@flightseeing.is
All our flights are weather dependent and we have to abide by the rules and regulations set in place by the Department of Civil Protection and Emergency Management. If we have to cancel your flight due to weather or other factors out of our control, we will try to reschedule your flight or give you a full refund.
Cancellation policy
We will charge a cancellation fee of 100% if booking is cancelled 1 day or less before the event
We will charge a cancellation fee of 50% if booking is cancelled 3 days or less before the event
We will charge a cancellation fee of 10% if booking is cancelled 14 days or less before the event
Nauthólsvegur, 101 Reykjavík, Iceland