Private Northern Lights Superjeep Tour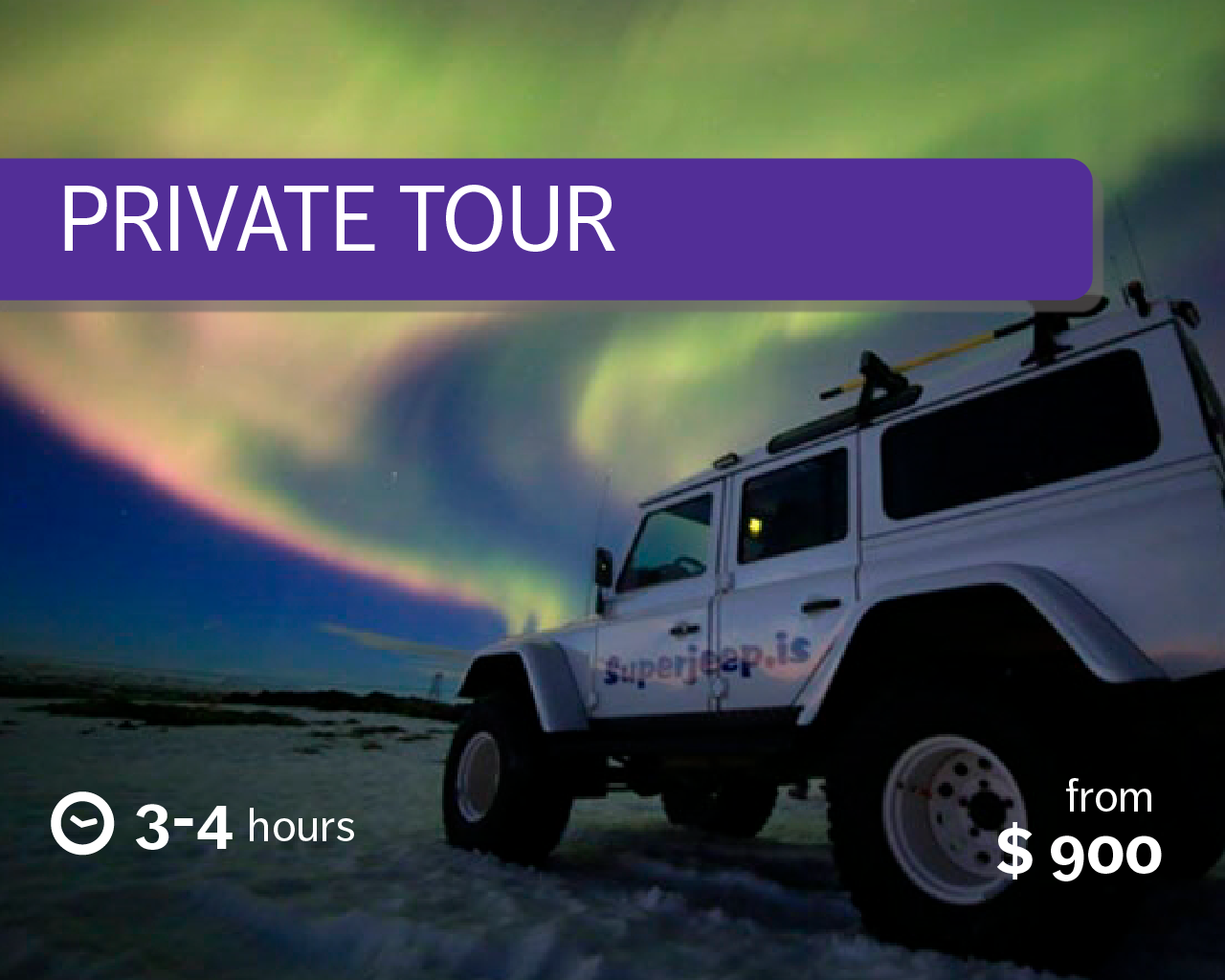 Do you want to make your northern lights adventure a real once-in-a-lifetime experience? Then this tour is for you!
Escape the crowds and the hustle and bustle of the city and immerse yourself into the Arctic wilderness under the most amazing starry night sky you can imagine.
We pick you up on our famous super jeeps and take you into the arctic outback – where the real Iceland starts!
Private Northern Lights Superjeep tour highlights:
 Free pick-up anywhere in Reykjavik

 Free Quality Photos

 Free retry in case of non-sighting

 Home made hot chocolate

 Small group experience

 Warm vehicles on location
FREE ADMISSION TO AURORA REYJAVÍK
You can choose whether you travel in Luxury SUV or in our famous Superjeep or Monster truck. The main difference is that we do not go off road on Luxury SUV and you will have easier access and more comfort.
FREE CANCELLATION
BEST PRICE GUARANTEE
NO BOOKING FEES
FAST & SECURE PAYMENT

This tour lasts 3-4 hours. Free pick-up from your hotel in the capital area begins at 20:00.
From 15/09 – 30/09 and 15/03 – 15/04 the pick up starts 21:00 due to  longer daylight.
We highly recommend comfortable and appropriate clothing as well as waterproof walking shoes. Dress in layers to be able to enjoy your journey to the fullest.
Make sure to book your Northern Lights tour in Iceland for your first night in town in order to maximize your chances of seeing the northern lights. 
The Northern Lights superjeep tour is dependent on the weather and sky conditions and we reserve the right to cancel at any time. If the evening tour goes ahead and the Northern Lights are not seen, we will offer you to try once again for free!
Terms and conditions
Good to know
It is important to understand that in Iceland you can experience all four seasons in less than one day. It is vital to wear comfortable and appropriate clothing like waterproof, walking shoes, dress in layers to be able to enjoy the excursions to the fullest.
Cancellation
We kindly ask that all cancellations be made by phone or email with as much notice as possible. However, in accordance with business practices in Iceland, we reserve the right to charge cancellation fees as follows:
A full refund if cancellation is made at least 48 hours prior to departure
No refund if cancellation is made within 48 hours of departure
Other
We reserve the right to alter tours due to weather or road conditions or any other circumstances out of our control. This includes cancellation at any moment during the tour to ensure the safety of our clients and staff.
We also do not take responsibility for injuries, accidents or death caused by the client's negligence, acts of third parties or exterior circumstances such as weather, natural occurrences or other similar causes.
Insurance
SuperJeep.is advises all of its clients to purchase insurance before taking any of its tours.
Validity of Prices
We reserve the right to change prices already quoted or published in our price lists without notice in the event of currency fluctuation, government taxes, or due to any other cost increases that are outside our control. Any eventual changes in rates will not be made with less than 8 weeks' notice prior to arrival.
Payment
We will send you a confirmation email once you have made the booking. The full amount will be charged to your card as soon as the booking is confirmed.