NORTHERN LIGHTS PRIVATE GROUP TOUR FOR UP TO 18 GUESTS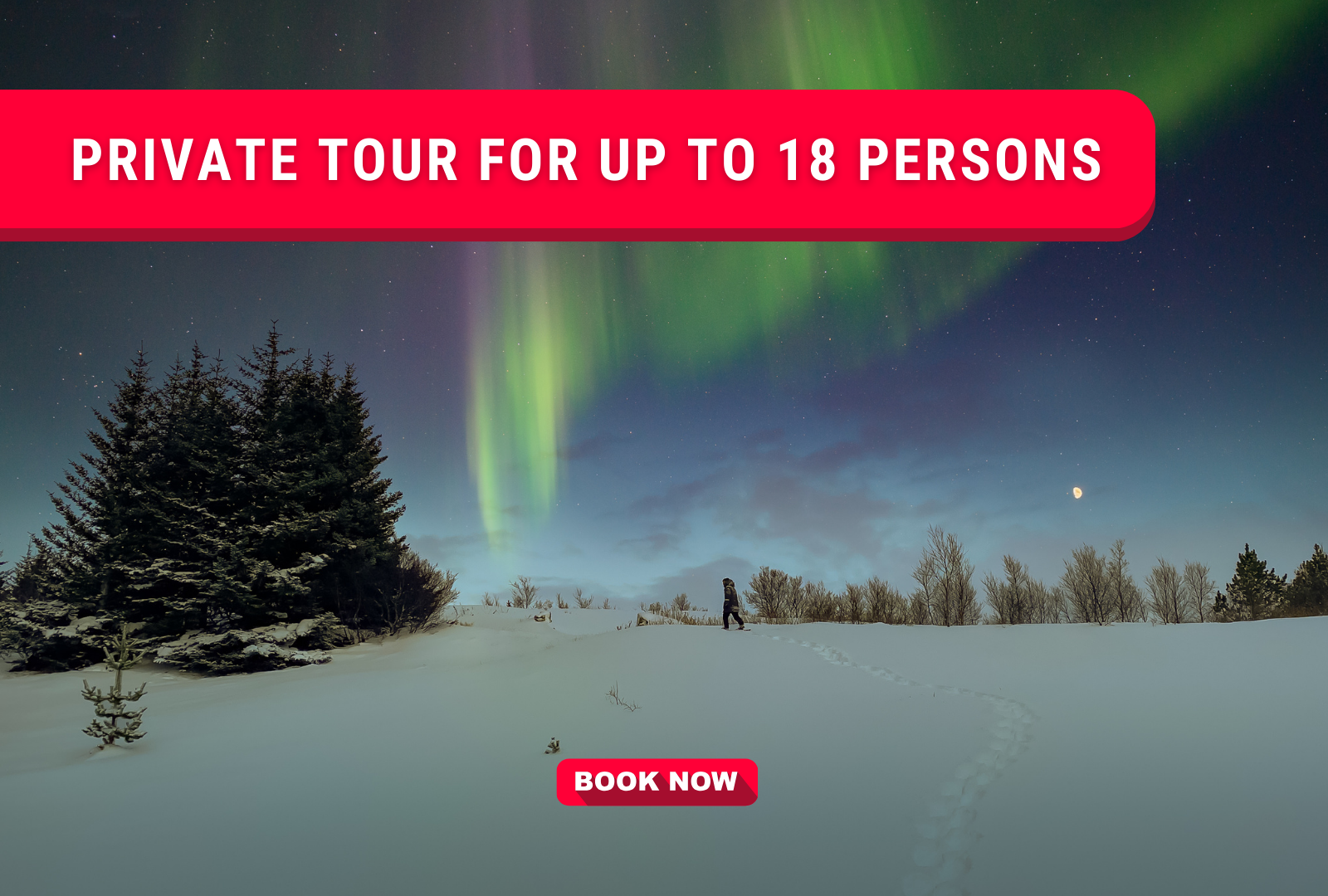 We booked the tour for our group of 13, and did not get disappointed! Our local guide Sævar took care of us from A to Z – smooth pick-up, customised departure time, and a fun tour all the way. Sævar found some open spots in the clouds, and we got to see beautiful lights. The picture he took for us are memories for a lifetime! Highly recommend!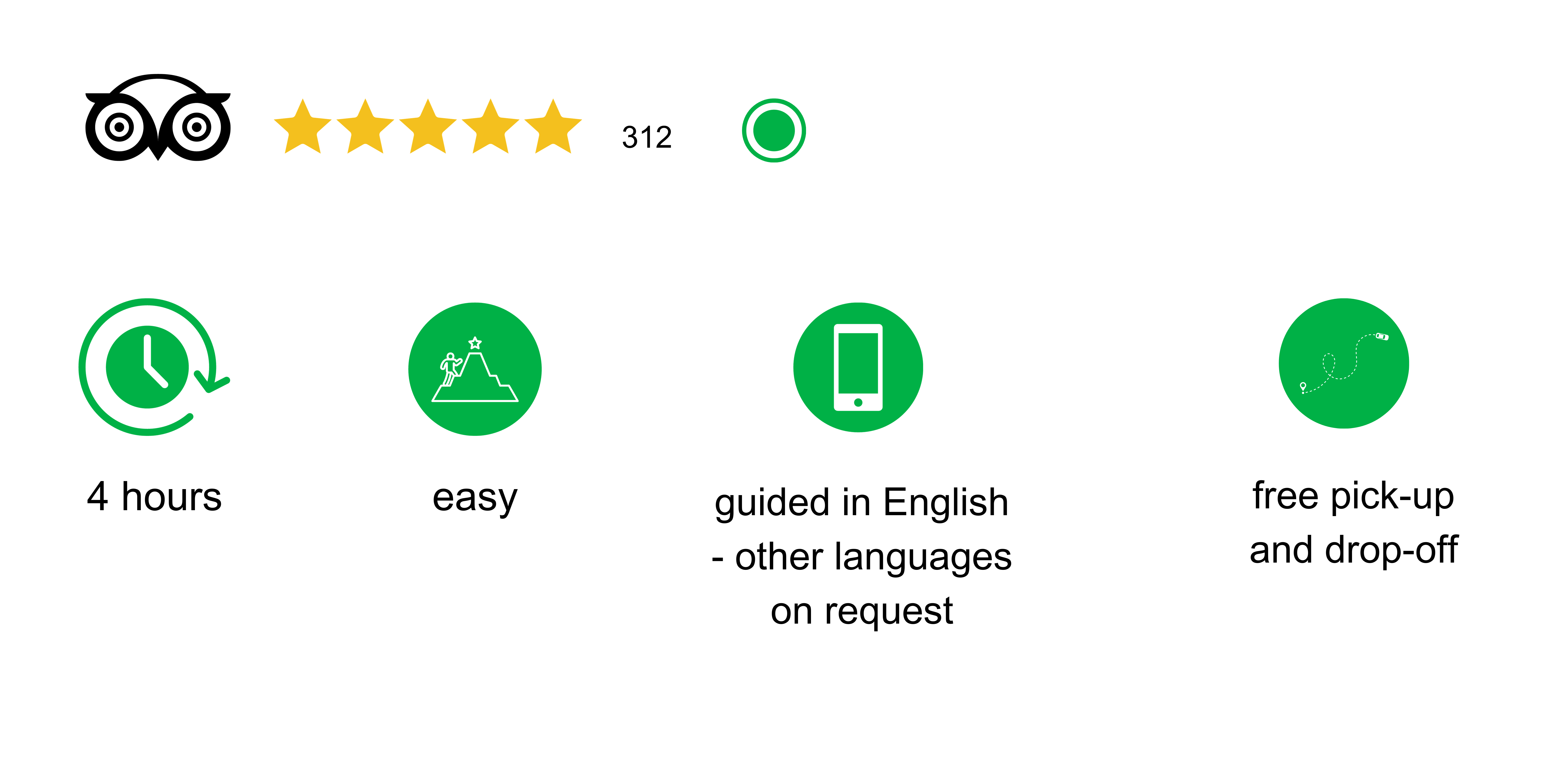 RAISE YOUR CHANCES: JOIN THE NORTHERN LIGHTS SPECIALISTS
Seeing the Northern Lights is a lifetime dream of many, and witnessing the beauty of this natural wonder is an unforgettable experience.
However, finding them can be tricky, and they don't just appear on demand. Cloud cover and road conditions in the arctic winter can be tricky, and interpreting the northern lights forecast is not always easy.
So travel safe and in style with our experienced local guides, who will go far and beyond to make your dream come true.
NORTHERN LIGHTS PRIVATE MINIBUS TOUR: HIGHLIGHTS

✅ Pick up at any location in the Reykjavik area
✅ Hot chocolate and Icelandic 'kleina'
✅ Wool blankets to keep warm
✅ Free WiFi- onboard
✅ Knowledgeable, local guide
✅ Drop off back in Reykjavik



Why book with us?
Book directly at the local company. If you need to cancel, make changes or help planning your vacation you can count on us to be there by your side.
✅ Best price guarantee
✅ Free cancellation
✅ Electronic voucher
✅ Support the local businesses
What's on my tour?
Welcome to your private Northern Lights tour, where we're ready to embark on a magical journey to witness the enchanting Aurora Borealis. 
Our adventure begins with meticulous planning, keeping a keen eye on the Aurora forecast. We'll steer our course toward the best chances of encountering this natural wonder.
We offer complimentary pick-up and drop-off at your accommodation, ensuring a seamless and stress-free experience in our comfortable vehicle, be it a jeep or a minibus (depending on group size).
As we wait for the Northern Lights to paint the sky, your guide, fluent in English, will be at your service. Need guidance in another language? Just let us know; we're happy to customize the experience to your preferences.
Once those elusive lights make their appearance, we'll find the perfect spot to pause and bask in the celestial show overhead. Wrapped snugly in Icelandic wool blankets, you'll savor the moment with hot chocolate and 'kleina' pastries – all included in your tour.
But there's more – your guide will capture these cherished memories with photographs of you and the Northern Lights, ensuring this experience lives on forever in your heart.
✅ Pick up at any location in the Reykjavik area
✅ Hot chocolate and Icelandic 'kleina'
✅ Wool blankets to keep warm
✅ Free WiFi- onboard
✅ Knowledgeable, local guide
✅ Drop off back in Reykjavik
What happens if I don´t see any lights?
We are working with Iceland´s most talented Northern lights hunters to find the best places every night.
It is never a guaranteed that we will see northern lights, however, we do our best to maximize our chances by picking the best locations.
If the Northern Lights tour is canceled due to weather and you don't have an opportunity to reschedule the tour, you will receive a full refund.
What do I need to bring?
For your comfort: Dress according to weather. In Iceland it is always wise to dress in warm waterproof clothes. Weather changes can be sudden so be prepared for all weather conditions. Waterproof jacket and pants, headwear and gloves, and warm socks/waterproof shoes are recommended, especially since we will be outside at night during the hunt for the northern lights. And do not forget the most important thing – Your smile 🙂
Friendly cancellation policy
Full refund if cancelled due to weather. Cancellation fee can be witheld if cancelled with short notice.
1 day notice: 100% charge
Here is how it works:
Every day we closely monitor the forecast for the evening. Favorable conditions require, at least, light to moderate activity, cold weather, and a clear sky. When conditions are favorable, we announce the decision on the website to confirm the tour.
Even with the best of guides and a detailed forecast, sightings are never guaranteed.
* Please note that only the regular version of this tour offers free rebookings. It is not possible to rebook this tour at no charge.
*Please note that the access to restroom facilities out of urban areas is very limited while on the Northern lights tours.
We pick you up from hotels, guesthouses, or your closest bus stop if you are located in the downtown area of Reykjavik. See bus stops here.
Joining a Northern Lights small group tour can be a fantastic way to enhance your experience of witnessing this natural wonder in the Arctic regions. Here are some reasons why you might consider joining us:
Expert Guidance: This tour is led by experienced guides who are knowledgeable about the science, folklore, and best practices for viewing the Aurora Borealis. Their expertise can significantly increase your chances of seeing the lights and understanding the phenomenon.
Prime Locations: We choose remote, dark-sky locations far from light pollution, providing the best conditions for Northern Lights viewing. These locations are carefully selected to maximize your chances of witnessing the spectacular display.
Safety: Arctic regions can be harsh and unforgiving environments, especially during the winter months. Joining a group tour ensures you have access to the necessary safety equipment, transportation, and support to stay warm and comfortable during your excursion.
Camaraderie: Traveling with a small group of like-minded individuals can enhance your experience. You can share the excitement of seeing the Northern Lights and create lasting memories together.
Photography Assistance: If you're interested in capturing the Northern Lights with your camera, we provide guidance on how to take the best photographs.
Convenience: We handle all the logistical details, making your trip stress-free and allowing you to focus on enjoying the experience.
Weather Flexibility: Weather conditions in the Arctic can be unpredictable, and it's not uncommon for travellers to have to wait for clear skies to see the Northern Lights. We are flexible in terms of adjusting schedules and locations to maximize your chances of seeing the lights.