SMALL GROUP DELUXE GOLDEN CIRCLE AND FARM VISIT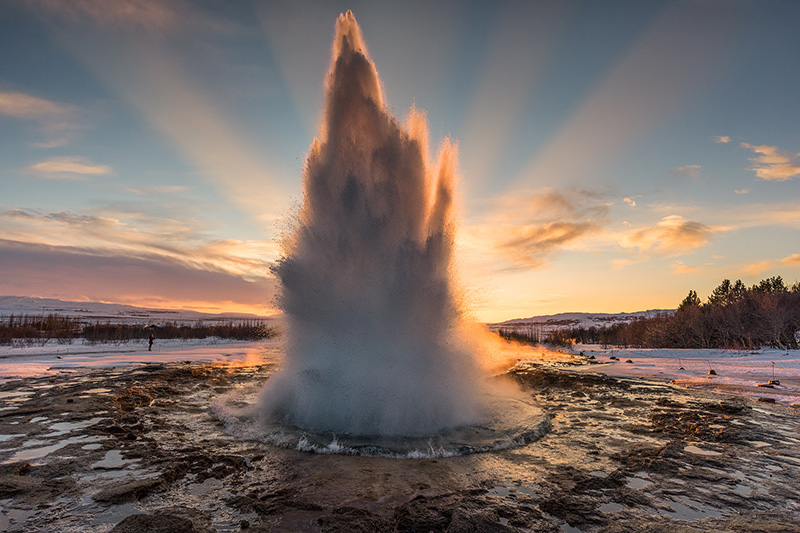 Travel to Þingvellir, Geysir and Gullfoss in style with our small-group premium day tour, and visit an Icelandic tomato farm!
The Golden Circle is the name commonly given to a combination of three sites of special significance in the west of Iceland.
These sites are Þingvellir National Park, Geysir geothermal area, and Gullfoss waterfall. All our Golden Circle tours also include a visit to Kerid crater lake (and include the admission ticket).
This small group Golden Circle tops the experience by adding a visit to fabulous Fridheimar Farm where our guests are greeted with a guided visit in the farm's stables and greenhouses. Fridheimar has rightfully gained a reputation for its outstanding greenhouse culture, quality horses, and warm welcoming. 
The premium Golden Circle tour takes your little group of maximum 18 passengers around in a comfortable minibus. We visit all above mentioned places of interest and more as we attempt to share with you some of the highlights of Icelandic history and nature all in one magnificent route through the Icelandic countryside.
FREE CANCELLATION
BEST PRICE GUARANTEE
NO BOOKING FEES
FAST & SECURE PAYMENT

Highlights
Kerið volcanic crater (entrance fee included)
Friðheimar farm; greenhouse culture & Icelandic horse
Geysir geothermal area
Gullfoss waterfall
Þingvellir National Park
Itinerary
Our small group day tour to the Golden Circle begins with our fast and efficient pick up service. You simply need to wait at your hotel or at one of the designated pick up points and let us take care of the rest. Once we have all our guests we will set off from the city and journey to our first major destination.
Kerid Crater
Kerið volcanic crater will be the first stop we make. Kerid was formed during volcanic eruption some 6500 years. It is one of many crater lakes located in this area. It's vivid colours and stunning landscape have made it a popular place to visit. Rough walking paths on the crater rim and down to the crater lake it self allow you to explore this stunning phenomenon. 
Fridheimar Farm
Our next stop after Kerid is a family run farm called Friðheimar. Located near the geothermal town of Flúðir, the unique farm Fridheimar is both known for it's greenhouses and the pure breed Icelandic horses. The owners have combined their compassion of Horticulture with active breeding programs for the Icelandic horse. The pure breed Icelandic horse is known for its diversity of gaits, coat colors, strength, health and good spirit. You will be invited to the stable where you get a presentation about the horse and a one horse show of the gaits. Coffee and tea is included while you enjoy the experience. 
At Friðheimar greenhouse you will get a guides tour to get an insight into the processes of greenhouse horticulture in Iceland to get a better understanding how we manage to grow vegetables in cold climate by creating Mediterranean conditions all year around. The Atrium also includes an exhibition about the use of geothermal heating in Icelandic horticulture. The tour ends with a taste of some greenhouse grown fresh tomatoes and a reserved table for a true food experience for the once that want to enjoy a good organic lunch straight from the farm, in a unique environment. 
Gullfoss Waterfall
Our next stop is the breathtaking Gullfoss waterfall, meaning the Golden waterfall. Gullfoss is a grandiose waterfall that drops a stunning 32m over two stages into a 70 m deep canyon. It's alimented by glacial waters coming from the nearby icecap Langjökull. The river has worked it's way through the earth layers and sculpted the impressive canyon and the drops of the falls. Hiking paths take you to the waterfall on two levels so you both get a great overview of the whole area and to get up close and personal and feel the power from the water on your own skin.
Geysir Geothermal Area
After the waterfall we will make our way to the Geysir Geothermal area. The area gets its name from one of it's hotspring called "Great Geysir" that used to be extremely active and did lend it's name to hot springs all over the world. Geysir itself is no longer able to erupt without assistance, but his younger partner, Strokkur has taken over the show and spouts hot water and steam some 20 meters up in the air every 5 to 10 minuits. The process of the eruption is simply spectacular! Walking paths keep you safe exploring the area so you are good with taking in all the wonderful geothermal features; the steam vents, hot pools, bright and variated colours and bubbling pits while you breath the unique sulphuric smell.
Thingvellir National Park
The last stop on our tour is Þingvellir (Thingvellir) National Park where you walk in the footsteps of the Vikings, between the two continents. Thingvellir is not only Iceland's first National park but has also been declaired a UNESCO World Heritage for it's great historical and geological importance. This is where the history of the nation truly began when they established their first parliament which now is the oldest running parliament in the world. Thousands of people gathered at Althingi (an open air assembly) once a year to speak of affairs, strike, deals, settle disputes, form alliances, make and amend law and have a good time. It was a true centre of life in Iceland from it's establishment in 930 and until it was moved to Reykjavík in 1798. 
Thingvellir is not less appreciated for it's geological importance where as it sits in a so-called rift valley that marks the crest of the Mid-Atlantic Ridge and the boundary between the North American and Eurasian tectonic plates. The tectonic plates are drifting in opposite direction at the average rate of 2 cm per year creating a dramatic landscape of big open crevasses and land subsidence. 
After a good walk in the National park we head back to Reykjavik.
What's included
Wi-fi
Bus fare
Professional guide
Entrance fees to Kerid
Earthquake exhibition
Guided tour at Friðheimar farm; greenhouses and stables
Tomato tasting at the greenhouse
Horse Show at the farm
Coffee/tea at stables
Reserved table at Fridheimar for optional lunch
What's excluded
Drinks and food during the tour
What do I need to bring
Warm clothing and good shoes
Important information
The duration of the tour is 8 hours
There is no food included on this tour but there will be stops where you are able to purchase food
The tour includes a reserved table for lunch at Fridheimar greenhouse restaurant
Cancellation policy
1-day notice: 100% charge