LITLI HRÚTUR VOLCANO HIKE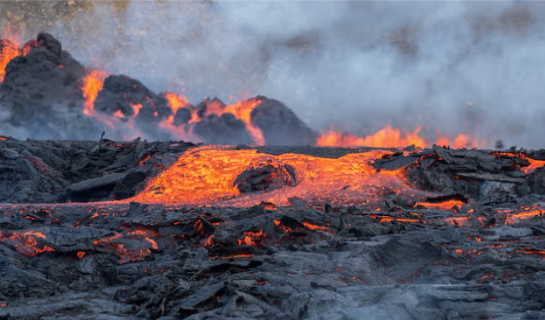 Hike to the New 2023 Eruption Site at Litla Hrút
Our Afternoon and Evening Active Volcano tours from Reykjavík take you directly to the 2023 eruption site at Litla Hrut.
Pass by the previous eruption sites of Fagradalsfjall and Meradalir in Geldingalur valley and witness the vast scale of the changes these eruptions have made to the landscape.
After a week in which residents of the South-West experienced thousands of small earthquakes, anticipation was at fever pitch for a fresh volcanic eruption on the Reykjanes peninsula. Finally on July 10, 2023, a 900m fissure opened up just north of the Meradalir crater.
The eruption continued for several weeks and until the first week of August, 2023.
Please note that the flow of new lava has ceased for the time being. The area is still fascinating and well worth a visit.
We join the hiking trail around the lava field remnants of the 2021 Fagradalsfjall eruption. The hike takes around 2 hours each way and is considered hard/challenging. The hiking trail is flat for much of the way, with a few steep sections.
The final approach to the new volcano at Litla Hrut is the most difficult section as the trail has not been improved just yet. We go as close to the volcano as possible.
How close we can get depends on many factors, including gas levels, weather and safety warnings from the rescue squad.
To witness new land being created is simply magical and we hope to share this wonderful experience with you.
The 2021 eruption lasted many months while the 2022 and 2023 eruptions petered out after just a few weeks. Visiting a newly shaped volcanic landscape is a once in a lifetime experience, book your ticket now!
BEST PRICE GUARANTEE
NO BOOKING FEES
FAST & SECURE PAYMENT

Highlights
Mossy-covered lava fields
Pass by Fagradalsfjall Volcano & Meradalir Volcano
New lava at the new eruption site
Hike in Geldingadalur Valley
Drive along Reykjanes Peninsula
Seltún Hot Springs (we may skip this stop if the hike overruns)
Important information 
The hike to the volcano is rated hard/challenging for a reasonably fit person.
The hike can take up to 2 hours each way.
Volcanoes are a natural phenomenon and the level of volcanic activity at the site varies daily. Even if the volcano is not erupting during your visit, visiting the area is still fascinating.
The duration of the tour is approx. 8 hours.
There is no food included on this tour, so we recommend you bring a packed dinner/snacks and water.
Minimum age is 12 years old.
Cancellation policy
We will charge a cancellation fee of 100% if booking is cancelled 1 day or less before event
Experienced guide
Wi-fi on board
Hike to the new eruption site
Headlamps on the evening tour departure
What's excluded
What do I need to bring
It is essential that you dressed properly for this hike. A thermal base layer and waterproof outer layer are recommended. Jeans are not advisable as if it rains they will stay wait for hours and you risk hypothermia.
Good sturdy walking shoes, preferably with ankle support.
Wool/fleece headwear and gloves
Water & snacks
Hiking poles are recommended but not mandatory. This can also be rented from BusTravel Iceland.