We have been waiting for it, and Mother Earth did not let us down: a new spectacular eruption has started!
Magmatic activity at our doorstep
On March 19th, after weeks of what appeared to be a never-ending seismic swarm to residents on south-west Iceland, the tremors finally subsided, and a newly created fissure started erupting basaltic lava near Fagradalsfjall – Reykjanes Peninsula. The area, Geldingadalur, is just over 40km away from the Capital, the closest magma has been to Reykjavík in several centuries.
No wonder residents of the metropolitan area (us included) are excited at this new eruption, and many have already reached the eruption site for a scenic Sunday picnic or the perfect Insta-pic.
How it all started
The eruption did not come as a surprise, as the seismic tremor in the area had soared at the beginning of March, and magma intrusion seemed highly likely below the surface.
It took over two weeks for the magmatic pressure to finally find its way out. And so it happened at a newly created fissure in the Geldingadalur valley, about 4.7 km inland from the southern coast of Reykjanes peninsula, and only 10 km away from the coastal town Grindavík (where Blue Lagoon is located).
In the first hours after the beginning of the magmatic movement, the fissure was 200m long and the affected area about 1km in length and 500m wide.
Beware those gases!
The main hazard during a slow moving eruption such as this one, are not ashes nor lava fountains, but the risk of harmful, potentially life-threatening gases (among them, SO2 and CO2) being emitted in the air. Air quality at Geldingadalur is monitored around-the-clock, and a forecast provides us with a reliable model on gas concentration and distribution.
According to model, weather forecast and ground conditions, Civil Protection issues daily guidelines, warnings or bans on travels to the area.
Safety first, even (or especially) when Nature roars.
What now?
Nine days into the Geldingadalur eruption, the situation is very much unchanged. The lava flow is steady at 5-7m3/s and there is very little explosive activity.
It is hard to tell how long the eruption will last. Currently, there is no sign of it stopping any time soon, and this kind of eruption can continue at a slow, controlled rate for months. If that happens, soon the lava will reach the next valley (Merardalur) and might end up creating a shield volcano.
Ice Age thrill
Imagine a viking warrior's shield lying on the ground. As the name suggests, shield volcanoes are gently-sloping, and form over long time periods with lava fields extending kilometers away its source. This type of volcano is more frequently created at continental rifts, and Reykjanes peninsula is sitting on one (between European and North American tectonic plates).
Interestingly, this has been kind of a rare occurrence in recent times. And for "recent times" we mean "since the end of the Ice Age". Cool, literally!
Iceland is not new to the phenomenon, but most of its shield volcanoes date back thousands of years.
Only time will tell if the Geldingadalur eruption will create such a volcano. But the idea of a long lasting eruption, changing the geography of Reykjanes peninsula, is surely thrilling.
Not your average magma
The shield volcano theory is somehow supported by the type of magma involved, which is – as basically everything about this eruption – awesome and unusual.
Examination of the volcanic products of the eruption show that the magma flows from a depth of 17-20km – much deeper than most eruptions. The lava composition is similar to that emitted from the Earth's mantle, which surfaces directly without pausing in the Earth's crust. This kind of magma is classified as primitive, and is thinner and richer in CO2 than that from a typical fissure eruption.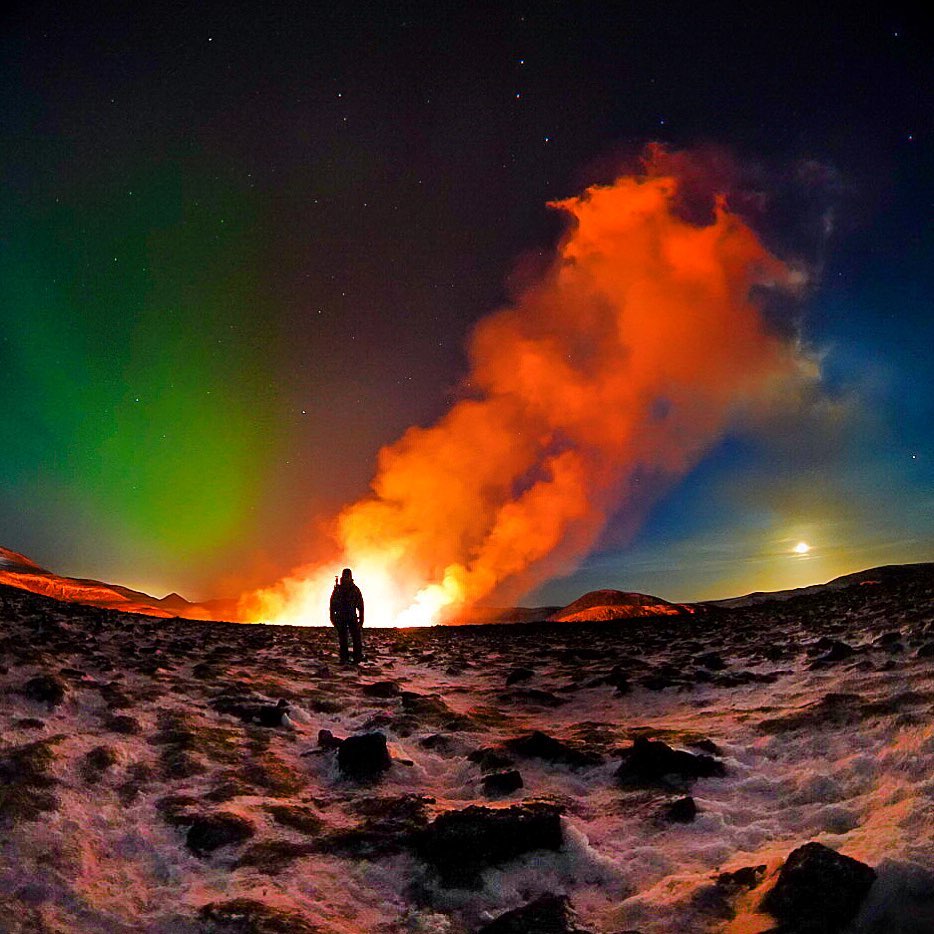 © Aurora Reykjavík
The perfect eruption?
Nature is wonderful, and its power astonishing. Seeing a volcano erupt is a breathtaking reminder of how incredible life on our blue planet is.
In Iceland, eruptions are a relatively common occurrence, but hardly ever as accessible and non-disruptive as the current one at Geldingadalur.
Day and night, Civil protection and SAR volunteers are making sure that hiking to the eruption site can happen in all safety.
The hike itself is about one hour and mostly on easy terrain, so that even those with limited hiking experience can brave the well-marked trail.
It is though essential not to underestimate the outdoors. Weather changes quickly in Iceland, so that being prepared for all conditions is vital.
The path can get icy this time of the year, so good hiking boots are crucial, and spikes recommended. Dressing warmly, with a wind- and rain-proof top layer is half of the hike. Hiking sticks will provide you with extra grip on slippery terrains.
Once at the eruption site, time flies. The lava show never tires, so that bringing some snacks, together with a hot drink, and water for the hike, is a very good idea. And, for an after sunset hike, a head torch will show you the way – if the northern lights won't.
The Aurora season is still on for few more days, and seeing the northern lights dancing above the eruption is an absolute dream come true!
Last but not least, don't forget your camera gear: once-in-a-lifetime memories await you there!
The start of the hiking trail is currently accessible by car, or bus (COVID-19 limitations might occur). In alternative, helicopter rides above the eruption site are also available.
You can watch a livestream of the eruption here.