Iceland is one of the world's top destination for seeing the northern lights.
During our sub-arctic winter, between September and April, the dark skies become the spectacular canvas on which the magnificent colours and shapes of the Aurora can be admired in astonishing dancing patterns.
With the help of good weather and solar activity, the country turns into a northern lights open air exhibition, and travellers from around the globe come to Iceland to witness this mesmerising show.
Although the phenomenon can be seen anywhere around the country, light pollution can sometimes spoil the view. Joining a northern lights tour allows you to leave the city lights behind, and experience an exhilarating evening of adventure in the Icelandic wilderness.
Or you can opt for a full-comfort countryside northern lights stay, and maximise your chances – literally at your doorstep.
Here are our 10 favourite country accommodations for seeing the northern lights in 2021.
Hotel Rangá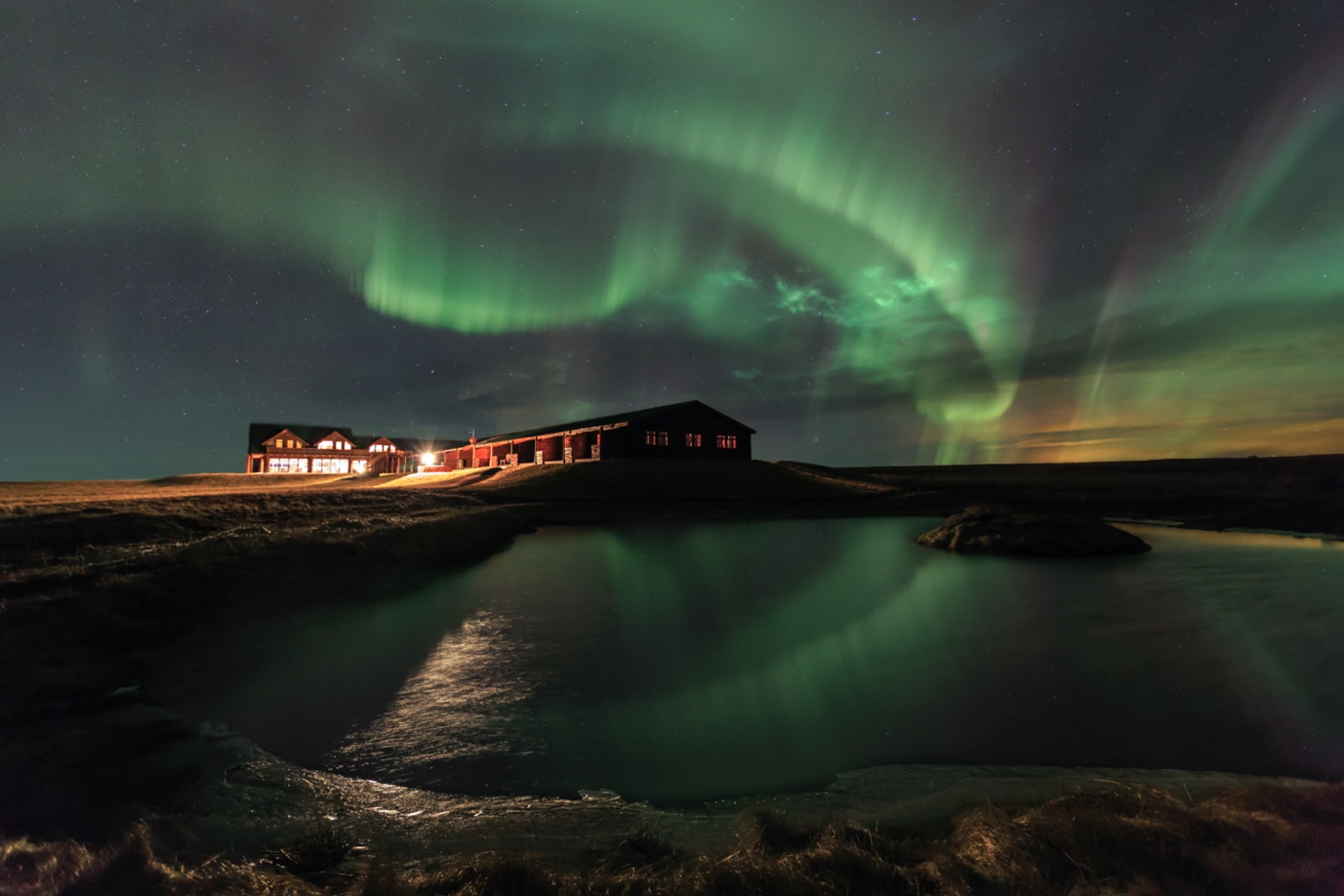 Photo: courtesy of Hotel Rangá
Less than a two-hour-drive from Reykjavík, Hotel Rangá is conveniently located in the southern Icelandic countryside between Hella and Hvolsvöllur, on the banks of Rangá river.
The remote location, with its dark skies, offers a perfect chance of catching the Aurora in all its brightness and beauty.
The hotel is a well-known countryside retreat, with an established northern lights and stargazing program during the winter months.
Rangá has its very own sky observatory, equipped with high-quality telescopes. During the winter, guests astronomers take the stage and guide hotel guests through the Icelandic winter sky and its fascinating stories, making for an incredible opportunity to combine Aurora sightings with a broader gaze at the wonders of the universe.
And what about watching the northern lights dance from the warmth of a hot tub, or sitting back in a specially designed northern lights wooden bench, wrapped up in a soft blanket or a warm snowsuit?
The hotel bar is open 24/7, and a steamy cup of hot chocolate will definitely keep you good company while enjoying an Aurora show.
A northern lights wake up service is also available upon request, so that you do not ever need to stay up late to catch the Aurora. The expert hotel staff will be checking the sky for you, and will notify you whenever the northern lights should appear.
www.hotelranga.is // @hotelranga
Hotel Húsafell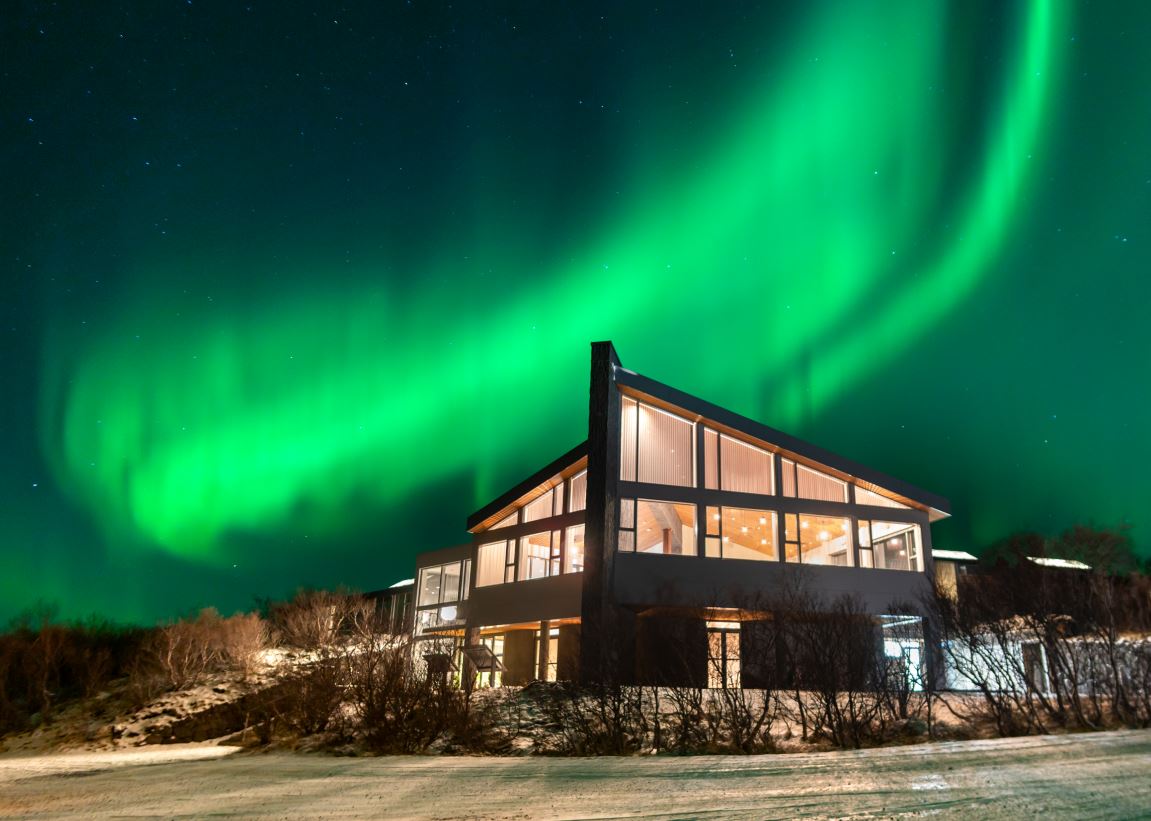 Photo: courtesy of Hotel Húsafell
Nested at the gateway of Langjökull glacier, less than two hours away from the Capital, Hotel Húsafell is the perfect choice for those interested in exploring the second largest glacier of Iceland, its neighbouring lava fields, caves and waterfalls.
This contemporary Scandinavian-style lodge is powered exclusively by hydroelectric energy produced on site with natural spring waters, a great example of Icelandic self-sufficiency and sustainability.
Hotel Húsafell's remote, though easily reachable location has one of the highest northern lights success rate in the whole country. On average, the phenomenon is visible from the resort three times per week during the winter.
At the heart of the hotel's success as prime northern lights location is its position, far away from any light pollution, and sheltered from extreme weather changes by the icy domes of Langjökull.
A truly perfect spot for Aurora gazing, the hotel offers a fine dine experience and northern lights wake-up call complimentary option.
www.husafell.com // @hotelhusafell
Ion Adventure Hotel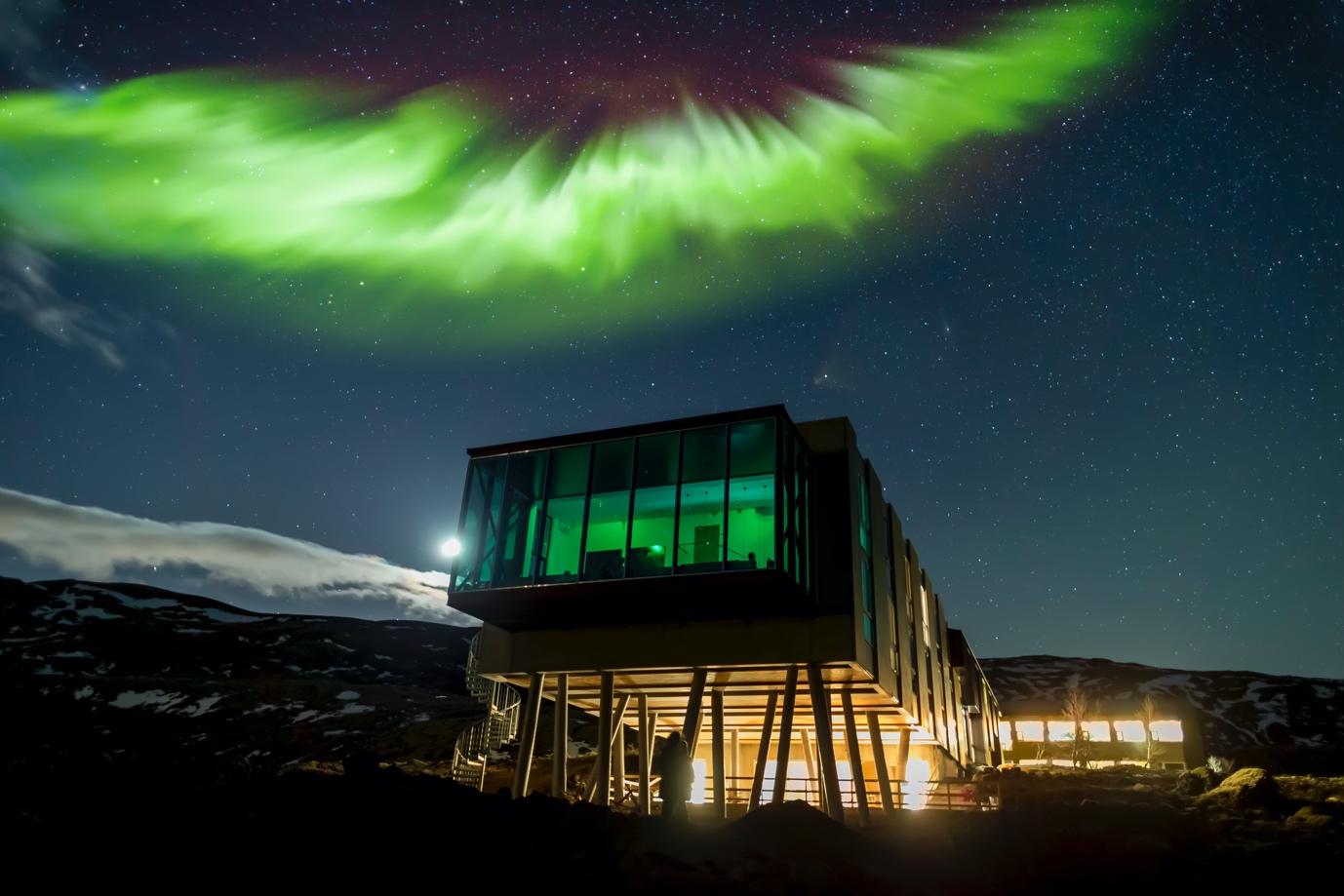 Photo: courtesy of Ion Adventure Iceland
Conveniently set on the way to the must-see Golden Circle route, less than an hour away from Reykjavík, ION Adventure hotel is the top choice for those seeking an exclusive country experience. With a view of lake Þingvallavatn – home of the UNESCO sight Þingvellir -, and its surrounding volcanic mountain ranges, it is easy to see how this design hotel became a favourite spot for viewing the northern lights.
The hotel modern interiors host an award-winning restaurant and a Northern Lights lounge bar with panoramic floor-to-ceiling windows – perfect to watch the winter night sky through.
At this sustainable boutique accommodation, you will also find a natural spa with sauna and an outdoor covered geothermal pool.
And, if you can never have enough of the northern lights, a northern lights wake-up call is available, and private Aurora tours from the hotel can be arranged on spot.
www.ionadventure.ioniceland.is // @ionadventurehotel
Fosshotel Glacier Lagoon
Photo credit: Unneva
Located in southeast Iceland, between the nature wanders of Skaftafell National Park and Jökulsárlón (Icelandic for Glacier Lagoon), this new hotel is the perfect destination for nature and adventure lovers. Several hours away from the Capital, but just off Route 1, this spacious, minimalist hotel has Iceland's rugged beauty at its doorstep.
Guestrooms offer spacious mountain or countryside view through large windows, and hotel facilities include a fitness centre, sauna and hot tubs. A northern lights wake-up call is available for hotel guests.
Fosshotel Glacier Lagoon is just a 20-minute drive away from the Glacier Lagoon – Iceland's northern lights photographers' paradise, with its breath-taking views on Vatnajökull and its icebergs floating on the glacial waters that reflect and magnify the glow of Lady Aurora.
www.islandshotel.is/hotels-in-iceland/fosshotel-glacier-lagoon // @fosshotel
Hotel Kjarnalundur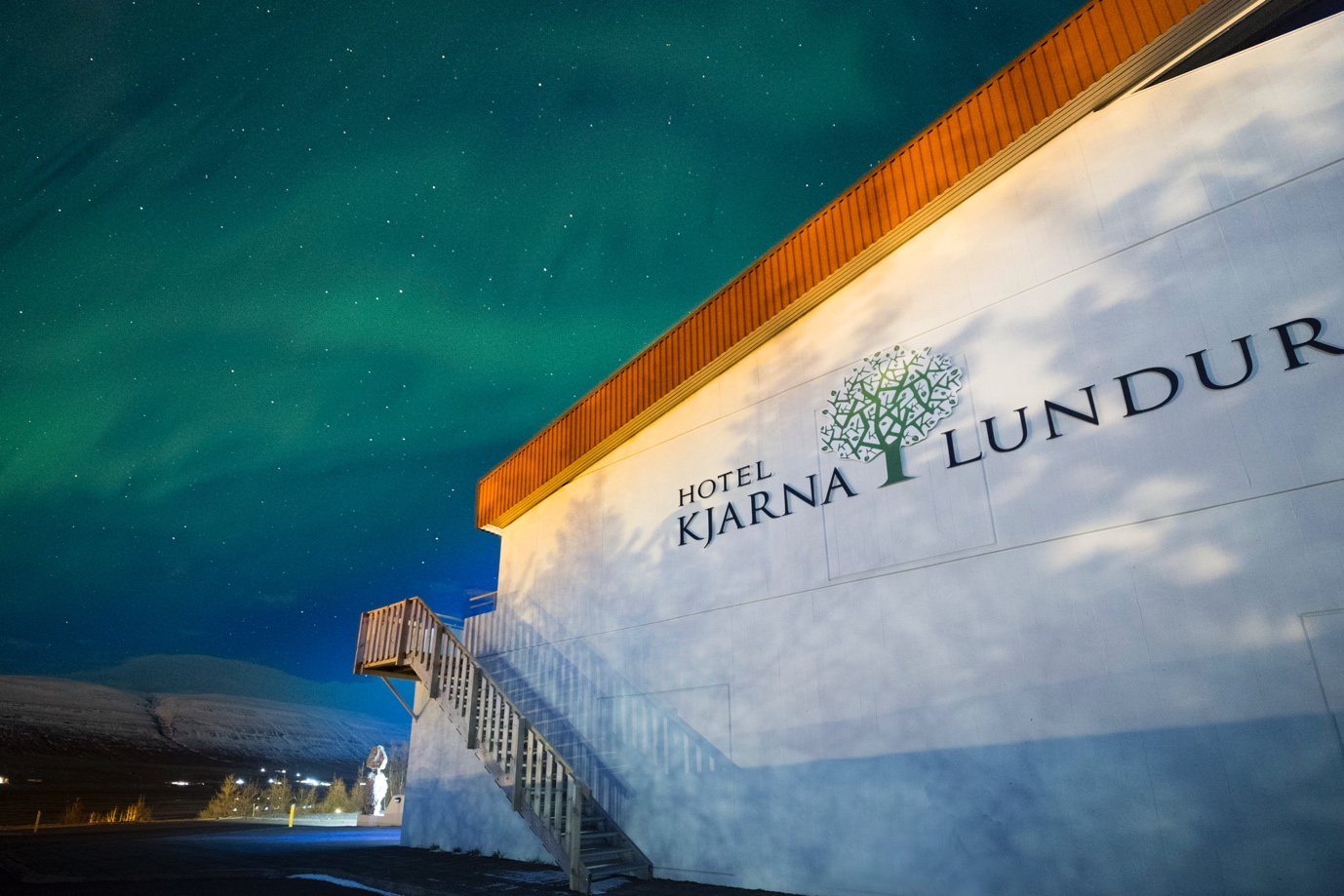 Photo by Aurora Reykjavík
Hotel Kjarnalundur is located just outside Akureyri, the biggest town in northern Iceland.
Its hillside location overlooking the fjord, at the edge of a forest popular among hikers and winter-skiers, makes for an exceptional spot for northern lights watching.
Due to its excellent position, Kjarnalundur was hand-picked by Live Aurora Network as prime location in Iceland for the real-time northern lights global detection system.
A special HD live camera positioned at the hotel site is directly linked to the Live Aurora Network App: the app features a custom algorithm that detects Aurora activity as well as grading it.
Becoming user of the app, you will be notified whenever there is any real time activity going on over your head, while getting information on the type of activity.
Hotel Kjarnalundur offers complimentary sauna and hot tub access, so that you can enjoy the northern lights in all cosiness.
www.kjarnalundur.is // @hotelkjarnalundur
Panorama Glass Lodge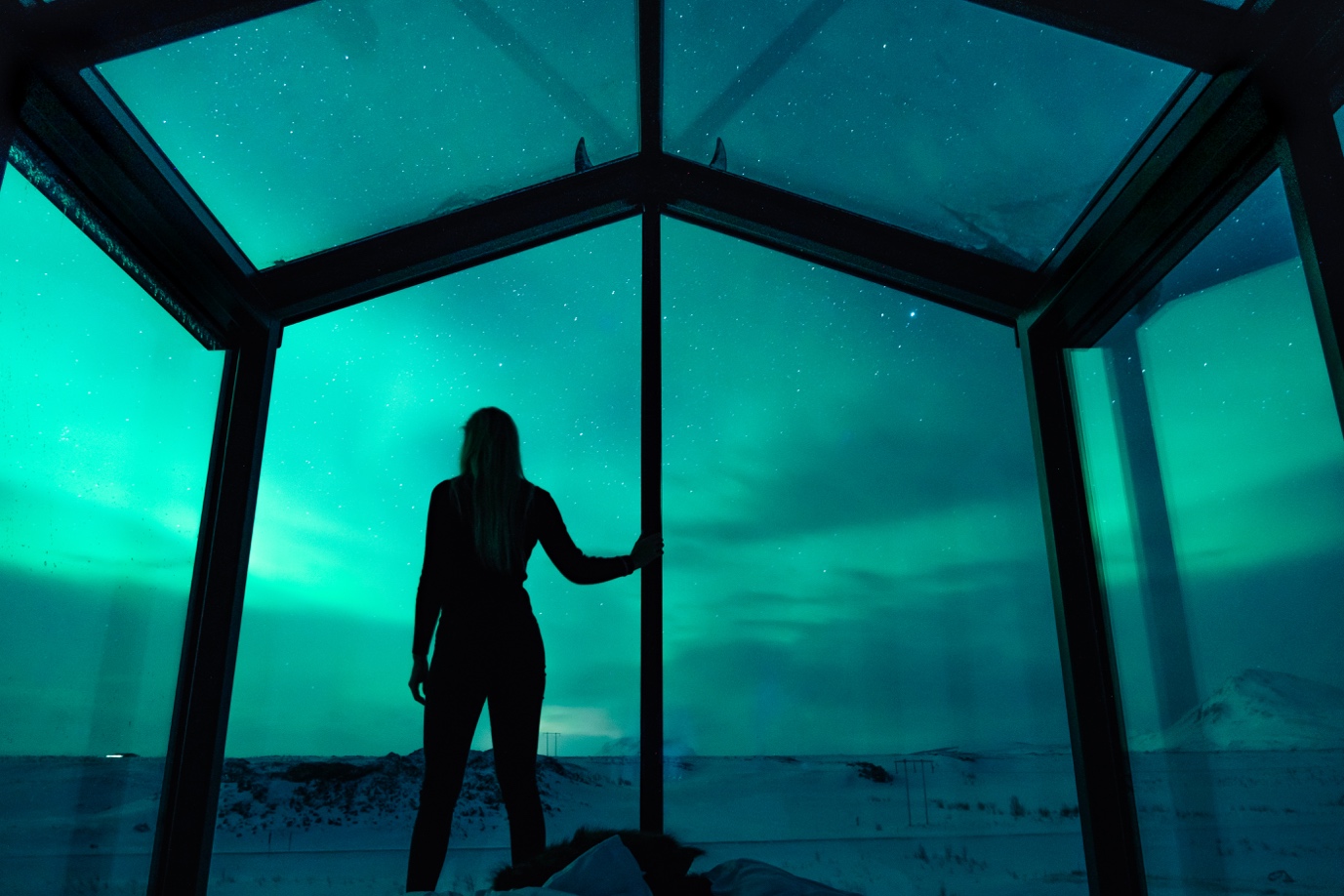 Photo: courtesy of Panorama Glass Lodge
Surrounded by fields and mountains, Panorama Glass Lodge has quickly become a synonym of romantic getaway with a view.
In just a couple of years, this extraordinary concept has gained international recognition and won the National Geographic Traveller Award for most unique accommodation worldwide in 2019.
Built in the Scandinavian style using a combination of wooden elements, steel and glass, these custom-made luxury little houses are well scattered around a large plot of country land outside of Hella, south Iceland, and each enjoys absolute privacy.
For added comfort, each lodge comes with an equipped kitchen and private outdoor hot tub.
What makes the lodges so unique is the panoramic, all-around-and-over glass bedroom. Here, in the comfort and luxury of their bed and in the company of the truly unique Icelandic landscape, guests can enjoy a night under the sky.
The total lack of light pollution makes of these lodges a true treasure for northern lights viewing.
www.panoramaglasslodge.com // @panoramaglasslodge
Hotel Búðir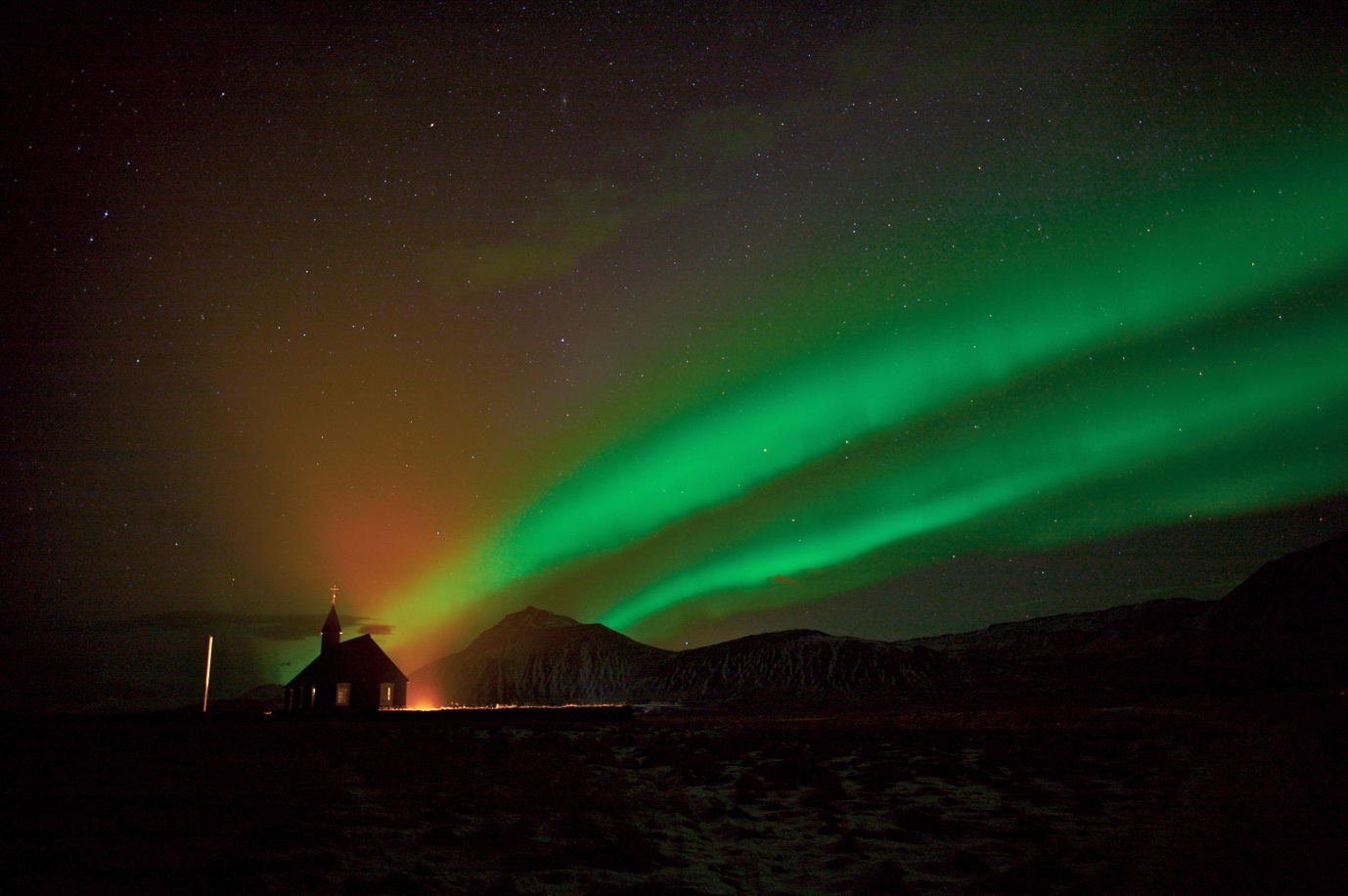 Photo credit: Finnur Malmquist
Located on Snæfellsness peninsula and a couple of hours away from Reykjavík, Hotel Búðir is one of the oldest hospitality establishments in Iceland.
A true Icelandic gem, Búðir was rebuilt in 2001 and has ever since been a favourite among travellers looking for a cosy, romantic getaway with panoramic views on the surrounding lava beach and the iconic Snæfellsness volcano, topped by a glacier.
This charming vintage lodge-like hotel hosts an excellent restaurant, and a lovely lounge bar with floor-to-ceiling windows where to relax in the evening by the fireplace, while catching a glimpse of the Aurora outside.
The little black country church next to the hotel is one famous subject for northern lights pictures, and the northern lights wake-up service option will maximise your chances of catching the Aurora over this picturesque scenario.
www.hotelbudir.is // @hotelbudir
Blue Lagoon Retreat Hotel and Spa
The Blue Lagoon is possibly the number one must-see attraction in Iceland, and has been luring visitors to its silica-rich, milky blue geothermal waters for decades.
Of recent construction, the exclusive Retreat Hotel and Spa is surrounded by moss-covered lava fields and has its own private lagoon, with infinity pools and lava canyons.
Designed with its guests' privacy and well-being in mind, this luxury retreat offers spa treatments and a fine dining experience at the onsite Moss restaurant.
Its secluded location aside from the main Lagoon, together with its panoramic windows and terraces, canyons and pools, makes for an incredible take on the northern lights experience.
www.bluelagoon.com/accommodation/retreat-hotel // @retreat.bluelagoon
5 Million Star Hotel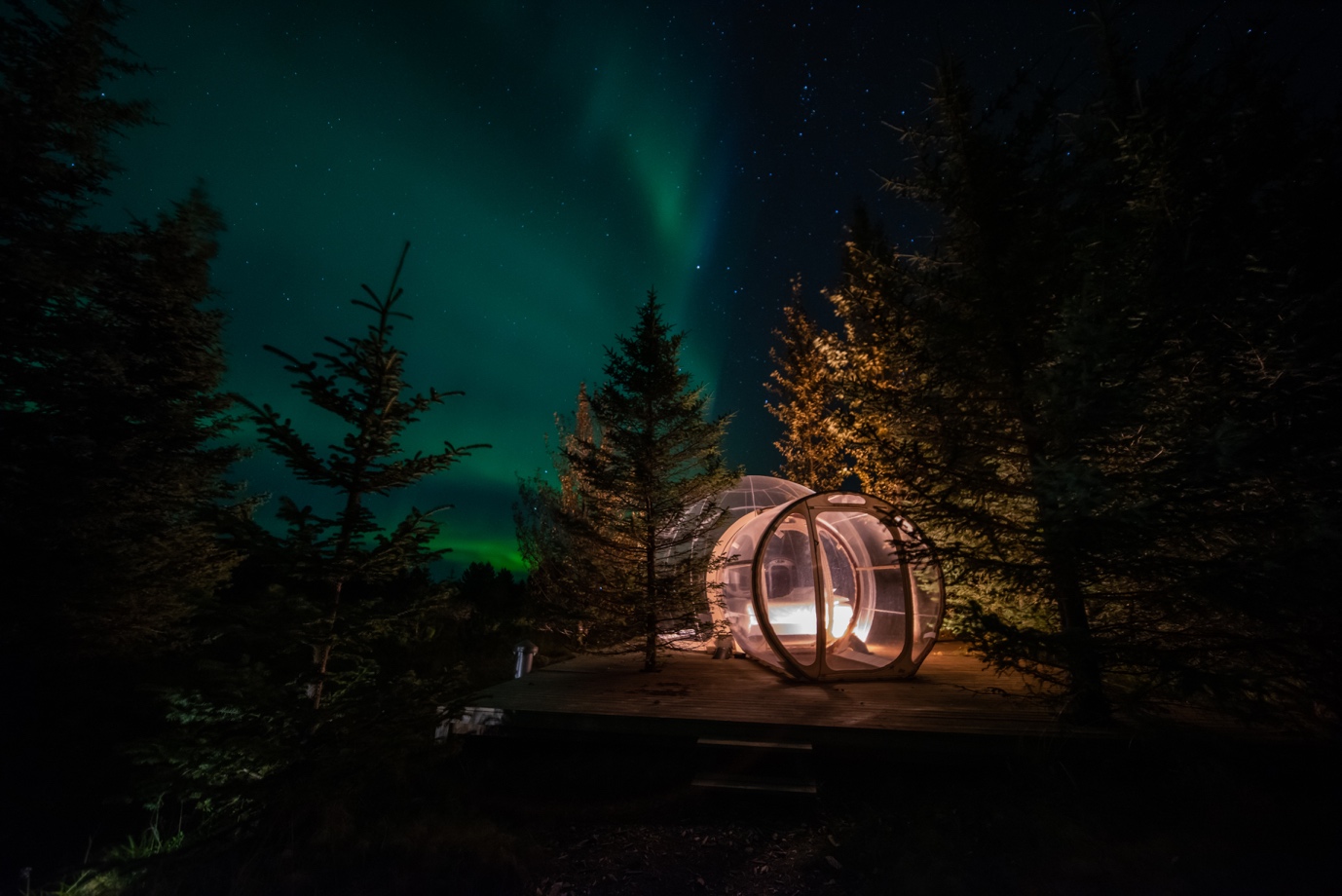 Photo: courtesy of 5 Million Star Hotel
If you want to experience the nature of Iceland first-hand, the Five Million Star Hotel experience is what you are looking for.
This self-catered experience is, despite its name, closer to glamping than your typical hotel stay.
The igloo-style bubbles are to be found at two different, relatively close locations: Hrossagi (Reykholt, in the Golden Circle area) and Ölvisholt (Selfoss area, south Iceland), with a tree bubble available at the latter for the most adventurous.
The concept is straightforward. Forget your worries and enjoy being out in the pure nature, reconnecting to its rhythms, sounds and colours.
Each bubble is completely see-through and the interiors minimalistic in style, offering a cosy double bed and little else. Nature takes the stage completely here, and the dark skies allow for great northern lights sightings straight above your bed.
During the winter season, Five Million Star Hotel is only accessible in combination with the Buubble Golden Circle and South Coast tours.
www.buubble.com // @bubbleiceland
Fisherman's Village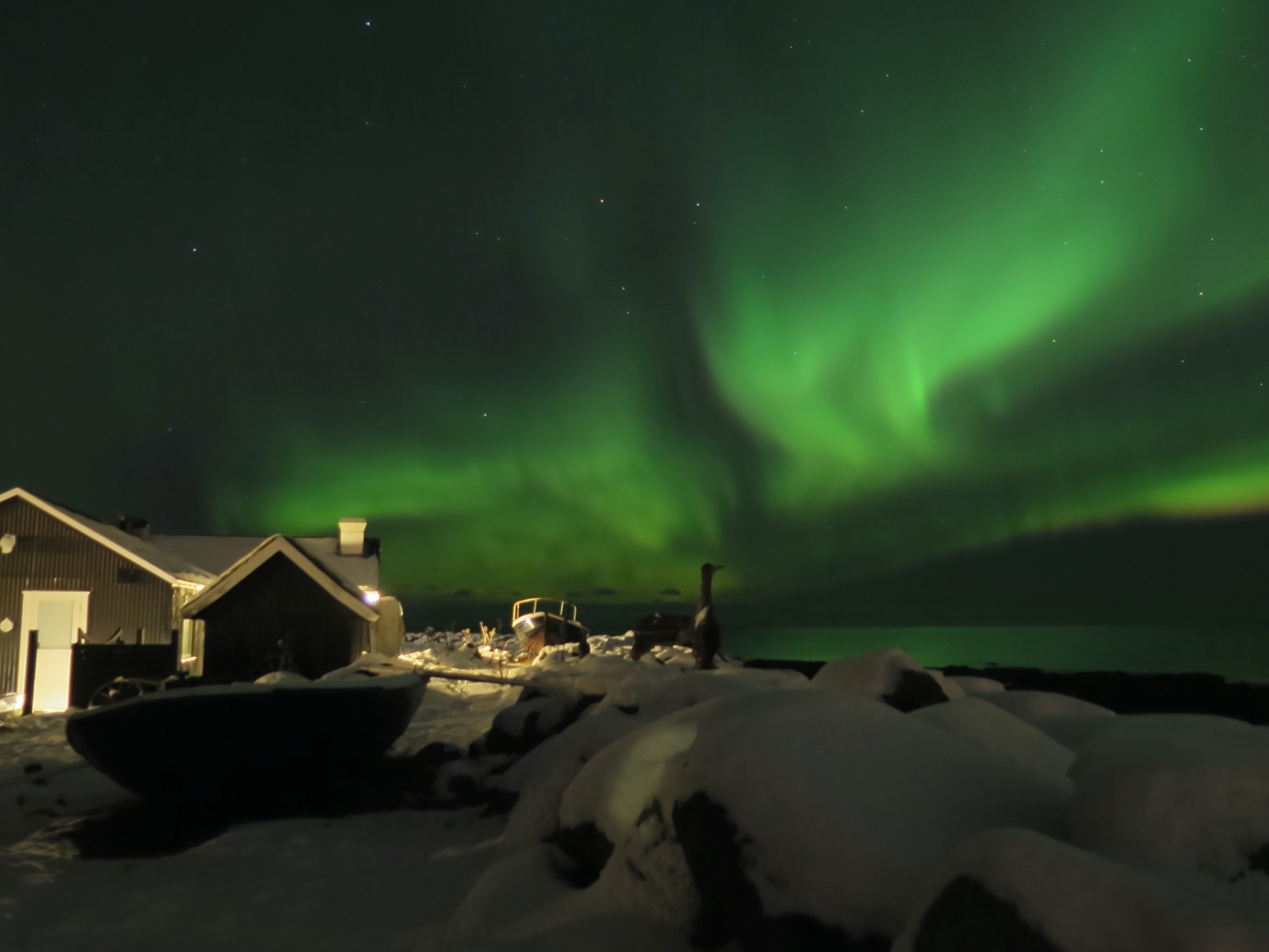 Photo: courtesy of Fisherman's Village
Just 15-minutes away from downtown Reykjavík, Fisherman's Village hotel guesthouse will make you feel like you travelled back in time.
This traditional wood-and-turf accommodation is located on the shores of Álftanes peninsula, within walking distance from the President's official residence and with excellent views on the Capital and Reykjanes peninsula.
The secluded but accessible location, makes it for a perfect night stay on the way from/to the airport, but also for a relaxed country stay within reach of the lively Capital.
The hotel offers rustic private rooms, a restaurant and a roof-top hot tub.
The Fisherman's Village grounds are in an optimal location for enjoying the northern lights dancing over the ocean and Reykjavík, away from the city light pollution.
www.fishermansvillage.is // @fishermanvillagehlid