SENSATIONAL ICELAND – WATERFALLS, GLACIER HIKE & NORTHERN LIGHTS
Visit stunning Seljalandsfoss and Skógafoss waterfalls, views of iconic volcanoes, the black sand beach at Reynisfjara, the stunning Reynisdrangar basalt columns and an easy hike on a glistening glacier. If conditions allow you will get a chance to see the glorious northern lights after some free time for supper in Reykjavík. Your guide will take free photographs so you can cherish the memory!
You are driven through the scenic countryside to Seljalandsfoss waterfall. A pathway leads behind the falls, from this angle you can feel the full force of the cascade and get a unique photo opportunity – rainwear is recommended! There is a short hike between Seljalandsfoss and Gljúfrabúi, "The hidden waterfall", where you can go and feast your eyes on this hidden gem. This spectacular waterfall is hidden inside a small gorge and is definitely worth a visit.
Traveling onwards through stunning scenery you will arrive at Sólheimajökull glacier for a once-in-a-lifetime glacier walk. Your certified glacier guide will issue you with crampons and other glacier equipment. You will even hear the ancient ice cracking when it moves, as you explore you will learn about the glacier, its movement, crevasses, and formation. Next up is the black sand beach at Reynisfjara to see the dramatic basalt columns and cave, the Reynisdrangar cliffs and the basalt rock stacks that rise above the Atlantic waves. An Icelandic legend says these were trolls which were turned into rock when they faced the rising sun. Finally, you will come to the majestic Skógafoss waterfall, a pathway with 527 steps leads up the side of the waterfall, giving a grandstand view of the falls and the rainbows which appear on sunny days. This waterfall is also the location of a famous Icelandic legend. It is said that Þrasi Þórólfsson, the first Viking settler in the area, buried a treasure chest in a cave behind Skógafoss.
This is volcano country, on a clear day, you will get views of Eyjafjallajökull, Hekla and even the volcanoes around the Westman Islands, just off the coast. This trip has an intimate and friendly atmosphere. Our guides always welcome your questions! You are dropped off at your hotel in Reykjavík, really close to the restaurants so you can get something to eat.
We pick you up for your northern lights minibus tour at your hotel. You will be taken to the best places in the countryside to see the aurora. The moment when you spot the first whisper of their glimmering colors is always spellbinding. Green, yellow, white and sometimes blue or purple northern lights are usually seen. Red auroras, from deep red to rose and vivid violet are more common in Iceland than elsewhere in the world, but still quite rare. We can never promise you will see the lights but we do our very best.
The tour returns to Reykjavík around midnight / 01:00 – as always the weather can influence schedules. You are dropped off where we picked you up in the morning.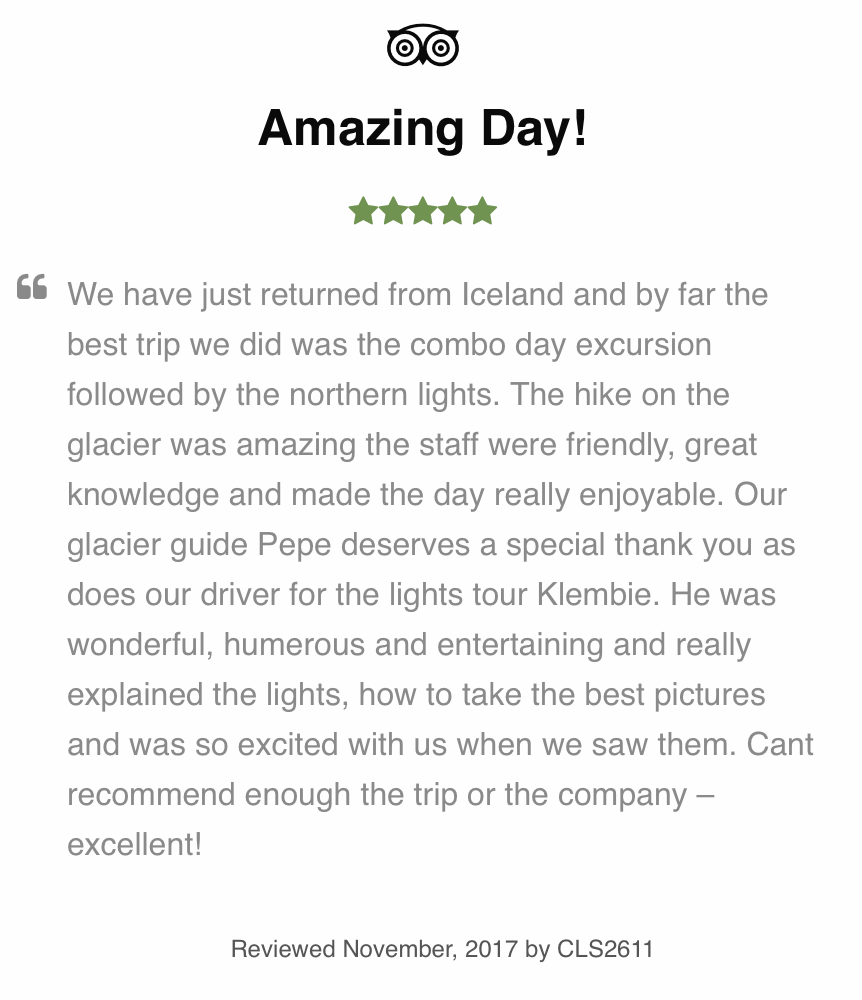 Difficulty: 2/5, easy.
Tour Highlights:
Glacier Walk on Solheimajokull
Black Sand Beach
Reynisdrangar Ocean Cliffs
Gljúfrabúi – "The Hidden Waterfall"
Seljalandsfoss Waterfall
Skógafoss Waterfall
See Glaciers & Volcanoes
Please note
The Northern Lights are natural phenomena that are difficult to predict, but our guides do everything in their power to make sure you see the lights.  
Cancellation policy
We will charge a cancellation fee of 100% if booking is cancelled 1 day or less before event
Glacier Hiking, Volcanoes and Waterfalls Tour
Visit to all Highlights
Guidance Throughout
Glacier Walk on Sólheimajökull
Certified Glacier Guide
Glacier Hiking Equipment
All Required Safety Equipment
English Speaking Tour Guide
Evening Northern Lights Tour
Northern Lights Photos
Free WiFi on Board Your Bus
Exclusions
Food and beverages are not included.