WHALE WATCHING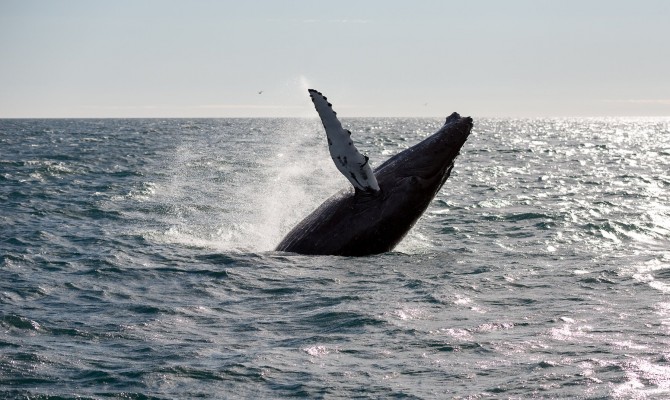 Experience the best Iceland has to offer with spectacular whale watching opportunities!
All year round you'll be able to see a variety of whales by the coast, from the Minke and Humpback whales to White Beaked Dolphins and Harbour Porpoises. The high peak season for whale watching is from April to October, but of course, the ocean is always full of adventures. You can see all the other aquatic species, all sorts of wildlife and at the same time enjoy the splendid scenery around the coast of Iceland.
 We are conveniently located at the old harbor downtown Reykjavik.

Season
all year
Duration: 2-3.5 hours
Departures: 9:00 and 13:00/14:00
Experienced, friendly and professional guides
Warm and waterproof overalls
Heated indoor cabins with toilet facilities
Free Wi-Fi on board
If there are no sightings on the tour you can join another tour for free
Seasickness tablets available
Important informations
Please be at our meeting point at least 30 minutes before scheduled departure.
Please note: Whale Watching is a natural activity governed by the laws of the weather. If the trip is canceled due to bad weather, you can either reschedule for free or get a full refund.
If you don't see a whale, you have the option to take the tour again for free.
Please be aware that due to environmental reasons during certain times of the year our trips may be operated on a shared boat with one of our partners. At Reykjavik Sailors, we are committed to ensuring the environment is kept pristine by making sure fewer boats are on the water during slower periods.
Pick-ups must be booked with a minimum of one hour before the tour departure time.
You may also like