Escape the reach of tour busses and city lights on this off-the-beaten-track aurora super jeep excursion!
Arctic Adventures is an Icelandic adventure and activity company.  We especially focus on ecotourism and environmentally friendly trips throughout Iceland.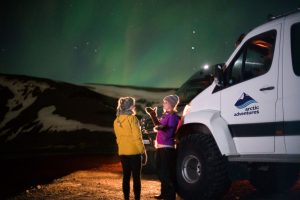 Each winter we are welcoming guests in search of the famous Aurora Borealis. This fascinating natural phenomenonis one of the most mesmerizing sights you will ever come across in your life. The dancing colors and shapes in the dark arctic sky will  leave you awestruck.
You will be picked up at your hotel in a custom-built 4×4 super jeep by our expert northern lights guide. We leave the lights of the city behind and head into the darkness for our adventure. On the search for the northern lights, we might travel through some of Iceland's most spectacular natural sights.
The super jeep gives us the flexibility to go off of the beaten path to locations the big buses can not reach. That is giving us a greater chance to enjoy the northern lights and the wonders of the night sky without the discomfort of big crowds.
In the cold night, there is nothing like some hot chocolate to keep warm. Moreover, the brave ones can even add some Icelandic Brennivín to theirs!
Our guides take photos every time the northern lights are spotted. Therefore you can be sure to get your picture taken with the Aurora.
Venture into the night with us in the luxury of a super jeep. We´er on a quest for the spectacular, unique and ever-changing show put on by the northern lights.
Aurora tour highlights
Northern lights
Super Jeep
Small group setting
Available from September 1st until April 20th
Aurora tour details
Rated:Easy – Family tour for everyone.
Duration:  Approximately 4 hours.
Pick up time: Please be ready in time for your pick up at your Reykjavík accommodation and note that it can take up to 30 minutes for us to arrive.
Included: Pick-up from Reykjavík, hot chocolate, biscuits and expert guidance. If you do not see any lights we rebook you on a second tour for free.
Remember to bring: Warm outdoor clothing, waterproof  jacket and pants, headwear and gloves.
Good warm shoes and wooly socks.
Dress warmly, there is no such thing as too many layers of clothes on our Aurora tours.
Minimum age: 6 years.
Terms of this Aurora tour
The success of the Northern Lights Explorer tour depends on weather conditions. Therefore, we reserve the right to cancel departures until 18:15 on the day of the tour.
If the tour goes ahead and no northern lights are seen we offer you a retry.  You can join another evening's departure free of charge upon availability. The second tour might possibly be in a minibus.
Note that you need to contact us to re-book.
Book Now!
Northern Lights Explorer / Northern Lights Superjeep tour via Arctic Adventure
Loading…