Golden Circle Deluxe – Small Group Experience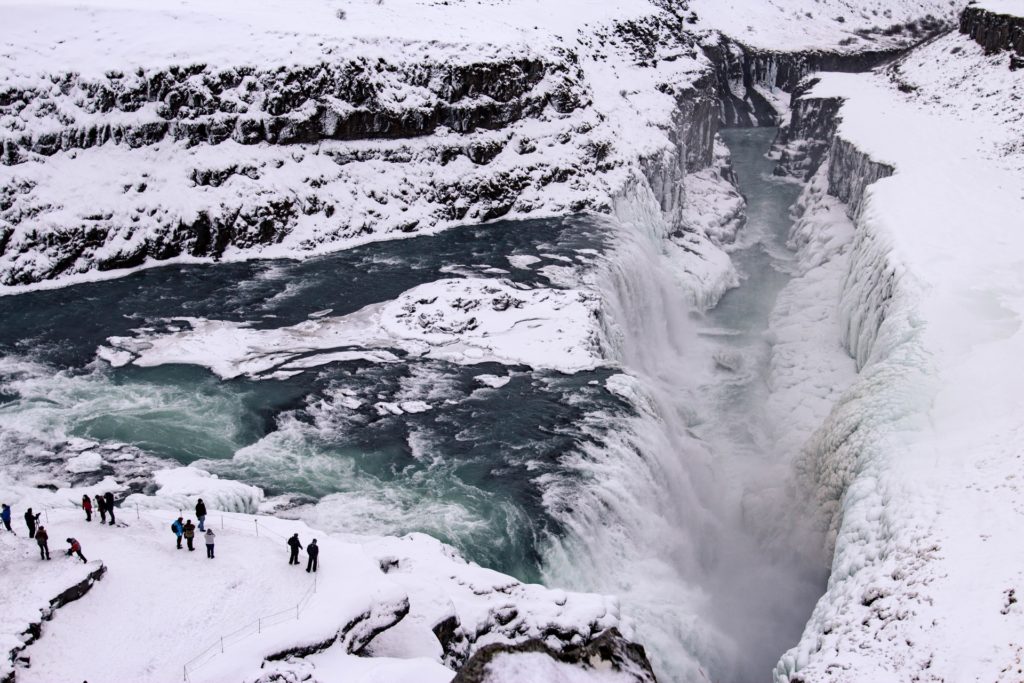 The Golden Circle is a "must do" experience in Iceland. We take you to the three most visited natural nature attractions in the southern part of Iceland, Gullfoss Waterfall, Geysir Geothermal Area and Þingvellir National Park.
This small group guarantee Golden Circle Tour from Reykjavik combines fragile nature, saga, powerful geothermal wonders. The tour is simply for everyone, whether you are young or elderly, active or easy going, nature or history lover. On the trip you experience some of the highlights in Iceland when we drive along glacial rivers and beautiful landscapes. Your trip to Iceland won't be completed without a visit to those sites.

But we also take our time to observe the lesser mention but still beautiful places and nature and cultural treasures.  Conditions allowing it, we'll try to stop on the way to admire some of the famously friendly Icelandic horses.
The tour guides are local experts that know the area like the back of their hands and are storytellers at heart.  Being a small group guarantee tour we can assure you that the tour guide has time for all the questions from each participant.
FREE CANCELLATION
BEST PRICE GUARANTEE
NO BOOKING FEES
FAST & SECURE PAYMENT

Available
All Year
Departure
Daily
Departure time
09:00
Duration
8 Hours
Note
During the tour we break for refreshments at a restaurant or café

Due to weather or road conditions we might have to alter the itinerary, have longer journey time or cancellation

Reservation is necessary
Meeting point: Free hotel pick up
The pickup starts at 08:30. It might take up to 30 minutes, but be ready from 08:30 to 09:00.
We recommend you bring
Warm clothing in winter

Water bottle and refreshments
Highlights
Small Group Guarantee
Þingvellir National Park
The Rift Between the Eurasian and American Continents
Geysir Hot Spring Area
Gullfoss Waterfall
Kerið Volcano Crater
The tour includes
Fully guided tour

Free pick-ip and drop off at your accommodation in Reykjavik.
Terms and Conditions
Booking Conditions
Day Tours
Saga Travel confirms a booking when it is fully paid by a client. Once Saga Travel has accepted a booking and received a payment, the contract between Saga Travel and client will become binding.
Multi Day Tours
Saga Travel confirms a booking when it is fully paid by a client, or an agreed deposit has been paid. Once Saga Travel has accepted a booking and received a payment, the contract between Saga Travel and client will become binding.
Client Responsibility
Upon booking you confirm that you have studied and familiarized yourself with the terms and conditions of Saga Travel and fully agree to all terms and conditions. You also confirm that you fulfill all conditions set by Saga Travel and are physically able to follow our instructions and partake in all activities planned for you and operated by us. If unsure please contact our office.
Parents and/or legal guardians take full responsibility of damages caused by passengers they are responsible for. Children (under 18 years in accordance of Icelandic law) cannot use the services of Saga Travel without accompanying parent or legal guardian.
Our Liability & Compensation
Saga Travel will accept liability for the negligence of its employees causing direct physical injury to passengers only to the extent that it is obliged under Icelandic law. Saga Travel cannot be held responsible for any mishap to yourself or your property, and in particular for the consequences of flight cancellations, vehicle accidents, strikes, sickness, Government, customs or police intervention or other such happenings amounting to force majeure. By confirming your booking with Saga Travel you acknowledge that we have taken all reasonable steps to safeguard our liability in this respect. Saga Travel reserves the right to suspend passengers from the tours if the passengers are inebriated or show unacceptable or improper behavior.
Cancellation Policy
All bookings for multi day tours, packages and group tours with Saga Travel carry at least* a 10% cancellation fee (does not apply to open day tours). This fee covers our cost of cancelling your bookings and payment processing fees. This fee does not apply if Saga Travel cancels the booking. Cancellation requests must be made in writing (email, fax or letter). 
For the cruise ships, the cancellation policy does not apply if the ship does not make it to the harbor. In case of the ship not reaching the pier, you'll receive a full refund.
*Cancellation conditions are as follows:
Type of Tour
100% Refund
90% Refund
50% Refund
25% Refund
No Refund
Day Tours

+24 Hours

0-23 Hours

Multi Day Tours (1-8 Passengers)

+28 Days

7-27 Days

2-6 Days

0-47 Hours

Groups

(+9 Passengers)

56 Days

28-55 Days

7-27 Days

0-6 Days

Changes and Cancellations by Saga Travel
Before you enter into a contract with us, we reserve the right to change any of the facilities or services described in our brochure or website. We also reserve the right to cancel the booking do to weather and/or other conditions. Any changes are usually very minor and we will advise you at the earliest possible date. If a major change, such as change in departure time, becomes necessary, we will inform you as soon as reasonably possible your tours begins. When a major change or cancellation occurs you will have the choice of accepting the change of arrangements, purchasing another available tour from us, or cancelling your tour. If booking is cancelled we will refund all payments made directly to us in respect of the tour price. We will not refund any personal expenses you may have incurred as a result of your booking such as flight payments for land-only tours, travel insurance, equipment purchases, visas, vaccinations etc. 
Change Fees
If a client requests a change of itinerary for a confirmed booking, Saga Travel will apply change fees.

Akureyri
December 6th 2017