VOLCANO HIKE & NORTHERN LIGHTS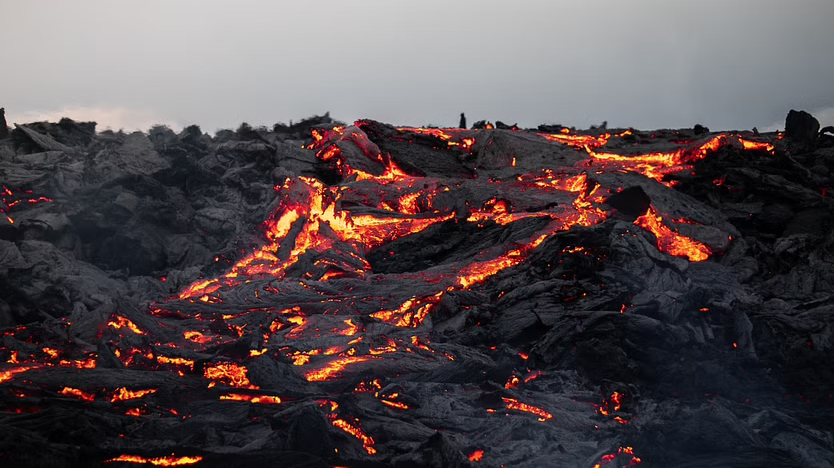 Explore an active volcano site and gaze upon the aurora borealis in the evening!
Explore one of the most magnificent events in nature – a volcanic eruption! There will be a moderate hike to get to the volcanic eruption, and our expert guide will be there for you to ensure your safety at all times throughout the tour.
Traveling to the volcanic eruption is achievable for people who are willing to put in the effort of hiking to witness seeing the erupting volcano. During this tour, you will see the Meradalir erupting volcano over the newly formed land. During the last volcano eruption in 2021 March 19th, lava flowed from the volcano cone into the valley, slowly but surely filling it up. Now, since a new eruption started on August 3rd, 2022, the fresh lava flows over the recently formed lava field. This should be a spectacle to see!
Escaping the artificial lights and driving into the deep darkness of the landscape make this trip even more memorable. Our guides will keep a close eye on the weather conditions to find the perfect spot to admire the Aurora Borealis. Encountering these fleeting lights will make for a magical night!
Our minibus tour to see the Northern Lights is one of our most popular tours. We are guided by the best available aurora and cloud forecast to optimize your chance of seeing the aurora dance across the night sky. Due to its proximity to the Arctic Circle and the magnetic pole, Iceland's auroral activity is some of the most intense in the Northern Hemisphere.
Duration: 16 hours

Physical difficulty level: Moderate

Minimum age of passengers is: 8
Cancellation policy
We will charge a cancellation fee of 100% if booking is cancelled 1 day or less before event
WiFi
Pick-up & Drop off
Minibus Transport
Volcano Hiking
Northern Lights Tour
Northern Lights Photos
English Speaking Tour Guide
Free WiFi on Board Your Bus
Exclusions
What do I need to bring?
Warm layers, weatherproof top layer, headwear, gloves, scarves and hiking boots or sturdy shoes. Spikes which fit on your boots are useful in icy conditions if you have them. Please keep in mind that food and drinks are not included, however, we will stop at a café/restaurant where you can purchase snacks or drinks if you like.
What if I don't own all of these clothing items? Don't worry, you can always rent sturdy hiking shoes, waterproof jacket and pants in the booking process. We do not rent gear from locations, it must be ordered in advance.
You may also like