SMALL GROUP NORTHERN LIGHTS PHOTOGRAPHY TOUR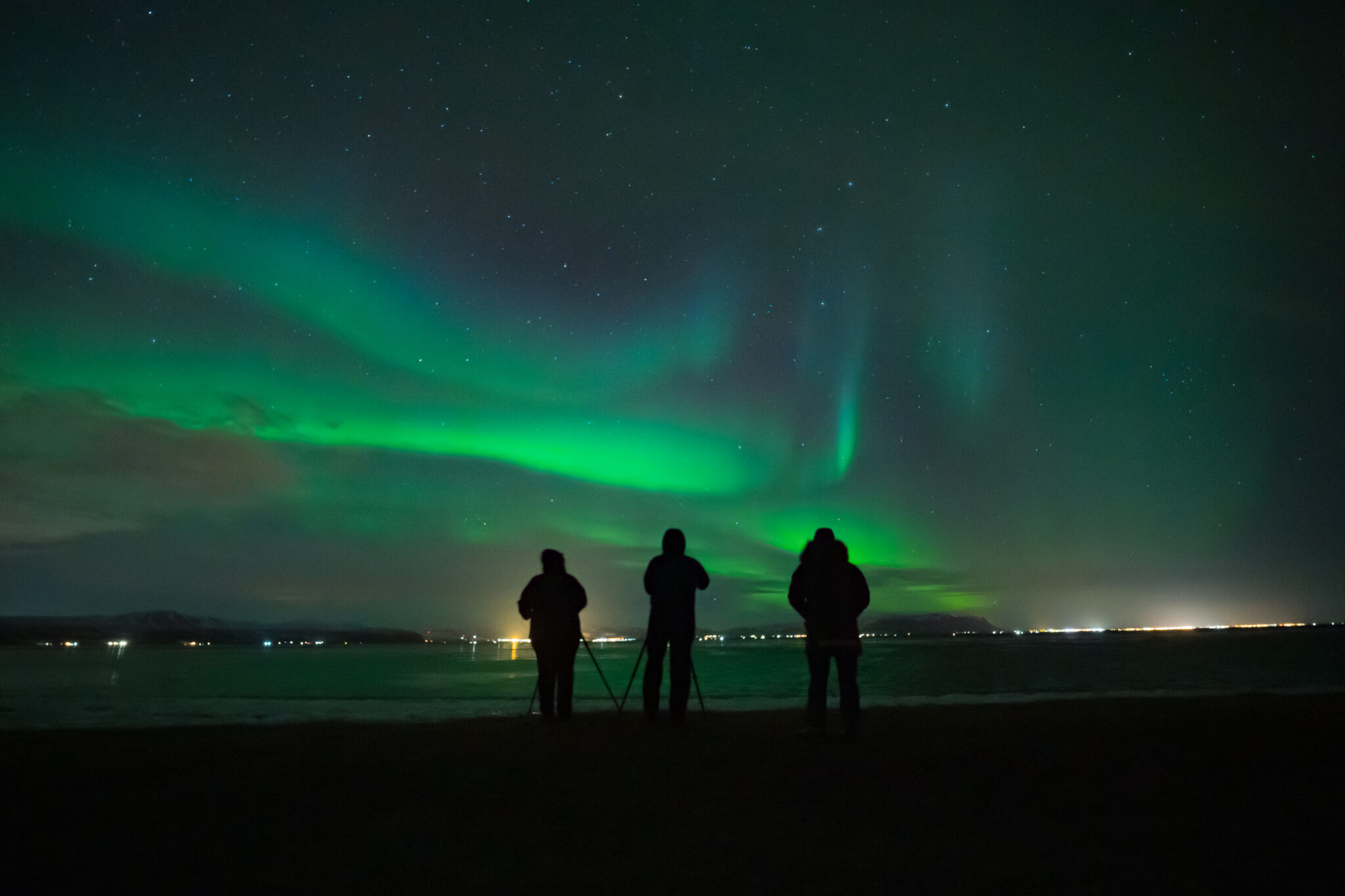 Take part in our very special Northern Lights Photography tour. Experience one of the most elusive natural phenomena in the world guided by a Northern Lights specialist photographer at selected photogenic locations.
Experience a fun evening of aurora hunting on this tour which takes you to the best locations and helps you get that perfect Northern Lights pic. Your guide for the night is a pro-photographer who will assist you in capturing the lights yourself, as well as take great photos of you with the aurora as your background.
This tour is suitable both for those looking for a small group size and photography enthusiasts alike! This small group option will offer you an intimate experience ensuring our guide will have enough time for everyone. And you will also receive free photos after the tour.
Attempting to capture the lights on camera can be intimidating for even experienced photographers. On this tour we will bring you to remarkable places with stunning backdrops, for your once in a lifetime aurora experience. The location will always depend on weather conditions, and our professional ops team will work hard during the day to pinpoint the perfect cloud free location, studying the weather data for that evening.
In addition to this adventure, this tour includes a complimentary visit to the Aurora Centre Reykjavik, as well as tasty Icelandic snacks and hot chocolate to warm you up during the excursion. For those nights where mother nature is not on our side, you will still be treated to a night sky full of stars, and offered a complimentary rebooking.
FREE CANCELLATION
BEST PRICE GUARANTEE
NO BOOKING FEES
FAST & SECURE PAYMENT

Is this tour already sold out for your desired date?
Please click here for the best alternative.
Itinerary
Your evening will start with pick-up service, included in the price.
Once everyone is on board we will take you to the Aurora Museum to start the tour.
After getting an introduction into the science and stories behind the Northern Lights and photography tips you will be taken outside of the city to hunt for the lights.
After the tour you will be brought back to Reykjavik and dropped off at your designated location. 
Duration
Please note
Children under the age of 8 years old are not permitted on this tour.
Cancellation policy
We will charge a cancellation fee of 100% if booking is cancelled 1 day or less before event
Northern Lights hunting experience
Professional Northern Lights Guide
Professional photographer
Free photos from your northern lights tour
Professional guidance when taking northern lights photos
Guaranteed picturesque location
Aurora Museum Reykjavik entrance tickets
Icelandic hot chocolate and snacks
Exclusions
Food and drinks other than refreshments
What do I need to bring?
Aurora Reykjavík
✓ Your camera (you will learn how to take pictures of the northern lights during your visit)
Northern Lights Photography Tour
✓ Your camera
✓ Warm clothing and good sturdy shoes