Puffin Boat Tour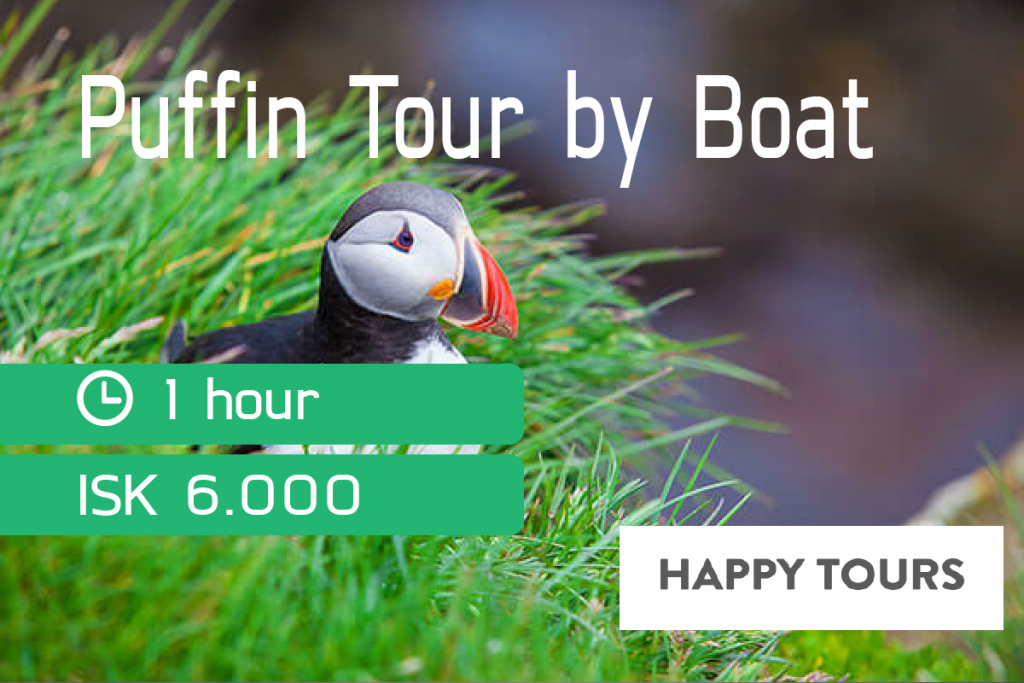 PUFFIN WATCHING TOURS FROM REYKJAVIK
Puffin and birdwatching on a boat is a fun and educational thing to do with friends and your family.
Summer is the best time to experience the birds and wildlife of the bay and islands outside Reykjavík.
The puffin islands are small islands located in the bay outside of Reykjavík. It ́s only 15 minutes sailing from Reykjavík Old harbour, from where we depart.
Atlantic Puffins are the most common bird in Iceland (about 3.3 million birds). Puffins have colonies on the island of Akurey ( 15.000 pairs) and on the island of Lundey (10.000 pairs).
The fishing boat Saga only takes a maximum of 20 passengers in a tour and therefore we provide more personal service than other similar tours. Good space and good viewpoints for all our passengers. These are the best seats!
We provide very good binoculars. Remember to wear appropriate clothing due to weather. Also bring your camera and the good mood.
Season: 1 May — 23 August (every day)
Duration: 1 hour
Departures: 15:00 / 17:00 / 19:00 from the Old harbour in Reykjavík (Vesturbugt), next to  "VIKIN Maritime museum"
Small groups – personal service
The boat is located in the heart of the Old harbour, next to  Víkin Maritime Museum.
If you are coming from the city center (5-10 min walk), you need to pass the first dock, the hamburger place (Hamborgarabúlla Tómasar) and Reykjavík Marina Hotel, until you see a sign marked: "Hlésgata". There you will see our sign down by the small pier ,,happytours.is". We are located on the other side of the large shipyard, where the large ships are on land for repairing (see the map).
Hotel pick up  starts 1 hour before departure and we are serving the Reykjavik Capital Area (see the hotel list).
Our bus takes max 15 passengers. In our tours we try to avoid crowd places . We want  our passengers to get as close to the unspoiled nature as possible.
You may also like