Private super jeep photography tour for up to 4 people via Arctic Exposure
We run the Iceland Northern lights photo tour from the end of August to mid-April each year. We only go if the weather permits. On this photo tour, we will follow the Northern Lights prediction and set out to hunt for them in the evening. This means we follow the lights and adjust the location after that. This also means late arrivals to the hotel in the evenings but, we throw in a sunset location before the hunt begins to make the most of the day. As always, good hiking shoes and warm clothes are recommended.
Locations:
Northern Lights
Sunset location
Included:
Hotel pick-up & drop-off
Driver guide & Super Jeep
English speaking guide
Duration: 
4 hours
Costs: 
The price includes a driver guide and super jeep for the day and can be shared between 1-4 people.
Good to have with you on the photo tour:

Warm waterproof clothes
Good Hiking Shoes
A DSLR or SLR camera
Recommended Gear:
When shooting Aurora we suggest fast wide angle lenses, such as f2.8
2nd lens for example zoom lens 24-105 mm, or 70-2oo mm.
Zoom lens, for example, wide angle 16-35 mm.
Shutter release cable (or remote)
(Note that these are just a recommendation but not a requirement)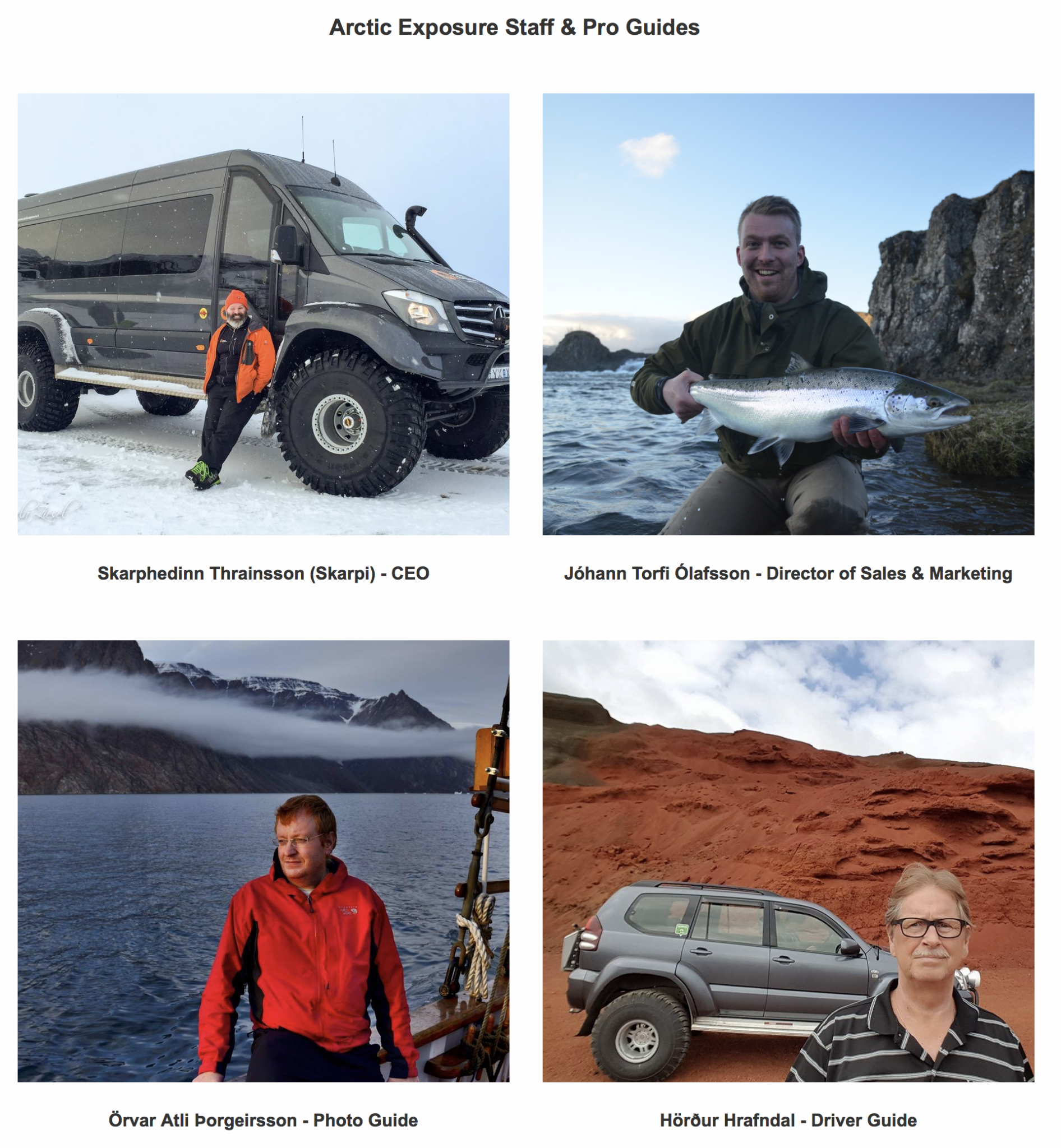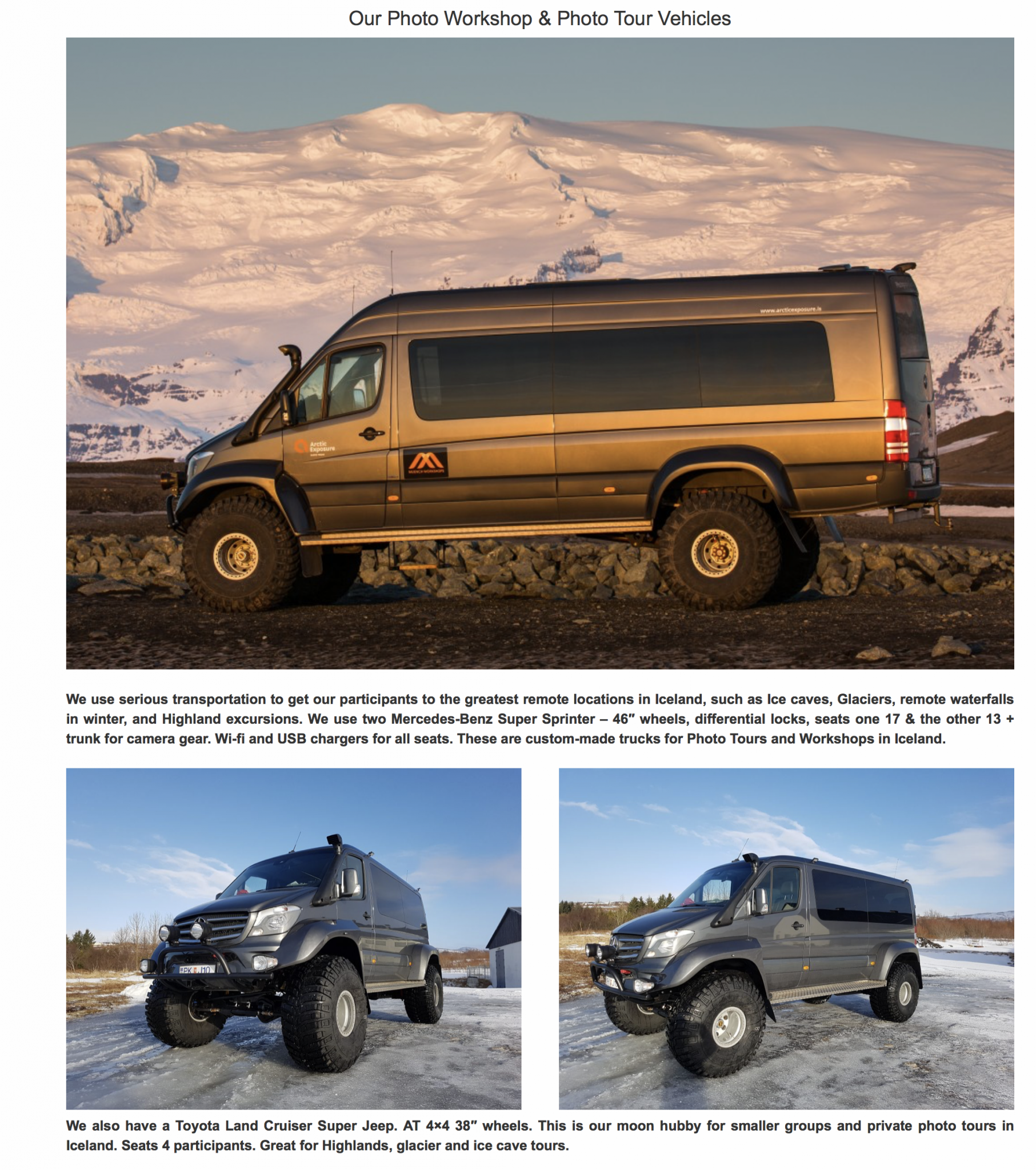 Why choose Arctic Exposure?
Our goal is to introduce you to the many beautiful locations we know here in Iceland, Greenland and the Faroe Islands. While showing you around, we will do your best to teach you how to take better photographs, to skillfully use your camera and equipment, and give you some post-processing tips.
On top of that, we want you to learn something new about the culture and history of the country you are visiting. To have a lot of fun, appreciate great food and in the end, have a memory that you will want to share with others.
Photo Tours & Photo Workshops by Arctic Exposure come highly recommended by our customers. We put our passion and years of experience hunting for those extreme places and conditions for photography on the line every time. We aim to find you the perfect moment to capture.
Terms and conditions
These tours are subject to correct weather conditions and sightings cannot be guaranteed. We recommend to dress in warm clothes as the weather can change quickly. If you join the tour and there are no sightings you will get another ticket to join us on the next available departure.
General Conditions
These Terms and Conditions are in accordance with Icelandic law. Any claim or action against Harpa Yachts is subject to the exclusive jurisdiction of the Icelandic Courts.
Privacy
All information from our customers will be strictly confidential and never be used for any other purpose other than what is needed at the time.
Your information will never be given or sold to a third party.
All payments through our website are processed over secure payment gateways and/or connections.
Bookings & Payments
Seats cannot be guaranteed unless reserved or booked at least 1 hour before scheduled departure time.
Prices
Tours and services are subject to currency fluctuation and conditions of cooperative contractors that may provide transportation and other services.
Discount for children
Harpa Yachts offer special discount fares for children accompanied by adults.
Pick up and drop off
Pick up for tours is operated throughout the city centre up to 30 minutes before tour departure. Please be in front of your hotel or in the lobby for pick up.
Drop off starts after indicated arrival time. Please note that drop off locations may not be directly in front of your hotel/guesthouse dictated by actual conditions (e.g. narrow streets, coach size, roadworks etc.).
Liability
Harpa Yachts reserve the right to alter routes, itineraries or timetables without prior notice, should the necessity arise. No liability is accepted for losses or expenses due to delays or changes of arrival or departure of flights or other services, injury, sickness, accident, strikes, damage, negligence, weather, war or other causes outside the control of Harpa Yachts. All such losses and expenses are the personal liability of the traveler.
Cancellation Policy
Reservations can be cancelled 24 hours prior to departure without penalty. Cancellations received less than 24 hours prior to departure will be charged full price.