ALL INCLUSIVE SMALL GROUP NORTHERN LIGHTS TOUR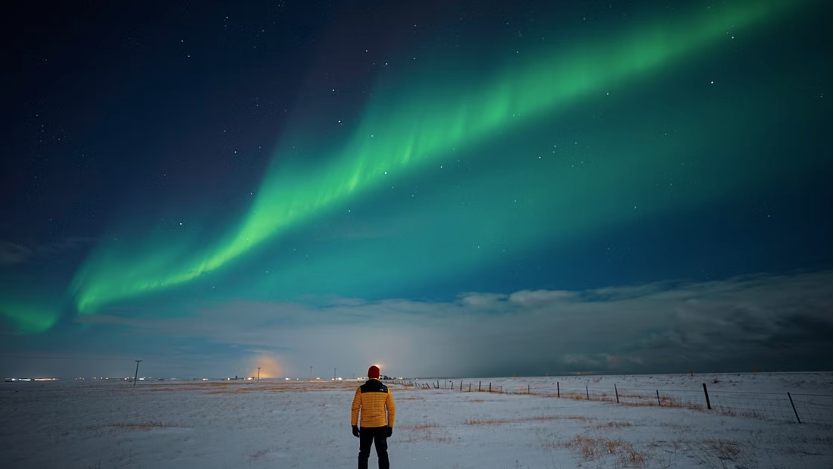 The Ultimate Small Group Northern Lights Tour
The northern lights, also known as the aurora borealis, are a stunning manifestation of nature's beauty.
The lights result from collisions between the sun's rays and the particles of the North Pole's upper atmosphere, and they are visible in Iceland from August through April.
During this time, people from all around the world visit Iceland, hoping to glimpse the green and red lights dancing in the sky.
Due to the demand, most Northern Lights tours are over-packed and you lose some of the magic in the experience.
That's why we created our "Ultimate Northern Lights Tour with All Inclusive and Small Group Guarantee" that only allows maximum group size of 15 passengers when most of the other NL tour operators offer 18 to 52 seats in each NL tour.
This guarantee helps us create a truly personalized, cozy and memorable touring experience for our guests.
Another way we guarantee coziness is by choosing our locations strategically – we never tour in crowded areas where many other expeditions are happening; our expert team chooses the most serene and calm locations for viewing the Northern Lights.
We have felt for a long time that it was time to upgrade and improve the standard Northern Lights tour in Iceland with additional perks and put more effort into them, so we decided to take it to the next level by offering *warm winter jumpsuits for all of our guests on location, unlimited amount of High-Res photos edited from the tour and delivered in 48 Hours through Dropbox, extra mobile and camera tripods for you to borrow and then of course our most famous traditional Icelandic snacks, pastries and chocolate, soda drinks, hot cocoa, tea and Icelandic Snaps.
There is absolutely NO extra charging for the photos taken in the tour by our guide / photographer or extra fee for High-Res photos, pick up and drop off or rental gear, it's all included in the tour.
*We are the ONE AND ONLY northern lights operation in Iceland offering warm winter jumpsuits in northern lights tours.
Witnessing a natural phenomenon like the Northern Lights can be a life-changing experience, but it is NOT one that is always guaranteed. Our expert team uses highly detailed weather, cloud and aurora forecasts with satellite images to make sure we get you into the absolute best conditions available that night. Our northern lights sighting rate is 90% and we maximize our sighting chances by only going out when activity and cloud coverage are favorable for us.
If, despite our best efforts, some unforeseen circumstance renders viewing the lights impossible, we offer free re-trie that will be valid for two years from the date of your tour. However, the availability of this free re-trie will depend on the tours that are currently scheduled.
We reserve the right to cancel the tour as late as 18.30 pm due to weather not being favorable for us. We make a honest decision and e-mail all our guests on the day of the tour at 18.30pm latest to confirm whether the tour is on or off.
How we measure a Northern Lights sighting / non sighting : If you can see the lights with your own naked eyes or only fainted green line for a short time, that is a northern light sighting. Non sighting could be for example if we can only see the lights through our camera, not with our own eyes.
We do not offer refunds, whether partial or full, for tours where a sighting was not possible.
BEST PRICE GUARANTEE
NO BOOKING FEES
FAST & SECURE PAYMENT

Duration: 4 hours
Cancellation policy
We will charge a cancellation fee of 100% if booking is cancelled 1 day or less before event
We will charge a cancellation fee of 0% if booking is cancelled 1000 days or less before event
Hot chocolate, traditional Icelandic snack, pastries, drinks and snaps
Beautiful High-Res photos from the tour
Assistance with your own camera settings
Free re-trie in case of non-sighting  
Warm Winter Jumpsuits
Pick up and Drop off  
Wi-Fi on board
Please note
Not wheelchair accessible
Not stroller accessible
Not suitable for pets
No public transportation nearby
Infants must not sit on laps
Infant seats unavailable
All cancellation, rescheduling and re-booking from customers should be notified via email with your booking number to info@auroraexperts.is at least 24 hours prior to pickup time.
We offer free pick up and drop off from all hotels, larger guest houses and cruise ship terminals in Reykjavik. There are some places where we are not allowed to stop accordingly to Reykjavik City regulations preventing buses from driving in the city center. To find the way to the closest bus stop to your accommodation you can use this map made by the council of Reykjavík City. Please note that we offer pick up only from Reykjavík. If you are staying outside the city than we can pick you up from BSÍ Bus Terminal. You can reach us quickly through WhatsApp on the day of your tour if there are any questions.
What do I need to bring?
Make sure to bring your fully charged camera, tripod and come well equipped with warm and windproof clothing and good sturdy shoes to resist the Icelandic winter conditions after dark.