Get closer to the origin; experience the elusive Northern Lights, high up on Langjökull Glacier – far away from the city lights.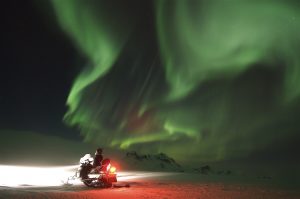 We start the tour by driving straight to the Langjökull area, where we will gear up for the highlight of the tour: snowmobiling in the darkness.
Guided by the snowmobiles' headlights, a whole new world opens up before us as we gaze upon the frozen landscape.
With good fortune, we will see the Aurora Borealis performing its ancient dance. The quiet, serene environment makes you feel as if you're by yourself in the world in a place where the stars seem so close you'll want to reach out and touch them.
After the snowmobile tour, we will enjoy light refreshments and then head back home to Reykjavík.
Book now!
Loading…