Sensational Iceland incl. Glacier hike via Extreme Iceland *10h* ISK 17.900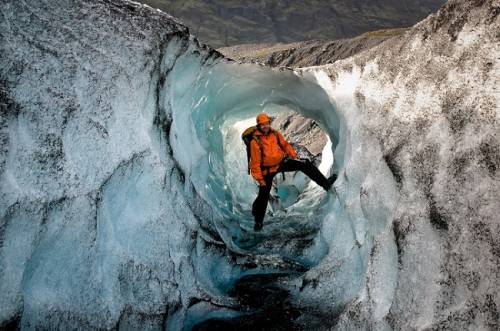 South Coast of Iceland. Up close and personal on a glacier – the best way to experience Iceland! On this tour along the South Coast we will go glacier hiking, we will see waterfalls, volcanoes, black sand beaches and many other natural wonders.
You will smell the sulfur, walk on a glacier, get wet at the waterfalls, hear the roaring ocean, and much more!
Waterfall Seljalandsfoss
Solheimajokull glacier is a spectacular tongue of ice that flows down from Myrdalsjokull, the fourth largest glacier in Iceland. Travel through the south Iceland farming lands to the black sand beaches, thundering waterfalls, powerful volcanoes and majestic glaciers on Iceland´s south coast.
The first stop is at Seljalandsfoss waterfall where we can walk behind this magnificent wall of water.
Glacier Hike on Solheimajokull
After the excitement of Seljalandsfoss and getting a little bit wet, you should be ready for the glacier hike.
We gear you up with crampons and go over safety features before we set foot on the glacier. Sólheimajökull glacier is a part of Mýrdalsjökull, Iceland's fourth largest glacier that covers the infamous volcano Katla.
We spend one hour hiking on the glacier. This is not that difficult, but sometimes there is a 30 minute walk to the glacier (depending on conditions). The glacier hike should be suitable for all over the age of ten that are comfortable walking on uneven surfaces.
The black-sand beach and Skogafoss
Then onwards for a leisurely stroll along the black sand beach of Reynisfjara. This beach features stacks of basalt columns that wall off surrounding cliffs scattered with caves.
Offshore you will see Reynisdrangar pillars, basalt rock stacks that rise from the sea. Icelandic legend says they were trolls turned into rock by the rising sun when they came home late after a fishing trip. We round off this great sightseeing tour with a stop at the Skógafoss waterfall.
On a clear day you may have a good view of famous volcanoes, Hekla and Eyjafjallajökull. When we drive under the foothills of Eyjafjallajökull you can get a glimpse of the Westman Islands, rising steeply from the ocean just a few kilometres off the coast.
This tour is great value and easy with an adventurous twist. Sights are breathtaking and where else in the world can you stand on the ice of a  glacier, walk behind a waterfall and stroll along a volcanic black sand beach on the same day?
Total duration:10-11 hours
Maximum:18 persons
Available: Daily, all year
Pick up: 09:00 – 09:30
Difficulty: Moderate
Transport: This tour is operated in a minibus, small groups for a better experience.
Included: Hotel pick up & drop off in Reykjavik, guided glacier hike for 1 hour, glacier gear such as crampons, ice axes and hard hats.
Not included: Lunch (We stop at a local restaurant/diner)
Bring with you: Warm clothes, sturdy shoes, a raincoat. You need real hiking shoes for the glacier hike, that have a thick sole and cover your ankle. We provide the ice crampons, and they cannot be attached to normal shoes.
Disclaimer: all glacial trips that are undertaken are the responsibility of the participants. Extreme Iceland does not assume any responsibility for accidents which are caused by its customers or can be traced to their own actions.
Glacier Walk on Solheimajokull
Black Sand Beach
Reynisdrangar Ocean Cliffs
Seljalandsfoss Waterfall
Skógafoss Waterfall
See Glaciers & Volcanoes
Note: Due to weather and limited daylight during winter time the itinerary can vary between days. Our guides evaluate circumstances and take the best informed decision possible.
You may also like