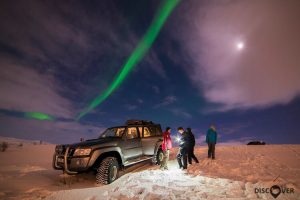 What are the advantages of going by super jeep on a northern lights hunting adventure?
Well, there's the travel comfort and sitting space available in the vehicle. The tour is personalized since we only take in smaller groups. It's a very flexible travel experience that one can say that we "play by the ear". We can lend you a tripod at no extra cost. And there's of course the 4×4 thrill!
We may go on mountain tracks in the vicinity of Reykjavik, or lava fields. Weather conditions and visibility play an important role in deciding which route we take. While hunting for the lights we show you the nature of Iceland in the dark, and we enjoy watching starry skies with no light pollution nearby – that's an experience in itself!
Book Now!
Loading…