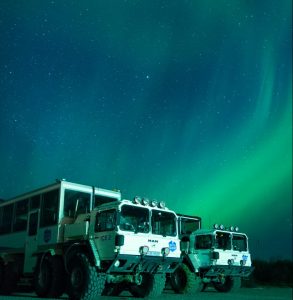 This is an adventure you shouldn't miss – to explore inside another world, inside the core of Langjokull glacier with your own eyes, a 2500 years old, second largest ice cap in Iceland. We will be transported in a glacier vehicle up to the tunnel's entrance which is at 1250 m above sea level. On our way there, we will make many stops at interesting places, for instance at historical and geothermal areas.
The journey takes us up on the glacier, away from everything else. Here, Iceland is definitely the appropriate name for this island. This trip is probably the closest you get to experiencing the Ice Age!
Tour Description
We leave Reykjavik and head on to Hvalfjordur ( e. Whale fjord), which got the name from all the whales relaxing in it. On our way up to the glacier we will make different stops. The places we will visit are Deildartunguhver geothermal area, Reykholt´s Snorralaug geothermal hot spots and the waterfalls Hraunfossar.
From Barnafoss we will head on to the glacier – this lands second largest glacier, after Vatnajokull glacier.
At the edge of the glacier we will board the huge monster truck that will take us up all the way to the tunnel's entrance which is located really high on the glacier, almost at its peak. The tunnel is human made but designed so you can follow the formation of a glacier. From normal snow to glacial ice you can see the layers formed over time. It's magical to see. This sub-glacial level world of snow and ice, is buried deep inside the mighty 953 km2 glacier.
We will stay in the tunnel for about 50 minutes exploring them to the fullest, the crevasses, moulins (glacier mills), waterways, ice layers and spaces between them. This will give you first hand experience of the different types of snow and ice, and the process of the glacier evolving.
Northern Lights Tour
On the way back to Reykjavík, your guide will take you wherever it is most likely to catch a glimpse of the magical northern lights. Your guide will carefully study the weather forecast and take their experience into account when deciding on which way to go when searching for the Northern lights. Hopefully you will find them on the tour, but please note that the northern lights are a natural phenomena and guarantees of seeing them are not possible. Afterwards you will return back to your accommodation in Reykjavík after this legendary journey of cultural history and geological importance.
We kindly ask you to be ready for your pick up between 11:00 and 11:30. Extreme Iceland bus will stop in front of your hotel/guesthouse.
Book Now!
Loading…