Sea Angling via Reykjavik Sea Adventure *3h*ISK 11.500*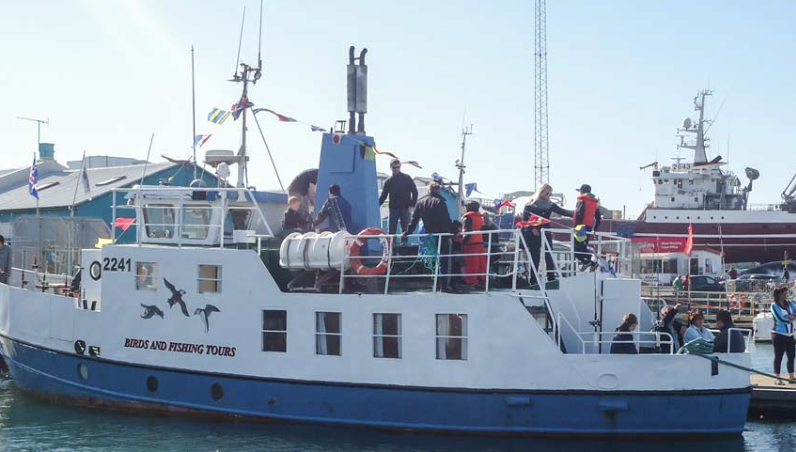 Sea angling is a must do for first timers and experienced fishermen alike. Just breathing in the fresh air, being out in the open ocean and catching
your first fish of the day make this an experience you'll never forget.
With Sea adventures you can enjoy the fishing adventure of a lifetime! Sea Angling is a great activity for all ages. The fishing grounds in Faxaflói have attracted Icelandic fishermen for centuries and our experienced captains knows the area like the palm of his hand.
Our sea angling tours are scheduled from Reykjavík harbor daily from April 15th to the end of September. Our captains will take you to the best fishing grounds the bay offers and give you a great insight in this fantastic Icelandic tradition. If you haven´t been sea angling before, don´t worry, it is very easy, and our crew will happily assist you and pass on their knowledge of the seas.
The catch is yours to take with you. If you are interested we assist you barbecuing the fish caught on the way back. This is a popular option for the proud fishermen! while learning about the Icelandic ingredients, traditions and have a little fun with the guidance of our crew.
REMEMBER TO BRING A CAMERA
WARM CLOTHES AND GOOD FOOTWEAR RECOMMENDED
DRINKS ARE ALLOWED BUT ALSO SOLD ON BOARD
TOILETS ON BOARD
GREAT FISHING GROUNDS
ALL FISHING GEAR PROVIDED
HIGHLY SKILLED CREW MEMBERS
3 hour tour with a guide

Great fishing grounds

All fishing gear provided

Highly skilled crew members
You may also like